News
Grangemore water supply extension opened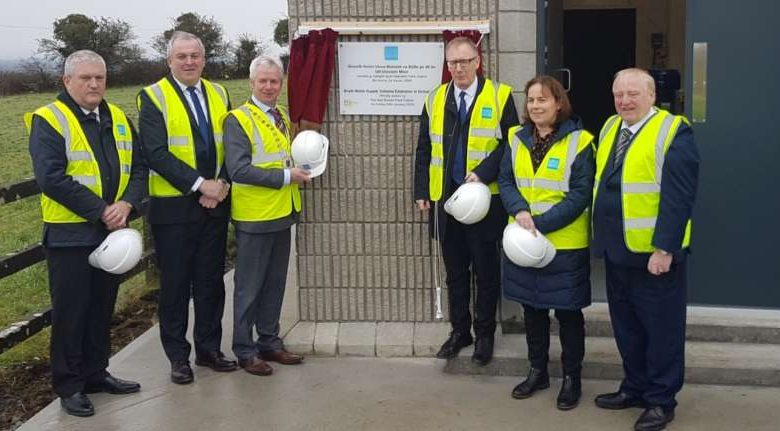 Irish Water and Roscommon County Council marked the completion of works to extend the Boyle Water Supply Scheme to Grangemore to benefit over 1,600 customers on Friday last. The works were carried out by Source Civil Ltd on behalf of Irish Water to improve the quality of drinking water supplied to customers in the Grangemore area.
At a special event to mark the occasion, Senator Frank Feighan welcomed Irish Water's continued investment in Co Roscommon which has amounted to over €40 million in capital projects alone over the past few years.
This project involved the extension of the Boyle Water Supply Scheme, which is supplied by Rockingham Water Treatment Plant, and the decommissioning of the Cavetown Water Treatment Plant in Grangemore. As part of this project 4.7 kilometres of new water mains were constructed and a new pumping station at Carrickmore Reservoir was also built.
Speaking at the official opening event Senator Frank Feighan said: "I am honoured to be here today to officially open these important works which will greatly improve drinking water quality for the people of Grangemore. Irish Water has to be commended for the level of investment the utility has put into Roscommon since its inception and we look forward to this continuing for years to come."
Speaking on behalf of Irish Water Diane Carroll added: "Since taking over responsibility for the public water and wastewater infrastructure in 2014, Irish Water has developed a cohesive plan to address many of the challenges facing us.
"This particular project that we are celebrating today represents an investment of €2.4m by Irish Water in Co Roscommon and is part of our commitment to improve water services throughout the country.
"Irish Water continues to invest in Roscommon where 10 boil water notices were lifted over the past few years. When Irish Water was established there were already four boil water notices in place affecting over 15,000 customers and over the coming few years Irish Water issued six more to protect a further 10,000 customers whose water was compromised for different reasons. Thankfully all 10 boil water notices have been lifted and Roscommon is a boil water notice–free zone."
Irish Water in partnership with Roscommon County Council has invested over €40m constructing six new treatment plants in Killeglan, Lisbrock, Boyle/Ardcarne, Roscommon Central, Arigna and North East Roscommon. There have also been two major upgrades in Castlerea and North Roscommon. Ballinlough has also benefited from necessary investment and customers there now receive their water supply from Lough Mask. 
As well as the capital projects, Irish Water continues to invest significantly in Roscommon through its Leakage Reduction Programme. Almost 10 kilometres of new water mains have been installed in the county to replace ageing and damaged pipes. These works took place in Rooskey Village, Ballinlough, Lanesborough Road, Castlerea, Ballaghadereen, Roscommon town, Athleague and Kilteevan Village.
As part of the Find and Fix programme 2.1 ml/day of leaking water has been saved. These works were carried out in Granlahan Tower North, Cloonfad, Loughglynn, Cloonkeehan, Ballaghadereen and Granlahan Tower South. The largest savings were from Loughglynn and Ballaghadereen, which totalled a saving of almost 1 ml/day.
On top of this First Fix repairs were carried out in numerous locations throughout the county and had total savings of 350m3/day.
Lead replacement works were carried out in Roscommon town, Athleague and Athlone Road with 79 lead pipes replaced.  
These works form part of Irish Water's investment plan where works have been prioritised to address the most critical issues. Delivery of the investment plan will involve a multi-billion euro investment programme on drinking water and wastewater projects for years to come.