News
Historic 1947 Boyle hearse finds a new home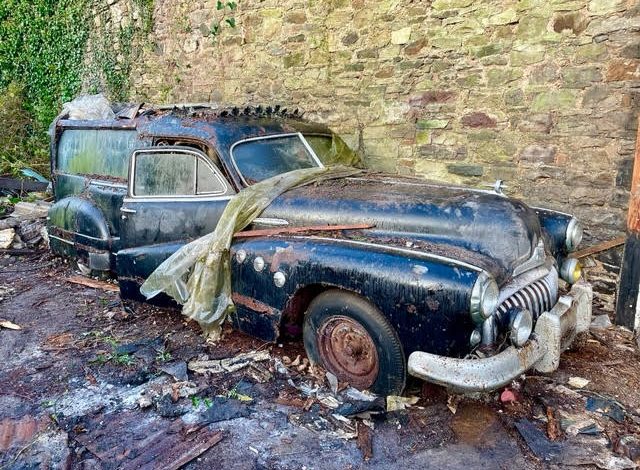 It had been lying in the back of a shed off St. Patrick Street in Boyle for the last 50 years, but now a 1947 Buick Super Sedanet hearse is on it's way to a new home and a new lease of life.
The impressive looking hearse was owned by the late Dominick and Mae Cosgrove, who for many years ran a bar on St. Patrick Street in conjunction with their undertaking business. The hearse was originally used by the couple around the Ballinafad area when Dominick and Mae ran The Mayfly Inn, but was brought to Boyle in 1962 when they opened their business on Saint Patrick Street.
It is estimated that the hearse has been out of service for the past 50 years and was stored in a garage on Eaton Lane. It was 1 of 2 hearses the couple owned, as it was common practice at the time to have a donor car to keep a hearse on the road.
Dominick and Mae's grandson Conan and his family now live in the home place on St. Patrick Street and during recent renovations, they unearthed the vehicle which was converted by English coach builders ALPE & SAUNDERS into a two door hearse.
According to Conan; "Service vehicles from this area are very rare because they hadn't much of a second-hand market. When they went past their usable purpose they tended to be scrapped/ parted out – which makes this a great survivor. I believe it was originally made for the British Market and the fact that it is a right hand drive model makes it a bit like a Buick hens tooth!"
"There has been considerable interest both privately and from numerous organisations to acquire the hearse, but having talked to many within the Buick Community, resulting in a better understanding of how special this vehicle actually is, I felt I had to keep it in Ireland rather than ship it Stateside".
"It's now going to Sligo Folk Park in Riverstown, who plan to restore it over a number of years through donations and crowd funding. They are also interested in hearing from any panel beating professionals willing to offer their services to this historic endeavour. Any interested parties should get in contact with Fiona Timoney (Manager at Sligo Folk Park). Details can be found on : www.sligofolkpark.com" concluded Conan.