News
Jobs boost for the area with 300 new jobs at Cora Systems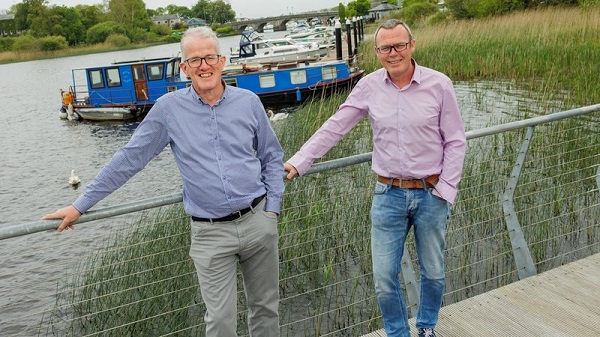 Leitirm based software company Cora Systems is to create 300 new jobs with half of them based in Carrick on Shannon "or nearby", giving a major jobs boost to the area.
The company, which is led by local man Philip Martin who is pictured above with CFO John Fitzgerald, currently employs 125 people in Carrick-On-Shannon and in Bedford in the UK and Atlanta in the USA.
150 of the roles will be based in the Carrick-on-Shannon or nearby under a hybrid working policy with the balance located in the company's US offices.
The new roles will be made up of expanding the company's Irish Research and Development team, global sales, and marketing positions as well as roles in their solutions and professional services teams across the globe.
The company was founded in 1999 by husband and wife team Philip Martin and Anne Marie Burke, and provides enterprise project and portfolio management solutions and services.
Acording to Mr. Martin: "As a bootstrapped company, we've been able to focus not just on profitability but also on product innovation. During the pandemic, we invested €10 million in our people and product which has resulted in year-on-year growth of 330%. This puts Cora, globally, in an exclusive hyper-growth SaaS category."
Cora Systems have also been working closely with Atlantic Technology University (formerly IT Sligo) with their work placement and graduate programmes which have yielded a fantastic contribution of well-educated and qualified employees and this is set to further grow and be developed over the next few years with that third level institution and this is further to relocation opportunities from the company.
Meanwhile, Local TD and Minister of State, Frank Feighan has warmly welcomed the announcement by Cora Systems that they are set to expand their company both in Leitrim and worldwide.
The company announced that they will grow their staff by 300 over a phased basis up to 2024 on the back of €60m new business and a phenomenal growth of 330% year on year.
"This is a proud day for Cora and its CEO and founder Philip Martin with 125 employees already based in Carrick-on-Shannon it is truly an exciting day for Leitrim"
"The decision to embrace the hybrid working model for expansion will be warmly welcomed by Tánaiste and Minister for Enterprise and Jobs, Leo Varadkar as he has promoted this model since becoming Minister and as more innovative ways of working were proposed by many companies because of the pandemic"
"I am thrilled to see that Cora Systems have also been working closely with ATU (formerly IT Sligo) with their work placement and graduate programmes resulting in many young people not only getting their education in this region but also finding really good jobs when their education is complete, I am delighted to see this collaboration will be enhanced in the coming years"
"In conclusion Can I congratulate personally CEO, Philip Martin on the success of his company as a worldwide leader in its field, every day over $100billion worth of projects are managed on Cora System's platform in over 50 countries worldwide, I thank Philip and his management team for his commitment to Carrick-on-Shannon and the North West ensuring that this area is at the heart of his growth plans and expansion" concluded Minister Feighan.