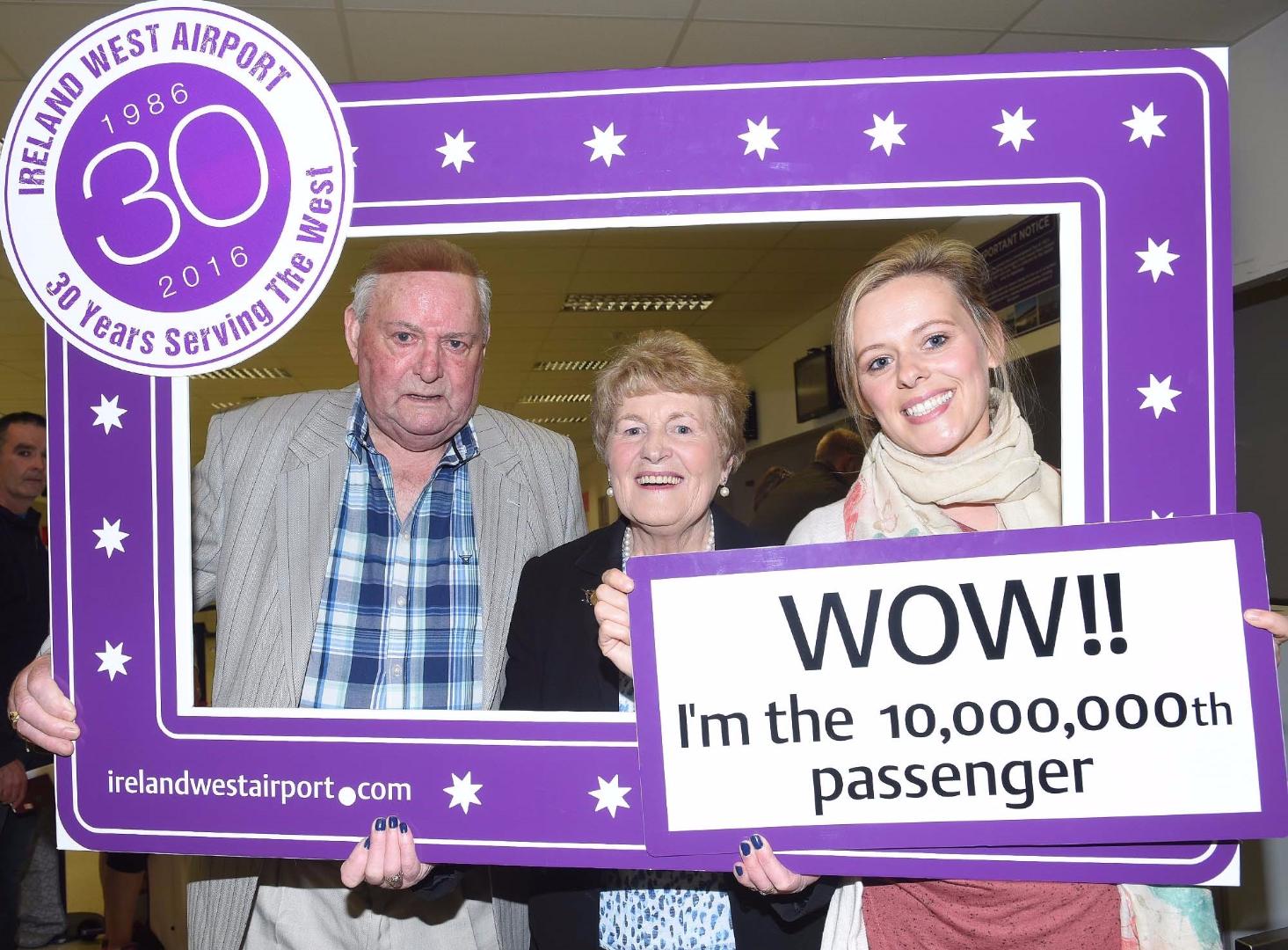 Ireland West Airport are delighted to announce that on Friday 1st July 2016, it welcomed the 10 millionth passenger to use the airport since it officially opened in 1986.
Lorna Conway, who lives in Kiltoom, Athlone, who was travelling to Edinburgh with Flybe for a wedding, with her parents, was the lucky 10 millionth passenger and on checking in for her flight today was greeted with Champagne, a specially designed Lily O Briens gift hamper and a pair of return flights to Edinburgh, to mark the occasion.
"I'm overwhelmed and completely surprised; this is a fantastic way to be greeted at check-in for my flight to Edinburgh" she said.
This landmark follows a strong start to the year for the airport with passenger numbers for the first half of the year up 4% compared to the same period in 2015, with the airport on track to record the busiest year on record with passenger numbers expected to reach close to 750,000 for the first time. The Airport now serves 23 International destinations and is served by three of Europes biggest airlines.
Commenting on the passenger milestone, Joe Gilmore, Managing Director Ireland West Airport, said "We are privileged to welcome our 10 millionth passenger to pass through Ireland West Airport. In 1986 the airport carried in total, just over 9,000 passengers, and it's a fantastic achievement for all to be celebrating a milestone of our 10 millionth passenger, particularly poignant given this is the 30th anniversary of the official opening of the airport. It's a very proud milestone to reach and a testament to the importance of the airport for both people in the West and North West but also for those overseas visitors who want to fly directly into the heart of the West of Ireland. I'd like to take this opportunity to thank the airport staff in particular for their hard work and support in achieving this significant milestone for the airport and we look forward to many more milestones in the coming years"
The 10,000,000th passenger to use Ireland West Airport, Lorna Conway from Athlone, pictured with her parents Seamus and Margaret Conway from Ballina County Mayo