News
Knockvicar lady helped make 'Jenny the Donkey' famous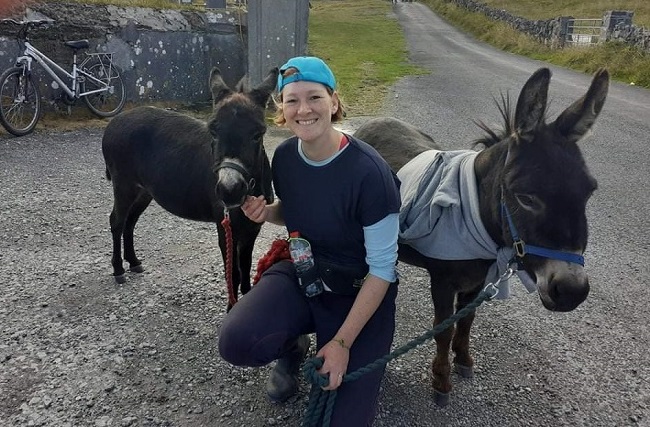 There is a strong local connection to the Oscar nominated film 'The Banshees of Inisherin' with one of the stars of the film – Jenny the Donkey – being trained by Knockviar resident Megan Hines.
Megan is a freelance equine trainer based just outside Boyle in Knockvicar, where she runs a training livery specialising in gentle, reward based training. She is Ireland's only qualified Connection Training Coach and helps owners develop a better bond with their equines, resolve problem behaviours and teach fun tricks such as fetch or liberty work.
Speaking to Boyletoday.com about her involvement in the hit film, Meagan said "In June 2021 I was hired by Fircroft Animal Actors to replace the lovely Mary Owens in the training and handling of Jenny the donkey (and her companion Rosie) for the film the Banshee of Inisherin".
"The donkeys and I started training right off the bat, with me teaching Jenny to stand and stay on a mark, sit, lie down, heel like a dog and nudge a box!".
"Our preparation also included getting out to novel locations to help get the donkeys used to working in different environments and around crowds. Jenny always had her companion Rosie with her as donkeys thrive with a companion of their own kind and can get depressed when on their own".
"We headed over to Inishmore in August, where most of Jenny's scenes took place, and had great fun practicing in the set of Padraic's house before filming began. Rosie would patiently stand on her mark for me while Jenny practiced lying on a blanket at the fireplace".
"I found working on the film set to be a great experience as we had a lovely cast and crew – everyone was so kind and patient with the donkeys".
"One of my favourite memories was of Martin McDonagh deciding to continue part of a scene in the kitchen when Jenny was reluctant to stay lying at Colin's side by the fire. It worked really well and really let her character shine – Jenny merrily went after a freshly baked bread loaf on the kitchen table. No wonder Siobhan didn't want her in the house!".
"My role as handler on set often involved me hiding just out of shot of the camera – lying on the floor, around a corner or hiding next to Colin Farrell – in order to cue Jenny, but you can spot me working with her in the behind the scenes footage".
"I used reward based training, called positive reinforcement, to motivate and pay the donkeys for all their hard work, carrots being their favourite currency. Donkeys are in fact not stubborn at all, rather they can be quite stoic and wary and so thrive with the rewards earned in positive reinforcement training, turning into much more confident and outgoing little creatures".
You can find out more about Megan's training techniques on her website www.meganhinesequine.com on Facebook and on Instagram
In another local connection to the The Banshees of Inisherin, eagle eyed viewers will have seen well known fiddle player James Carty from Knockroe, Boyle star as one of the student musicians in the film, while his dad John Carty is also one of the musicians who takes part in a music session in the film's pub – J.J. Devine's.
Of course, Brendan Glesson who plays Colm in the film is no stranger to Boyle and is a regular visitor to the town.
(Photograph shows Megan with Jenny and Rosie on Inishmore before shooting of the film began)