News
Conroy election campaign launch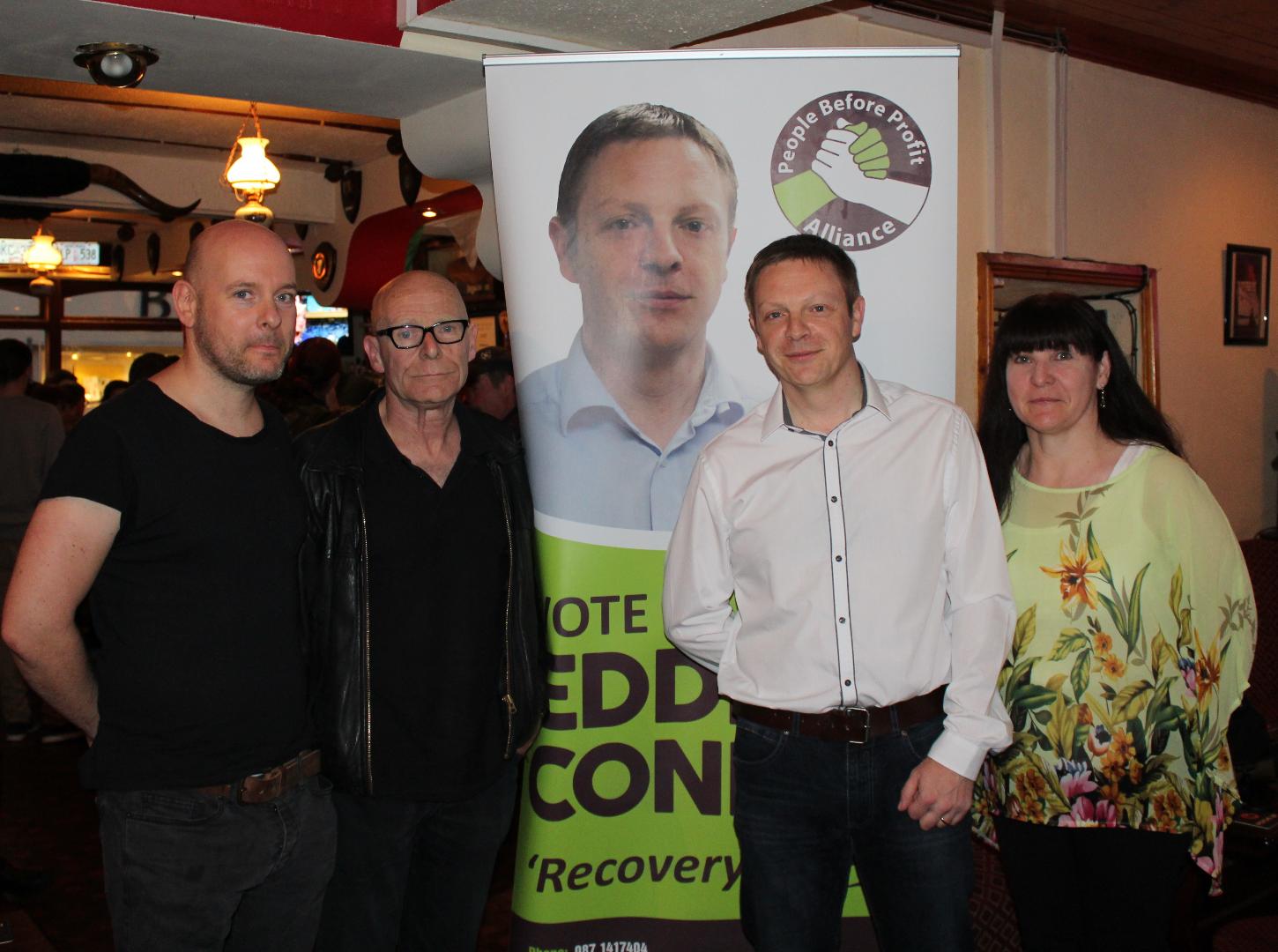 The election campaign for People Before Profit candidate Eddie Conroy was launched Friday evening in Mattimoe's Lounge in Boyle.
Guest speakers on the night included Eamon McCann, Eithne Hogan and Brian O'Boyle.
In his address to the gathering, Eddie said that the other speakers joined him in the same message to the electorate "change is possible and it's absolutely necessary".
He continued "Our own group of community activists in Boyle, started with the water charges campaign way back in early 2014 and while we could never guarantee that people wouldn't end up paying for water, what we did guarantee was that we would fight them, with everything we had, right up to the election, which we've done. We've made water charges and austerity red line issues in the upcoming election. Now it's up to the people. It's up to you."
"Fairness and equality are two of the big pillars of PBP, foundation stones if you like. We won't compromise those for power, for banks, the church, multinationals or brown envelopes. As a country we must identify things that are unacceptable to us and insist that they are corrected. Hunger and deprivation are unacceptable. Homelessness is unacceptable. Allowing banks to throw families out on the street is unacceptable, especially when it was the sacrifice of those same families who saved the banks and developers."
"What of recovery? Recovery exists only in the minds of Fine Gael. Wages went down for 8 years. The cost of essentials went up. Food, electricity, oil, school uniforms and books were all on the increase. This year insurance is rocketing. The government want to stealth tax you with water charges, property tax and if they get in again, the broadcasting charge. This will replace the TV licence fee but it will be almost double the current charge. This is another regressive tax as it doesn't matter about your ability to pay. So, even if Fine Gael follows through and give a slight reduction in your USC, they're going to rob it back off you regardless. Unless…… unless you stop them."
"You'll hear a lot of spin about Ireland having one of the most progressive tax systems in the world. It doesn't. That's a myth. We have a progressive income tax system which accounts for 41% of the total tax take. Another myth is that huge numbers of people are completely "outside the tax net", "pay no tax" or "contribute nothing to the national coffers".
"Not true, everyone pays tax. There's an apparently little-known tax called VAT. There are other indirect taxes. Almost all of the tax paid by the bottom 30 per cent of households is indirect. Taxes on consumption are disproportionately paid by people on low incomes who have to spend all their money."
"The bottom 10 per cent of people pay nearly 30 per cent of their incomes in indirect taxes; the top 10 per cent pay 6 per cent, according to the Nevin Institute. The whole claim to having the most progressive "tax system" depends on ignoring the highly regressive nature of indirect taxes. What do you get if you count them back in? The top 10 per cent pay 29 per cent of their incomes in tax. The bottom 10 per cent, pay 28 per cent. That's progressive in the same sense that Enda Kenny's recovery is real."
"So, what does this mean? It means that Fine Gael's approach of helping the rich at all costs is regressive for local business. It is regressive for local jobs. It hurts the self -employed, the sole trader and the businesses. To put money into the pockets of working class people means growth locally and more contributions to the total tax take. Working class people will spend their money. They won't be investing it in a 3rd house in Sardinia."
"The key to recovery for Boyle is to get our factory open again and bring 100 jobs back into the town. This will lead to other recoveries. I am currently in discussion with Boyle Town Team to have a representative from Connect Ireland come and meet the newly formed group at the end of this month, and there will be major efforts going forward, by the Town Team to get things moving in Boyle. Hopefully, that will also be the Royal Hotel as soon as possible. I would encourage everyone to get behind the Town Team. We cannot wait for the establishment parties to help us. I believe they have abandoned Boyle for 20 years or more and set a continuous policy of trying to close us down. The list of what we've lost is frightening. The last straw is surely their attack on our Gardaí. A town the size of Boyle must have a full policing service and one that is adequately resourced, not to mention morale in the force. Please support our petition to the Minister."
"Front line services must be supported. If cuts are needed, cut the bailout money. It was never our debt in any case. Nobody in this room was responsible for the crash but yet, every one of us is paying dearly for it. The people who did cause it are now buying and building like it never happened."
Mr Conroy thanked the local media for their help and advice. He thanked "all of the volunteers who have put their name forward to help with postering, leafleting and canvassing. All of the members of Boyle Anti-Austerity group have been an incredible source of support and encouragement in deciding to run. Monica, Francis, Fergal and Derek have thrown themselves into the campaign with huge enthusiasm. They are very dedicated people to righting the wrongs that have been inflicted on Ireland. Nothing would get done without them. He also thanked Brian O'Boyle his "24/7 knowledge base".
In conclusion he also thanked Paul Byrne, whom he said "has thrown literally, everything he has, his very soul, behind anti-austerity, right to water and now the election campaign. His expertise and eye for detail are second to none and the value of his work will be evident around the county over the next few months. He is the engine behind the face of PBP Roscommon."