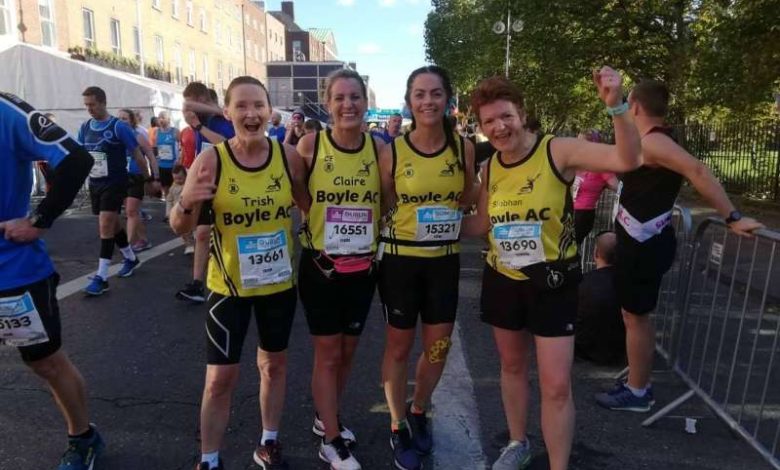 In near perfect running conditions 23 Boyle AC athletes took on the 40th consecutive Dublin City Marathon last Sunday.
The race is the grand finale of the running season, and the runners took to the streets of the city wearing their club vests with pride after months of hard work and preparation.
Huge congratulations to all marathoners from the athletic club, Lough Key Triathlon Club and a number of local individuals on their great achievement.
Boyle Athletic Club members who took part in the Dublin City Marathon were as follows:
Neil Conlon 03:08:22
Shane Comer 03:34:43
Gary Beirne 03:45:32
Mary Moran 03:50:22
Robert McManus 03:50:50
Jacci Conlon 03:55:13
Yvonne Gavican 03:55:17
Shauna McCoy 04:05:03
Leone Marron 04:15:10
Claire Flanagan 04:15:40
Siobhan Keaney 04:17:02
Trish Kane 04:19:35
Mark O'Connor 04:25:59
Stephen Powell 04:35:48
Liza Hennigan Egan 04:55:57
Christine van Welie 04:59:07
Enda Maxwell 05:40:02
Maurice Gannon 05:41:57
Lisa O'Dowd 06:10:06
Anne Keane 06:10:31
Muriel Moran 06:37
Patricia Kelly McGarry 06:42:16
Cathy Weston 07:04:43
(Pic courtesy Boyle Athletic Club)