GAA
Mixed emotions on a busy Boyle GAA weekend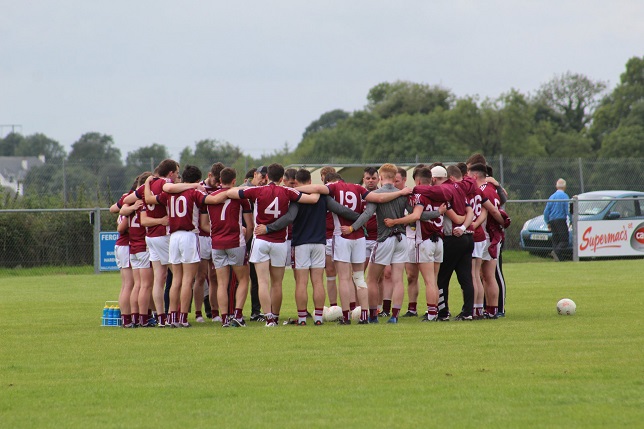 The Well & M Kerins Intermediate Ladies – Connacht Quarter Final
It was a tough contest against St Mary's (Sligo) in miserable conditions on Saturday. Buckets of grit, determination, and a lot of heart were poured onto the field by our Ladies to ensure that they would close the game in the lead.
Despite the strong winds we started out strong with a goal from H Kerins. Our opponents were quick to retaliate low and hard at the far end. Soon after, a lovely lofty chance for A Feely was fisted into the back of the net by M McKeon – and that was just the first 10 minutes! As the rain began to trickle, so too did the scores for St Mary's, at the break our counterparts led 3.02 – 2.02.
There was a slow start to the second half, but after a goal chance was disallowed, our Ladies knew they needed to dig deep to get this game across the line. Turnovers partnered with high levels of possession amongst our forwards began to pay off towards the turning point of the second half – and then the free's began to flow. We were all square at 27mins, and as the sideline held their breath entering injury time, another point each for A Feely and M Ward sealed the deal.
Full time score in Kent Park:
Boyle – 2.09   St Mary's – 3.04
Team List: S Moran, N Beirne, I King, S Kerins, S Keenahan (C), R Cox, S Wynne, R Wynne, C Cregg, M McKeon (1.00), M Ward (0.02), G Flanagan, N Regan, A Feely (0.06 – 5f), H Kerins (1.01). Substitution: A Roddy on for M McKeon. With: R Johnson, K Harrington, M Brogan, C Byrne, K Roddy, E Scally, S Meehan, A O Dowd, C O Dowd, C Reilly, L Downes, C MacDermott, A Kiernan, A Kennedy. Management: Vinny Flanagan, Michael Kerins, Pat Leonard, Damien Regan.
McGovern Civils Senior Men
Gut-wrenching finish for our lads as we missed out with the last kick of the game. Well done to Strokestown, it was a ferocious battle. Our lads gave it their all, and their day will come – we're sure of that. Thanks to everyone that supported the team throughout their campaign. Sending best wishes to Cian McKeon, and Paddy Brogan who were injured in the first half, we'll all be thinking of you and hope for a speedy recovery.
U15 Boys – Garda Cup
Our Boys had a great win versus Tulsk – details for their next game will be added to social media in due course. Team: Z Smith, P Regan, B Sheerin, L. Kelly, R Kennedy, C. Garavan, C. Kenny, G. O'Connor, A. Corrigan, K. Gaffney, K. Downes, K. O'Dowd, P. Sharkey, D. McKeon, R. MacPherson, A. Keogan, B. Kilroy.
U13 Boys – Division 2 Championship Final
Commiseration to our U13s who were defeated by a strong Kilbride team in the Div 2 Final. The lads gave it their all, but it wasn't to be on the day.
The team can look back on an excellent and enjoyable season. Thanks to the management team and parents for their support during the year. We look forward to seeing the lads in the Boyle colours again next year. Team List: A Keoghan, R Nally, H King, H Sheerin, D McCarthy, C Lavin, D McKeon, R MacPherson, A Lyons, E Kearney, F Duffy, D Duffy, A Ferris, A Anoop, J O'Sullivan, A Haseeb, F McKeon, L McKeon, C Doherty.
U11 Go Games
Well done to all of our boys who played Strokestown ahead of the Senior Men's County Final. We hope you all enjoyed your appearance in Dr Hyde Park, may it be the first of many!
Lotto
The Lotto was drawn in Dodd's Pub on Saturday, October 22, 2022 for €16,200. The numbers drawn were 4, 15, 24 and 27. We had several match 3 winners – Ger Garvin, Michael O Dowd, Angela Gavican, Stuart Jenkins, Peter McLoughlin. The jackpot was not won, but spot prizes went to Sarah Snee, Alison O'Shaughnessy, Paddy Costello, and Teresa Drury. With no winners, the jackpot now stands at another milestone €16,300. Lotto tickets are available at our local outlets in Elphin Street Dry Cleaners, Londis, Better Buy & Spar (Corrib Oil). They're also available online on the Klub Funder website by searching Boyle GAA. Thanks to all the shops, businesses, and pubs around the town for having us – we greatly appreciate it
Fixtures
Intermediate Ladies progress to Connacht Semi-Final
The Well & M Kerins Intermediate Ladies now progress to the Semi-Final of the Connacht Intermediate Club Championship versus Charlestown Sarsfields (Mayo) next Sunday, October 30 at 1pm in the Abbey Park. Ticketing information will be shared on Facebook in the coming days. The players and management would love your support !
Around the town
The Club greatly appreciates the warmth and generosity that everyone in the town has shown us the past couple of weeks – it's so powerful to see the whole community come together!
The Well & M Kerins Intermediate Ladies are hugely grateful to receive a generous donation for €600 and two First Aid Kits from Ryan's Pharmacy – thanks so much for your support.
There was so much excitement in the primary schools of Boyle last week when the Club Rossie bus rolled into town. The special visit to Scoil na nAingeal Naofa, St Joseph's Boys National School and the Boyle Parochial School coincided with the collection of entries for our colouring competition that we're running with the generous support of Surprises / Better Buy. These drawings were proudly displayed in shop windows throughout the town and winners will be announced on our social channels (Facebook, Instagram, Twitter). Thanks again to Surprises / Better Buy who are sponsoring 5 x €20 vouchers for the lucky winners.
We wish our neighbours St Ronan's the best of luck in their Junior Final next Saturday.