News
National schools 'Name the Calf' winners announced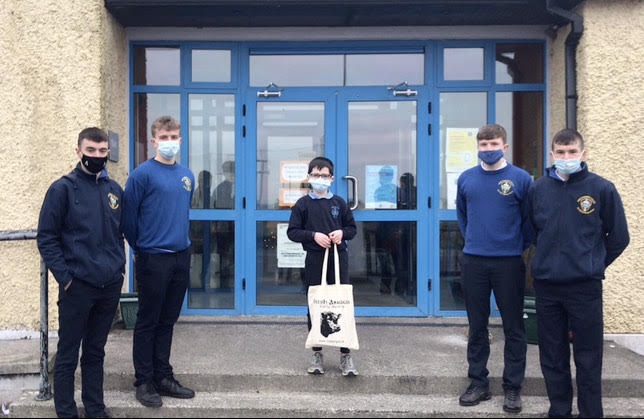 In September students from Abbey Community College Boyle were fortunate to win five Irish Angus Bull calves.
This week they got five local national schools to colour a picture and to come up with a name for each of the calves.
They received lots of name suggestions and eventually they voted for the names they thought suited the calves best.
Congratulations to the following:
* Oisín Nangle from Grange N.S with the name " Lightning"
* Liam McGroarty from Croghan N.S with the name "Larry"
* Caoimhe Battles from Scoil na nAingeal Naofa with the name * "Aaron" (Aine O'Donnell teacher in photo)
* Marvin from 1st Class in St Joseph's Boys N.S with the name "Paul" (Unfortunately Marvin wasn't in but his class and teachers stood in a picture to represent him)
* Leah Harte from Kilmactranny N.S with the name "Big Bertha"
* Cormac Ward from Kilmactranny N.S received a selection box for his excellent colouring
They would also like to thank their sponsors of the prizes which they gratefully appreciate:
* Cooney's Centra Boyle for selection boxes
* Irish Angus Society in Carrick on Shannon for hats and pens. (which winners will proudly wear)
* Also Killoran's Gala, Ballyfarnon with goodies for each of the schools.
The students from ACC, Colin McGrath, David Duggan, Liam Killoran and Gavin O'Connor would like to say thank you to the teachers for letting them hold the competition and for all the children for doing super work.
(images submitted)