News
Newspaper sale gets green light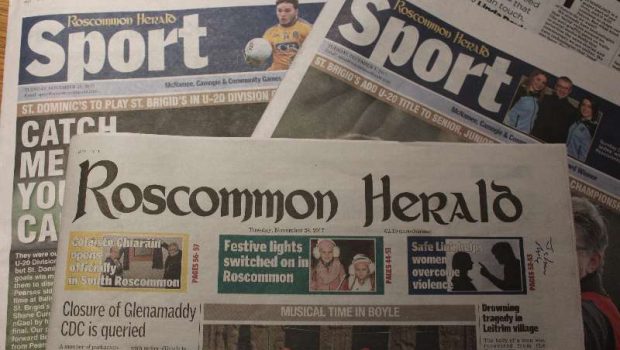 The sale of the Roscommon Herald and other media assets to the Irish Times has been approved.
The purchase of the newspaper title and other media assets owned by Cork-based Landmark Media Investments, in a deal agreed in December, has been given the green light by Minister Denis Naughten.
Irishtimes.com report that "A number of legal and compliance steps will now be taken in the coming weeks to finalise the deal, the Irish Times said. However, the Minister's approval was the final regulatory clearance necessary for the acquisition to go ahead."
In a note to staff the company said: "The Irish Times looks forward to meeting and working with all staff and their representatives to discuss the acquisition. We will be making arrangements to do that as soon as possible. This will include briefings to staff in Dublin, Cork, the regional titles and radio stations."
An RTE.ie report previously said it was understood The Irish Times paid only a nominal amount to acquire the assets of Landmark Media Investments.
It is also understood AIB will write off around €10m of the debt as part of the deal.
Landmark Media is owned by Tom and Ted Crosbie. The family has owned the Examiner since the 19th century and took most of the assets of the old Thomas Crosbie Holdings out of receivership four years ago.
Current Landmark Group CEO Tom Murphy will exit the business at legal completion of the deal" the RTE.ie report had stated.
Audited Bureau of Circulation (ABC) circulation figures for the first six months of 2017 showed average daily sales of 28,338 for the Irish Examiner, and 62,423 for The Irish Times.
There are no official circulation figures available for the Roscommon Herald as they are no longer registered with ABC, the company tasked with verifying newspaper circulation figures.
The acquisition will mark the end of the Crosbie family's ownership of the Irish Examiner, which dates back to 1872.