News
No joy for Cartoon Saloon at Oscars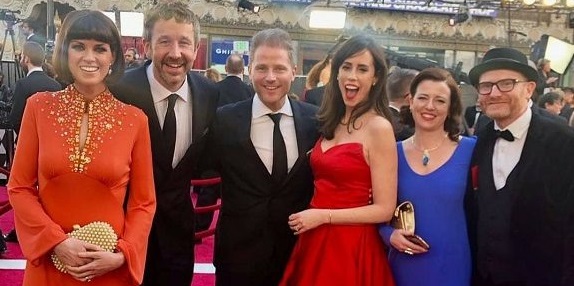 There was a strong Boyle connection at last night's 91st Academy awards ceremony in the Dolby Theatre in Hollywood as can be seen above.
Unfortunately, Boyle man Paul Young's Cartoon Saloon was not a winner this time around.
The company's  Late Afternoon, produced by Cartoon Saloon in Kilkenny, received a nomination for best animated short film.
On the night, the award went to Pixar's 'Bao'.
Earlier Boyle's Chris O'Dowd tweeted 'Off the the Oscars with me mates, in the background the baby is fittingly watching Puffin Rock given we are going to yoller for @cartoonsaloon".
(Puffin Rock is an animated television series created by Cartoon Saloon and narrated by Chris O'Dowd)
Chris and his wife Dawn are pictured with Paul Young (right) and others at the awards.
(image via Laura Jayne Halton/hotpatooties)