News
Plaque unveiled and medals presented at Boyle Garda Station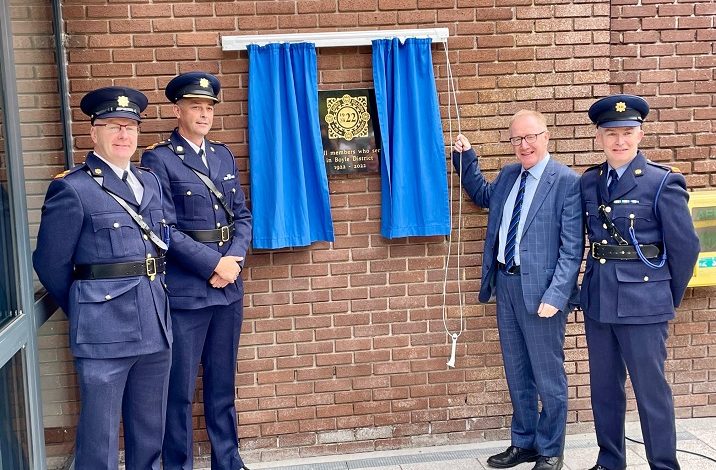 A plaque to remember all Garda members who served in the Boyle District over the last 100 years was unveiled on Saturday morning outside the newly refurbished Boyle Garda Station.
The unveiling was conducted by Minister of State at the Department Health Frank Feighan.
Also present were Chief Superintendent Ray McMahon, Superintendent Tom Colsh, Inspector Adrian Flynn, Cathaoirleach of Roscommon Co Co Tom Crosby, members of the Defence Forces and invited guests.
In attendance also were serving and former Garda members and family members who all received centenary medals from Chief Superintendent McMahon.
Those who received medals on their own behalf and on behalf of family members included Eddie McDonnell, Matthew Kennedy, Jim Mooney, Theresa Feeney, John Healy, John O'Gara, Tom Commons, John Cawley, Tom O'Connor, Tom Kenoy, Mick Connolly, Anne Keane, John Gildea, Padraig Shanagher, Seamus Gallagher, Gerry Barry, Eamon O'Donnell, Gerry Tiernan, Gerard Cuffe, Frank Feighan, Kevin Murtagh, Mick Carty, Mattie Lyons, Rory Duffy, Fergal O'Donnell, Tom Kiernan, Paddy Ward, Eamon Mullen, Christy Dolan, Finian Conway, John Joe Queenan, Mary Browne, Edward Mullarkey, Frank Daly, Tom McGarty, Hugh McHugh, John McGowan, Paul Costello, John Kelly, Joe O'Farrell, Des McGonigle, Tom Gallagher.
Coins were presented to present and former staff members Annette Cregg, Patrica Casey, Bridget Callaghan, Bernie Coyne, Jim O'Connor, Valerie McGoldrick and Lorraine Beirne.
Little Blue Hero Darragh Cox was also presented with a coin.
Present Garda members who received service medals included Inspector Flynn, Superintendent Colsh, Sergeant McGarry, Sergeant Siggins, Sergeant Martyn, Sergeant Duffy, Garda Fergal Reynolds, Garda Roisin Kelly, Garda Mary Baldwin, Garda Emlyn Mulligan, Garda Tanya Duffy, Garda Aidan Fallon, Garda Derek Malone, Garda Jonathon Bates, Garda Liam McBrien, Sergeant Featherson and Sergeant Coleman.
(Photographs of the event are available on Boyletoday Facebook page)