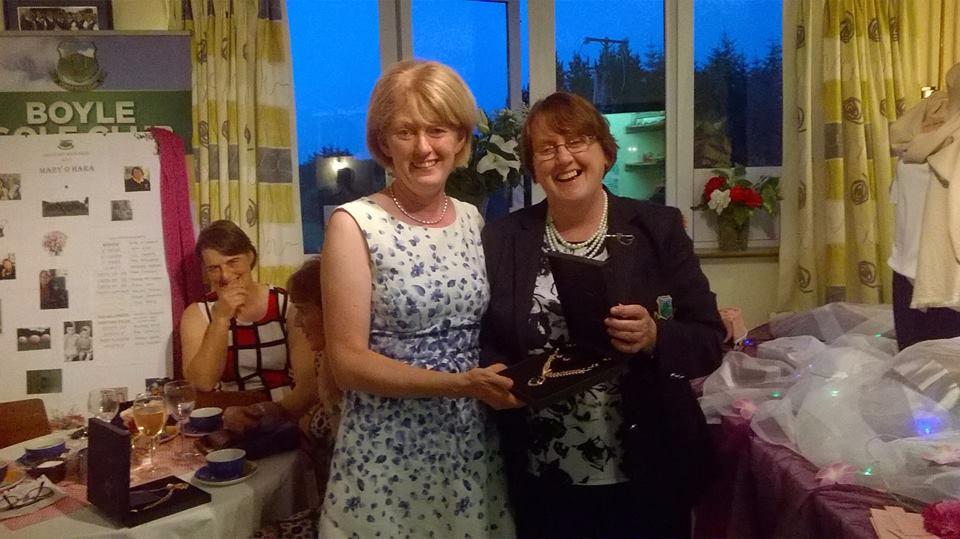 The Presentation for Mary O Hara's Lady Captain's Prize took place on Sunday evening.
Mary thanked all who played in the Competition and she also thanked the Groundsman & all the Volunteers for the wonderful condition of the Course.
She gave a special mention to Mary McDermott and those who helped with the catering on the day.
Mary also thanked all the Members of the Ladies Committee for helping make the Weekend a Wonderful Success.
She Congratulated all the Winners of the Day as follows:
1st: Regina McLoughlin , 2nd: Ruth Hogg , Gross: Liz Dwyer , 3rd: Joey Mullaney , 18 Nett: Kathleen Candon , Cat 1: Susan O Mahoney , Cat 2: Sandra McCrann , Cat 3: Paula Cull Past Captain: Mandy Toolan , 1st Nine: Eithne Gaffney , 2nd Nine: Tish Perry , 9 Hole Prize: Eileen Jackson , Visitors: Antoinette Casey. The Lady Captain's Prize for Men Winners were 1st Michael Reid 42pts , 2nd Paul Connolly 40pts , Gross Patrick Egan 75 , 3rd Dave Purser 39pts

(pic via Boyle Golf Club Facebook page)