News
Resource Pack to aid domestic violence victims launched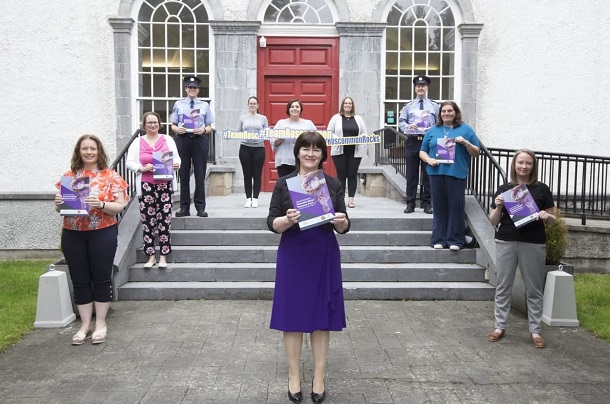 Roscommon Tusla Child & Family Support Network (CFSN) has developed a resource pack to equip professionals with the knowledge necessary to identify domestic violence and to assist and support victims. The resource pack which is the first of its kind in Ireland, provides professionals with the tools and contacts of services in the local area to ensure the effects of domestic violence on the family and children are limited.
The launch took place recently in Boyle.
Roscommon Child & Family Support Network (CFSN) is a collection of services who have come together with the aim improving service provision to better support children and families in the area.  The group identified a need for an improved coordination of domestic abuse services within Co. Roscommon.  
The purpose of the Co. Roscommon Domestic Abuse Resource Pack is to assist professionals with key messages and knowledge around appropriate services and resources available in the county.  Professionals working with children and families need to be able to recognise the signs of Domestic Abuse and it is essential that they are able to respond in the best way for a seamless referral. Access to services must be clearly sign posted for the child and family in order that the most appropriate response is provided as the correct level of need. 
Denise Swanick Roscommon's Senior CFSN Co-ordinator explained that "At some point in our professional life and/or private life, we will be confronted by the issue of Domestic Abuse. The Co. Roscommon Domestic Abuse Resource pack will sign post one through this complex and difficult issue, to ask the right questions and direct to the most appropriate service. Services are easily accessible & integrated at the frontline for children and families and there should be 'no wrong doors' especially when people are presenting in crisis. The child and family should only have to tell their experiences once and the receiving professionals guide and link the child and family to the most appropriate service to their level of needs. 
Denise continued by saying, "Domestic Abuse has a ripple effect and impacts the direct victim, the children, extended families and community therefore it is of the utmost importance that all professionals and the general public know and understand the right questions to ask and know where and how to signpost for appropriate supports. 
Supporting families and keeping children safe is everyone's business hence the collaboration of services in the development of this document and delivery of services to children and families in Co. Roscommon. The Meitheal Model is used to partner with families in Co. Roscommon. Meitheal is a Tusla led model to use with families to support them, ensure that the needs and strengths of children and their families are effectively identified, understood and responded to in a timely way. This will help children and families get the help and support needed to improve children's outcomes and to realise their rights".  
Ann Carey from Safe Link Roscommon's domestic abuse service, highlighted that there is an increase of 35% in new clients and an increase of 50% in crisis calls to the helpline since the beginning of Covid. 
There are no wrong doors in Co. Roscommon. The professionals who work with children and families throughout county Roscommon are here to assist, guide and walk with you on your journey to safety and a healthy life style. 
Key messages  
Co-parenting: We understand that you as a parent can be going through a difficult time as a result of domestic abuse but it is important to learn to communicate and coparent your children.  

Domestic Abuse is everybody's business: We need to be aware of how to recognise it, know the signs, how to listen, how to respond and know what to do, should it happen to you or yours. It is our business, our responsibility 

#Stillhere during Covid 19 Pandemic: It is important that you know you are not alone – domestic and sexual violence support services from State agencies and the voluntary sector have been adapted to deal with increase demand during this time. 

Breaking the cycle of abuse: Our understanding of the cycle of abuse is the first step to breaking it. 

An Garda Siochana are here to help and support anyone who is a victim of Domestic Abuse. You don't have to leave, to be supported.  

Affects on Children: Some of the biggest victims of domestic violence are the smallest. Children see and hear more than you think.  
For further information contact: 
Denise Swanick, Senior CFSN Co-ordinator 086 0443116 or [email protected] 
Anne Carey, Manager Safe Link 071 9664200 or at this email [email protected] 
Deirdre Berry, Team Leader Esker House Refuge 0862535737 or 
Supt. Goretti Sheridan, An Garda Siochana. 
Sgt. Maura McGarry An Garda Siochana 
Pictured at the launch of County Roscommon Domestic Abuse Resource Pack outside King House in Boyle were Anne Carey Tusla Project Manager, Caroline Duignan, co-ordinator, Roscommon Children and Young People Services, Maria Moynihan, Abbey Community College, Sgt. Maura McGarry, Boyle Garda Station, Linda Walsh, Roscommon SafeLink, Noreen O'Callaghan, Foroige, Karen Delaney, Boyle Family Life Centre, Inspector Tom Colsh, Boyle Garda Station. Louise Moran, Boyle Family Life Centre, Sinead O'Neill, Project Leader, Family Support Services, Nth. Roscommon.