News
River Shannon Light Ballet 'surpassed expectations'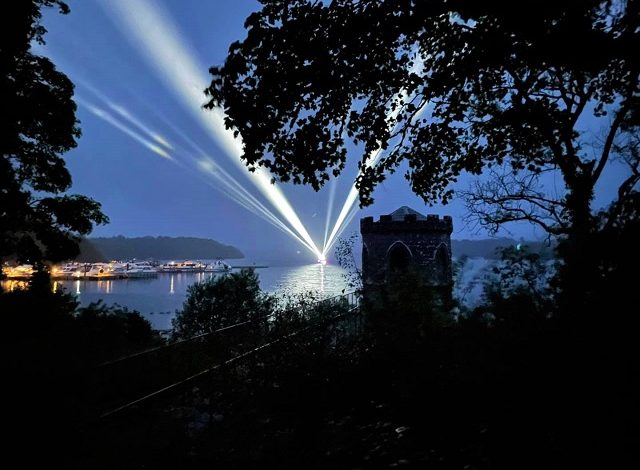 The journey began each night from dusk starting off on Lough Key, Boyle, Co Roscommon on June 13th and travelled through Leitrim, Longford, Offaly, Westmeath, Tipperary, Clare, ending its journey in Portumna, Co Galway. Light Ballet was presented as part of Brightening Air | Coiscéim Coiligh, a nationwide, ten-day season of arts experiences brought to you by the Arts Council, for June 2021.
Created by Irish Light Artist Mick Murray and Lighting Designer Matthew Cregan, the installation was accompanied by a newly composed soundscape by David Kitt with words from Poet Nidhi Zak/Aria Eipe  The light installation and soundscape  were synchronised in real-time which allowed audiences to experience the soundscape at home, along the edgelands or those in-between places through their phones, tablets or computers.
"Light Ballet, surpassed my expectations. The zoom calls during the day with the school children we collaborated with as part of the Light Ballet Education Project  really made it for me. Light Ballet gave the children access to an Art Form that perhaps they never knew existed, opening their eyes to look at light in a new way.  The artwork sat so well in the landscape and enhanced by the soundscape created by David Kitt.  It  was lovely being on the shore and hearing everyone watching and listening to the soundscape in sync with the installation.  Light Ballet  was such a unique experience and I am grateful to have created it alongside Mick and thankful to the Arts Council for the opportunity and to our partners for their support. Roll on Light Ballet 2022!" said Matthew Cregan.
Talking on Light Ballet, Mick Murray commented, "It has been a mammoth project to create! One of our biggest goals was to connect with communities along the Shannon River. The boating community we met along the journey was very supportive and engaged. Every time we passed someone on the river or at a lock and explained the artwork we got words of great encouragement, followed by "we saw light ballet" a few days later when we passed again. They also helped spread the word and to explain how to connect with the soundscape to others, creating a great atmosphere about Light Ballet  on the water and from as early on at Lough key.  It was really nice to see an audience so engaged."
"For Culture Works, the opportunity to present a project like Light Ballet as part of a nationwide programme was a really important moment as we were able to bring this installation to people in their own communities. Brightening Air allowed us to work with Mick and Matt to realise their vision on an ambitious scale. Watching audiences standing on the banks of the Shannon listening to the soundscape and watching the light installation unfold, being distant from each other yet connected to the same shared experience was a really amazing"
In the coming weeks you will be able to watch the full Light Ballet experience online via the Culture Works website.