Events
Roscommon Herald sale completed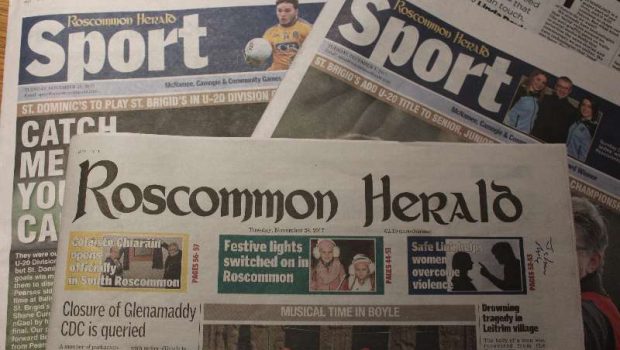 The purchase of the Roscommon Herald and other media assets by the Irish Times has been completed.
In a statement to staff on Tuesday, Landmark Media CEO Tom Murphy, who is now leaving the business said "The reason we selected them (Irish Times) originally was because the positioning of the core Irish Times newspaper was consistent with and complementary to the positioning of the Irish Examiner and, secondly because our experiences of dealing with them over the years showed them to be good people to partner with".
The Irish Times told staff that the combined scale provided "opportunities for consolidation".
They also said they were  "fully committed" to working with the respective union groups in each company on restructuring in the combined group".
 Séamus Dooley, Irish Secretary of the National Union of Journalists, said; "It is encouraging that the Irish Times is strongly committed to the maintenance of the editorial independence of the titles".
Along with the Roscommon Herald, the Western People, Irish Examiner, Evening Echo and five weekly regional papers are included in the sale.
Previously rte.ie reported that it was understood The Irish Times paid only a nominal amount to acquire the assets of Landmark Media Investments.
It is also understood AIB will write off around €10m of the debt as part of the deal.
The acquisition will mark the end of the Crosbie family's ownership of the Irish Examiner, which dates back to 1872.