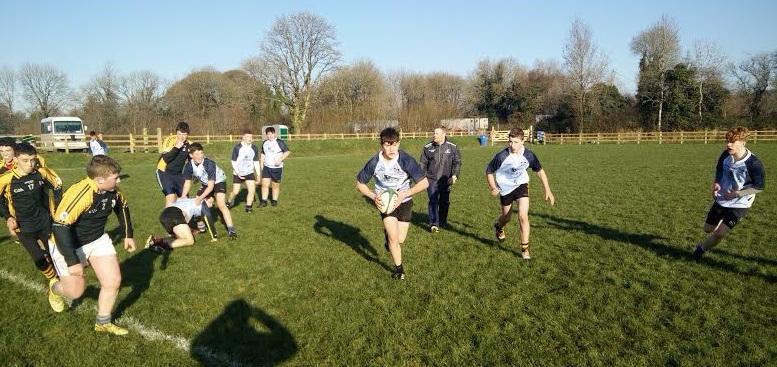 Friday 25th November heralded a new dawn for schools rugby in the region. Junior (U16) teams from Abbey Community College – Boyle, Elphin Community School, and Carrigallen Community School fielded for the first time this season for a blitz in Carrick on Shannon RFC.
Colm McWeeney (Connacht Rugby/Carrick RFC CCRO) has been helping establish rugby in primary and second level schools in the region and this blitz was the first at junior level to take place this season.
Weather conditions were prefect and it made for some great free flowing rugby from all teams. For some individuals, it was their first time playing competitive rugby; however it certainly didn't show. Superb work ethic and positive play mixed with moments of individual brilliance were the norm from all teams.
Abbey CC 15 – 10 Elphin CS.
Abbey CC 10 – 0 Carrigallen CS
Elphin CS 25 – 10 Carrigallen CS
Some of the stand out players on the day;
Abbey CC;
Adam O'Connor
Ethan Byrne
Darragh McTiernan
Max King
Danny Funke
Elphin CS;
Gilbert Muldowney
David Wynne
Jack McCawley
Adam Crann
Jack Murphy
Carrigallen CS;
Brandon Cooke
Conor O Reilly
Robert Kottemann
Jamie Gray
Dean Richardson
There will be more challenging games ahead for these teams in the next few weeks with the Connacht Schools Junior Cup kicking off in the New Year. In preparation for that completion there will more test games between these teams at their home pitch in Carrick on Shannon RFC.
The schools involved on the day, along with their coaches are to be commended. They have embraced rugby and actively encourage their students to participate in the sport: Aengus Martin (Boyle), Paul Noone (Elphin), and Nigel Murtagh (Carrigallen).
With over 60 U16 players on show it can only benefit local club – Carrick on Shannon RFC, that there is such interest and talent in the area actively playing rugby.
The club is always welcoming new players at any time of the year. By giving the students an opportunity to experience rugby in school, this will have encouraged these potential new players to line out for their local club.
Thanks to Gavin Foley (Connacht Rugby) on the day for refereeing the games and giving valuable feedback to the teams and coaches.