Events
Run Walk N'Roll will take place virtually this year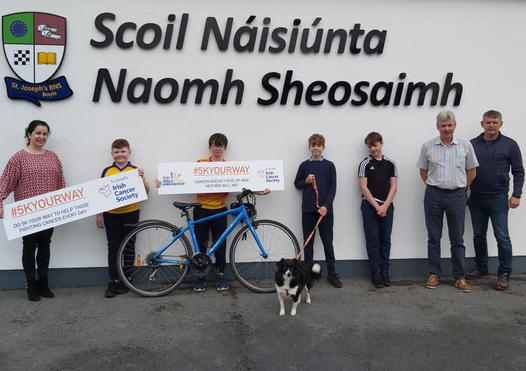 Run Walk N'Roll is a fun, family event which takes place annually in Boyle. The local and wider community come together to raise funds for Cancer Research which is vital for helping those to fight this battle.
Due to COVID-19, the annual 2021 Run Walk N'Roll in Boyle is going virtual for our second year in a row. The run has been organised by Damian Regan and his family as well as a team of local volunteers prior to Covid. "Due to the ongoing covid situation and following advice from the Irish Cancer Society we have decided to go virtual for our second year in a row, for the best interests of everyone's safety" said Damian.
To get involved this year, complete your 5k your way from the 1st – 31st of October. You have 31 days to complete your 5k starting on October 1st running through till the last day of October. It's up to you to decide how you want to complete your #5k depending on your own personal abilities.
You can complete #5kyourway whatever way you like; 5k a day for 31 days, 5k over 5 days, 1k a day or one 5k for October or count your steps each day. You can cycle, jog, walk, run or roll? It's your decision. During lockdown walking the dog was the daily chore so this year we have decided to do a "Doggy Dash". Why not get your dog involved by being creative dressing up your dog and sending us a catchy photo of your dog to show their support for this year's event.
Once you have completed #5kyourway upload a picture to Facebook or Instagram. Send us a photo of your route, the family dog or a selfie, be creative! Tag us and use the hashtag #5kyourway #runwalknroll2021 and most importantly don't forgot to donate using our link https://gofund.me/319ad13e
"On behalf of the Irish Cancer Society I would like to thank Damian Regan, his family and local volunteers in Boyle and the surrounding areas for their unwavering support and generosity to date. This will be their 26th year to host their Run, Walk and Roll Event in support of our cause".
The Irish Cancer Society provides support and care to people all over Ireland who are impacted by cancer. The Irish Cancer Society typically receives only 3% of funding through the State and relies on the generosity of the public, including people like Damian and the people of Boyle, to help anyone affected by cancer through vital support services and research.
"Your incredible support and generosity will continue to bring real benefit to the lives of cancer patients, survivors and their families" Adam Abbott-Irish Cancer Society Community Fundraising Manager.
Together, we will continue to make a difference in the lives of people affected by cancer in Ireland.
Damian Regan has fundraised for cancer research through this much-loved community run over the last 26 years, helping find new ways to ensure that we reduce our risks of getting cancer, best treatment if we do, and giving people the most hope of thriving afterwards. The Irish Cancer Society currently funds over 100 cancer researchers across Ireland working to develop new and better treatments for many different types of cancer. Get involved this year to help in the fight against cancer.
For further information contact Damian on 0863942388 or send a message to the Run Walk n Roll Facebook or Instagram page.