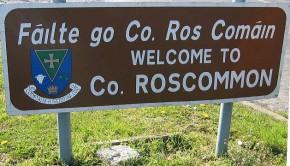 A public meeting will take place tonight Monday 11th January to fight plans by the Government to divide a large part of south Roscommon and realign it to Westmeath.
The meeting will take place in the Athlone Springs Hotel, Monksland at 8pm and everyone with an interest in keeping the county in its present form is asked to attend.
In a letter issued to a number of organisations, Ger Aherne  Spokesperson and Joint Treasurer, Save Roscommon Campaign says "You may be aware that in June 2015 the Minister for the Environment, Mr. Alan Kelly T.D., established the Athlone Boundary Committee to carry out a review of the boundary between Westmeath and Roscommon in the catchment areas of the Clann na Gael and St Brigids Cubs.The Affected Area as it is called is some 30 square kilometres inthe town-lands of Monksland, Bealnamulla, Drum, Summerhill (Crannagh), Bogganfin and Barrybeg. There is a population of up to 7,000 people in the Affected Area. The Minister has sole right to decide on whether this will come to pass and NO referendum of these people is allowed.
Were this to happen it would have devastating financial and social repercussions for not alone South Roscommon, but in time all of County Roscommon. This area of Monksland in particular contains the only main industrial area in the County and the loss of rates of some €1.2m alone would be financially unbearable, not to mention lost revenues for the County in Local Property and Car Taxes. Approximately one third of the County's revenue stream would be lost, resulting in higher taxation and levies for the remainder of the County.
The major zoned lands in Roscommon for industrial use are also in the Affected Area. Monksland is the second largest and fastest growing town in County Roscommon. Was this to happen can Creagh and Cortober be far behind? Your sense of identity as Roscommon people would be taken away; local Roscommon GAA Clubs will lose the influx of young boys and girls; South Roscommon would be a community divided. The County team will be adversely effected.
The Save Roscommon Group is a community based organisation of cultural, sporting, local people, along with the six Roscommon County Councillors for the Athlone Municipal District of Roscommon formed to fight the possibility of the County being divided. We have been working diligently for some to stop this potential disaster from happening. The campaign is going well but apathy and complacency that 'it will never happen' are among some of our biggest dangers." the letter concludes
The Save Roscommon group outline below some of the implications if South Roscommon was annexed from the County:
• County Roscommon will lose one third of its business rates
• People throughout Roscommon will face higher taxes and charges
• South Roscommon's sporting and social clubs will be dramatically weakened.
• Roscommon population will be reduced by some 5 – 7,000
• The Roscommon County team side will suffer
• Will rob us forever of the further economic growth capacity of Monksland and for Roscommon.
• Roscommon taxpayers have supported the growth of the affected area and now they are reaping the benefits of investment Government wants to steal the fruits of their labour.
• Religious and other allegiances would change from Connaught to Leinster.
• South Roscommon will be a community divided.