GAA
Boyle GAA's preparations continue for next weekend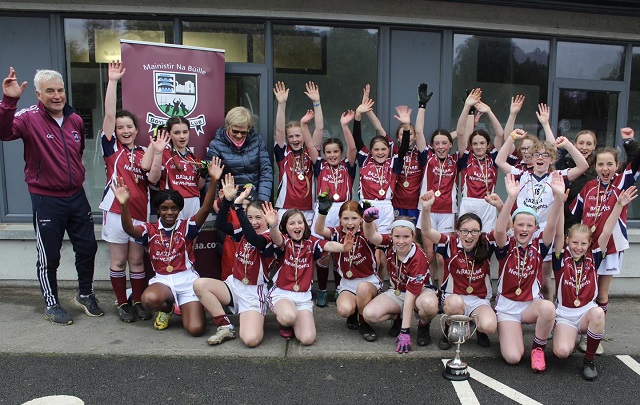 Sean Daly Memorial Cup
Boyle LGFA hosted nine teams from six clubs at the Abbey Park today as part of the U12 Girls blitz in honour of the late Sean Daly, a founding member of the club. It was a pleasure to have Ger with us to present the cup and share some words of wisdom with the next generation.
Well done to all of the teams that participated – Kilglass / Kilmore, St Croans, St Ronan's / St Michael's, Shannon Gaels, Western Gaels. We saw some great displays of football and it is our hope that each player had a chance to develop a skill or learn something new over the course of the day.
The Semi-Finals saw St Croans meet Boyle and Shannon Gaels meet Kilglass / Kilmore – both of which went into extra time with great excitement from the sidelines. In the end, Kilglass / Kilmore met our girls in the final – the legs were tired and the rain was en route, but both teams fought with big hearts until the final whistle when Boyle were named the victors.
Huge thanks to all of our refs, volunteers, Boyle LGFA Committee and John Brennan for their help in coordinating the day, and special thanks to Ger Garvin for representing the Daly family.
That marks the end of the season for our U12 Girls and the Club wishes to thank all of the players, management and supporters for their dedication throughout the year. Team List: E. Adu Boahen, A. Brennan, S. Beirne, H. Commons, K. Conroy, S. Costello, C. Coyle, T. Coyle, A. Cregg, F. Fitzpatrick, K. Flanagan, E. Garvin, R. Kennedy, B. Kilroy, S. Lannon, A. Lyons, S. McGoldrick, R. McGowan, A. McKeon, A. Neary, O. Rooney, C. Sweeney and J. Wapor Apostle.
U13 Boys – Division 2 Championship Final
Commiseration to our U13s who were defeated by a strong Kilbride team in the Div 2 Final. The lads gave it their all, but it wasn't to be on the day.
The team can look back on an excellent and enjoyable season. Thanks to the management team and parents for their support during the year. We look forward to seeing the lads in the Boyle colours again next year.
Team List: Alex Keoghan, Richard Nally, Harrison King, Dylan McCarthy, Colm Lavin, Daithi McKeon, Ryan MacPherson, Aaron Lyons, Eoin Kearney, Fionnán Duffy, Diarmuid Duffy, dam Ferris, Alpheus Anoop, Joe O'Sullivan, Abdul Haseeb, Fintan McKeon, Liam McKeon, Conor Doherty
FIXTURES
We need to see the maroon & white out in force next weekend – best of luck to our lads and ladies with their final preparations !
Intermediate Ladies progress to Connacht
The Well & M Kerins Intermediate Ladies have progressed to the Connacht Intermediate Club Championship after their historic Final win over St Ciaran's. They will meet St Marys from Sligo town in Kent Park on Saturday, October 23rd at 1pm. Ticketing information as well as a link to the livestream will be shared on Facebook.
All Roads lead to Dr Hyde Park for Senior Men
Our McGovern Civils Senior Men will take on Strokestown in the Senior Championship Final on Sunday, October 23 at 3pm in Dr Hyde Park. Keep an eye on our Facebook page for ticketing details – we'll also be releasing pen pics over the coming days so that you can get to know the lads a little better.
LOTTO
The Online Lotto was drawn on October 16, 2022 for €16,100. The numbers drawn were 10, 12, 16 and 27. We had several match 3 winners – Karen & Adrian Brogan, Kevin & Marie Lavin, David Callaghan and Florrie Tormey. The jackpot was not won. With no winners, the jackpot now stands at another milestone €16,200. Please note that next week's draw will take place in Dodds Pub on Saturday, October 22nd at 11pm.
Lotto tickets are available at our local outlets in Elphin Street Dry Cleaners, Londis, Better Buy & Spar (Corrib Oil). They're also available online on the Klub Funder website by searching Boyle GAA. Thanks to all the shops, businesses, and pubs around the town for having us – we greatly appreciate it!
AROUND THE TOWN
The Club greatly appreciates the warmth and generosity that everyone in the town has shown so far – it's incredible to see the streets painted maroon & white (thanks to our volunteers)! We love to see the creativity of everyone's displays. Don't forget to tag us / send us your parish pride photos on social media and we'll share the best ones on our page.
Congratulations to Emer Sweeney on completing the Amsterdam Marathon on Sunday. Emer is very active in the Club and currently holds the position of Treasurer with Boyle LGFA as well as coaching in Boyle Camogie! We don't know how she found the time to train alongside those duties!
Amazing scenes for Tourlestrane on Sunday as clubmen Fergal O'Donnell and Stephen Bohan led their men to their historic seven-in-a-row in the Sligo Senior Football Championship.
(Photograph per Boyle GAA shows the winning Sean Daly cup team)