News
New date for Shuttle Bus meeting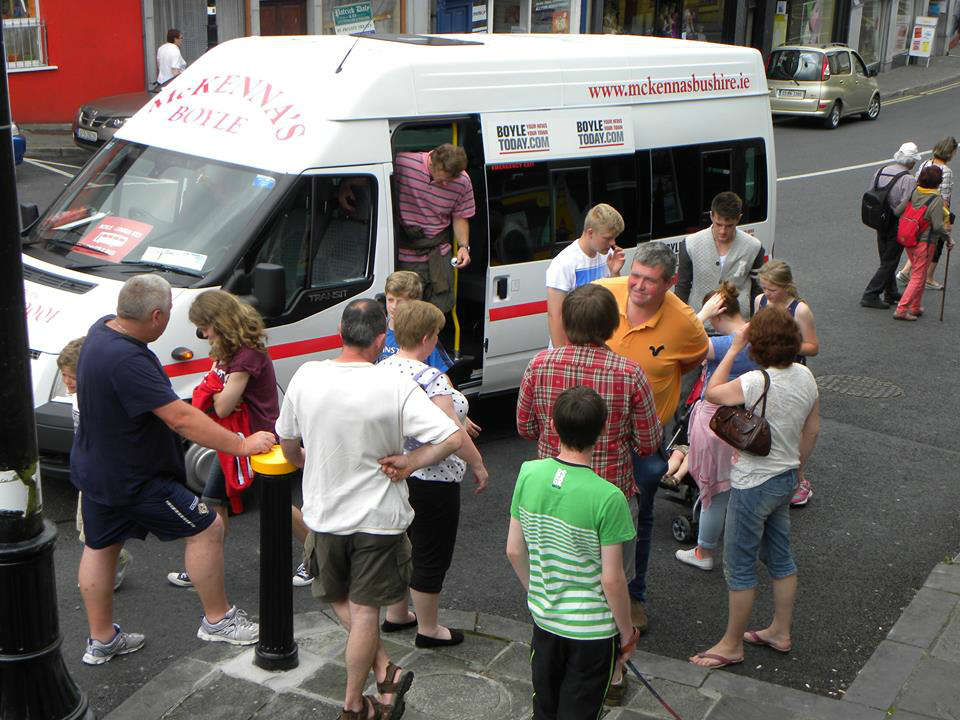 Due to unforeseen circumstances, the meeting of all those interested in the organisation of the Lough Key to Boyle Shuttle Bus has been postponed until next week.
Boyle TM has recently circulated a letter to businesses in Boyle, stating:
 Building on the success of the 2014 Pilot Shuttle Bus initiative, which provided over 400 passengers a valuable and inexpensive service we hope that the service will be provided gain this season, with some changes to enhance the service based on feedback:
Service will run three times daily, six days a week throughout July and August
Departing Lough Key  at 11am, 3.00pm and 7.00pm
Bus to be more visual with external music and departure information
Internal Audio recording of history & culture of the area
Ticket price to remain the same ie Adult €1 / children up to 16yrs only .50c cent
We realise that there are many demands on all businesses in Boyle at this time. We greatly appreciate and acknowledge the generosity received last year for our pilot initiative and we are again appealing for financial support which is vital to provide this excellent service.  Last year's Shuttle Bus Initiative cost over €5,000 to run!
The bus times have been changed to accommodate visitors' avail of getting Provisions/Go shopping/ Eat out and come back to Boyle for Entertainment and slots also will coincide with the action packed schedule for Boyle Arts Festival. Sponsorship contributions of €100 to be included in the benefits below are most welcome and can be dropped to Cecil Draper (Taylors Interiors) / Brian Kelly (Betterbuys) / Patricia Golden (Una Bhan Tourism).
The benefits of being a Shuttle Bus Sponsor:
Inclusion in new 2015 promotional brochure
Inclusion in new Voucher Booklet
Joint marketing
Promotion on advertising screen in Lough Key Forest Park
A Contributor to the Shuttle Bus service running 3 times a day / 6 days a week / for months of July and August, Lough Key to BoyleBoyle Town and More are confident that the Shuttle Bus will attract many of the visitors to Lough Key to visit our town of Boyle. Your support is greatly acknowledged as we had over 50 subscribers to this initiative last year.We are delighted to acknowledge our Main Sponsor – BoyleToday.com again this year which is sincerely appreciated.
A Representative from each street will call to you on or before Friday 29th May to collect your contribution.