News
Still time to Run, Walk n Roll in aid of Cancer Research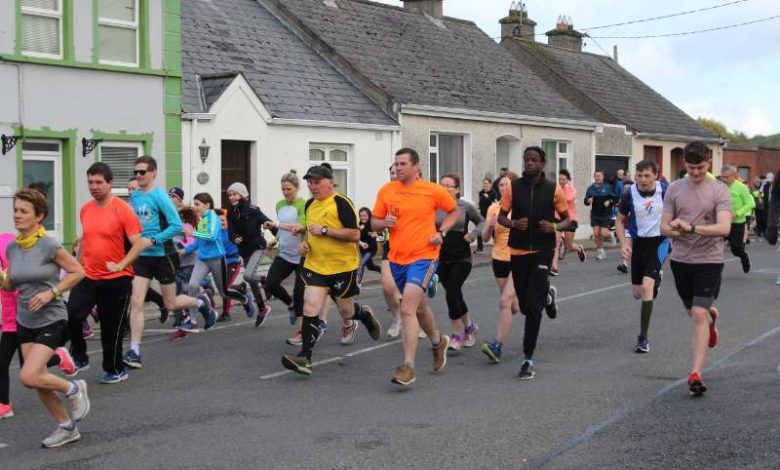 Dear Friends, Supporters & people of Boyle,
I am writing to you on behalf of the Regan Family, organisers of Run Walk n Roll in aid of Cancer Research, Boyle, Co. Roscommon. As I'm sure you may know, this year's Run Walk n Roll has gone virtual as a result of coronavirus restrictions and staying in line with the government guidelines.
As  Run Walk n Roll traditionally takes place on a Sunday in mid October, this year we have changed it to take place from the 6th-31st October. It is taking place for 25 days, as this year would have been the 25th year for the annual run/walk in aid of Cancer Research in Boyle. This year, more than ever, charities like the Irish Cancer Society need support. Although COVID-19 has stopped many different things from happening over the last few months, it has unfortunately not stopped cancer. People are still being diagnosed and have to face their journey to recovery. Every 3 minutes in Ireland someone gets a cancer diagnosis. Every hour someone dies from cancer. Research is needed to find better ways to prevent, detect and treat cancer. Many fundraising events have been cancelled over the year and so those that can go ahead must do their best to do so, safely and in line with the guidelines.
Run Walk n Roll's virtual event is #5kyourway. We have decided to let people complete 5k whatever way they wish. They can run, walk or cycle 5k. They can do their 5k over a few days. They can do 5k every day or they can do their 5k around their garden. Perhaps groups and clubs can get their members coming up with their own way of completing 5k. Schools may get students completing 5k over the two weeks in the yard, or whatever way people can think of while complying with the guidelines and maintaining social distancing. The whole point of this year's event is people get to decide what way they do their 5k and the more different ideas the better. People can take a photo before they start, after they finish, of their route or simply a photo of anything they wish to represent their 5k. They can upload their photo or send it to us on Facebook or Instagram, tag us and most importantly make a donation to our link. The best thing about the event this year is you can take part wherever you are. So far, people have completed their 5k in both Galway and Dublin. For those who are not on social media or wish to make donations offline can do so by contacting our page or Damian Regan (0863942388).
Every year for the past 25 years, Run Walk n Roll, and previously The Terry Fox Run, would not happen without the support of the people from our community who donate and turn up on the day, but also our many volunteers, stewards and sponsors. Each year different businesses in the town sponsor us with refreshments, goodies and support. I am writing to you, the people behind the businesses, schools and clubs of Boyle, that as this year we do not require refreshments etc., but this year we ask for your support. We are writing to businesses, schools and clubs in Boyle and surrounding areas to support in whatever way they can, whether this is financially with a donation or by sharing our event with their customers and community. Any donation, no matter how big or small will make a difference. With just over two weeks to go until the event ends, we ask for support in promoting this event both on and offline. Over the last 24 years, the people of the town of Boyle and the surrounding areas have raised nearly €185,000 for Cancer Research. Let's raise the figure a little bit more in 2020 and show that after 25 years in Boyle, we are still running. Cancer Research is a marathon, not a sprint. Cancer doesn't give up but neither will we.
You can find us on both Facebook (Run Walk n Roll) and Instagram (@run_walk_n_roll) and our Facebook event. You can also find photos of the event over the years on our social media. Or if people/groups have photo's of our event over the last number of years, we'd love to see them! Send them on: [email protected]
We have a donation page set up where people can see both our online and offline donations so if this link could be shared it would be greatly appreciated:
https://www.justgiving.com/fundraising/run-walk-n-roll-2020?fbclid=IwAR0qs9U9t2nd-PXvZXrF29sxQ_iA9K5RNM7jelOKRKAc7wSwE1rcRmcsIg
Again, for offline donations or any other information at all contact:
Damian Regan
0863942388
We want to thank you all for all your support over the last 24 years and we want this year to be a success so that we can return next October and fight once more. Please do what you can to support us this October #5kyourway