Events
Celebrations Saturday at Farmers Market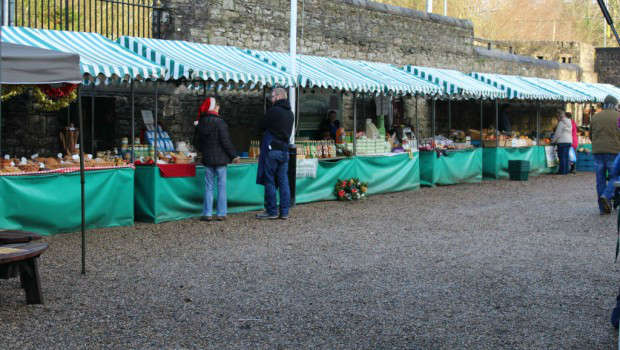 Una Bhan Tourism is delighted to mark Boyle Farmers Markets' 10th Anniversary with a celebration event on Saturday 30th May 2015, in the grounds of King House, Boyle between 10am and 2pm.
The event will include food tastings by artisan producers with information and advice, a FREE BBQ (free BBQ food for those spending over €5 on produce in the market), Glendeer Pet farm from Athlone will showcase some of their adorable animals, Eagles Flying from Ballymote will display a majestic bald eagle.
Live music provided by talented local musician Adam Daly, free face painting and free prize draw.
All past and present customers, food producers and those interested in local and artisan produce are very welcome to come along and help us celebrate.
Ongoing support of Boyle Farmers Market is essential to ensure sustainability for another ten years.
Boyle Farmers Market has received various awards of the years including The Bridgestone Award and the 'Good Practice Standard for Farmers Market' by Department of Agriculture, Fisheries & Food and Bord Bia. The Market provides an essential platform for local, small scale producers and artisan products.
Several stall holders that have attended the market over the years have gone on to open their own shops and / or restaurants, including Chantelle from Pure Florists and Sham from the Cottage Restaurant, Jamestown.
Úna Bhan Tourism successfully launched Boyle Farmers Market in 2005 with financial assistance & support from Arigna LEADER and co-operation from Roscommon County Council and is delighted that customers near and far continue to support Boyle Farmers Market local, fresh & wholesome produce.
Una Bhán Tourism would like to point out the many advantages Boyle Farmers Markets brings to Boyle and the businesses in it:
Research proves that when a Farmers Market is run in a town on a given day, it increases business for the other businesses in a town.
They encourage town regeneration, putting towns 'on the map' and bringing increased numbers of people into rural areas.
They improve community spirit by injecting towns with vibrancy once associated with traditional markets towns on market day.
They generate a sense of belonging and of co-operative working both among producers and between all those involved in organising an event.
They encourage farmers and producers to develop direct relationships with consumers resulting in a new income stream for that farmer / produce an provide self-help for local rural businesses & small farmers
This celebration event is funded under the Community Tourism Diaspora Initiative Funded by Roscommon County Council, IPB Insurance and Fáilte Ireland.