News
'Tree of Hope' planted in Boyle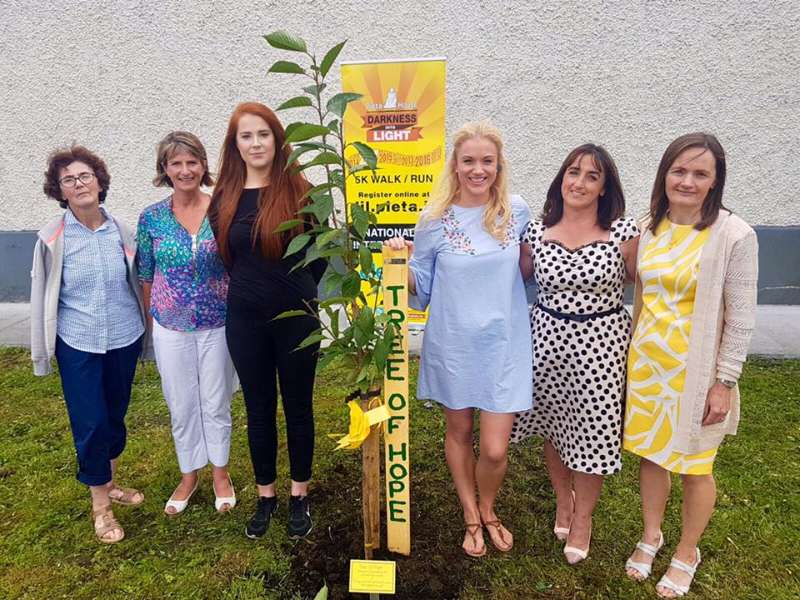 Saturday marked the end to a fantastic year for Boyle's 1st Darkness into Light event.
The tree so kindly donated by Ardcarne Garden Centre was finally planted as our "Tree of Hope" another 1st for Boyle.
An intimate crowd gathered at St Josephs hall where the DIL took place on May 6th. Music played softly in the background as Boyle's DIL Chairperson Melissa Doohan thanked everyone for attending and thanked Ardcarne Garden Centre for their kind donation & help with the planting today.
Melissa explained what the tree symbolised and asked Carmel Goldrick to place the Memorial tags with the names of loved ones that were placed on the tree on the morning of May 6th into the soil beneath where the tree was to be planted.
The tree was planted by Stephen a member of staff of Ardcarne Garden Centre with the help of members of the crowd who had been effected by suicide.
As the tree was planted Fr. Gerry blessed Boyle's "Tree of Hope" and described how the Tree of Hope resembled life and that we must support one another.
Once blessed Emma Teirnan carefully tied a yellow ribbon around the tree; the colour yellow symbolises "Darkness into Light" and suicide awareness.
Members of the public were then invited to write the names of loved ones sadly lost to suicide on a yellow helium filled balloons, which would be later released to remember all those who have passed away.
To mark the end of the planting Margaret Hayden read the poem "We remember them". Tom Mc Evoy of Pieta House Closed the ceremony with an explanation of how much Boyle raised in its 1st year and how it will help those struggling with Mental health issues.
Boyle's DIL committee presented Pieta House with a phenomenal Cheque of €14,752.76!!!! Wow!!! Well done Boyle!!
(pic and info courtesy Boyle Darkness into Light)