News
Way cleared for sale of 'Herald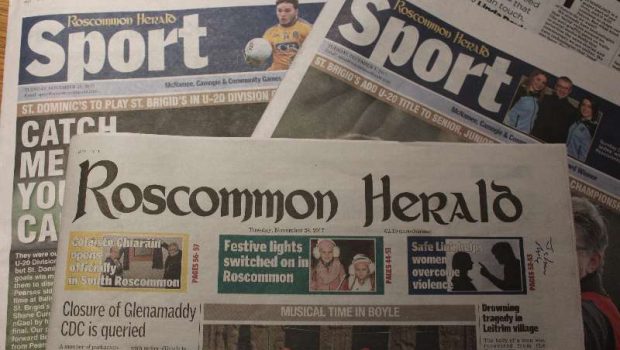 The proposed acquisition of the publishing and media interests of Landmark Media Group by the owners of the Irish Times has been cleared by the Competition and Consumer Protection Commission (CCPC).
Landmark Media owns the Roscommon Herald, Western People, Irish Examiner newspaper as well as a number of other media assets.
RTE.ie reports that "In its evaluation of the deal, the CCPC said it "found no evidence that The Irish Times and the Irish Examiner are each other's closest competitor in the publication and sale of daily national newspapers or in the sale of advertising".
The watchdog therefore concluded the deal "will not lead to a substantial lessening of competition in any relevant market in the State".
The deal between the two groups was agreed last December, with the Examiner's parent company reportedly carrying debt of around €16 million.
It is understood The Irish Times paid only a nominal amount to acquire the assets, according to the RTE.ie report
It is also understood AIB will write off around €10m of the debt as part of the deal.
At the time of the deal, Managing Director of The Irish Times DAC Liam Kavanagh said the company is "fully committed to working with the respective Union groups in each company on any restructuring proposals that will need to be made".
Landmark Media currently employs around 400 people.
Around 250 of these work from the company's Cork offices and are employed in the Irish Examiner and Evening Echo newspapers and in their related online and digital businesses.
The remainder work in the company's regional titles and radio stations.
Landmark Media is owned by Tom and Ted Crosbie. The family has owned the Examiner since the 19th century and took most of the assets of the old Thomas Crosbie Holdings out of receivership four years ago.
Current Landmark Group CEO Tom Murphy will exit the business at legal completion of the deal" the RTE.ie report concludes.
Meanwhile Social Democrats TD Catherine Murphy said that she has concerns about Minister Denis Naughten's involvement in the proposed sale of Landmark Media.
"We've been given reason to have concerns, by virtue of what happened last week," she said.
"We have looked for the Minister to recuse himself in relation to media regulation and we are waiting for the Taoiseach to respond to that." said Ms Murphy.
Audited Bureau of Circulation (ABC) circulation figures for the first six months of 2017 showed average daily sales of 28,338 for the Irish Examiner, and 62,423 for The Irish Times.
There are no official circulation figures available for the Roscommon Herald as they are no longer registered with ABC, the company tasked with verifying newspaper circulation figures.