News
When one legend met another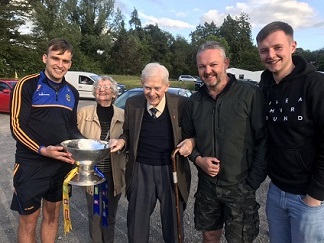 The former Mayor of Boyle Bill Corcoran was on hand in the Abbey Park last week to greet Roscommon Captain Enda Smith and the Nestor Cup.
Corrigeenroe native Bill, who now lives in Dublin has a great interest in Roscommon football and all things local in Boyle.
Back in the 1950's he ran Leyland's Pub on the Crescent where Londis is now located.
Bill contested the Mayor of Boyle competition at the time and got elected on three promises:
1. To make Boyle a seaport town
2. To terrazzo the streets of Boyle
3. To import Scandinavian blondes for all the bachelors of Boyle.
(Bill is pictured, courtesy of Grainne O'Hagan, with his wife Phyl and family members along with Enda Smith in the Abbey Park last week).