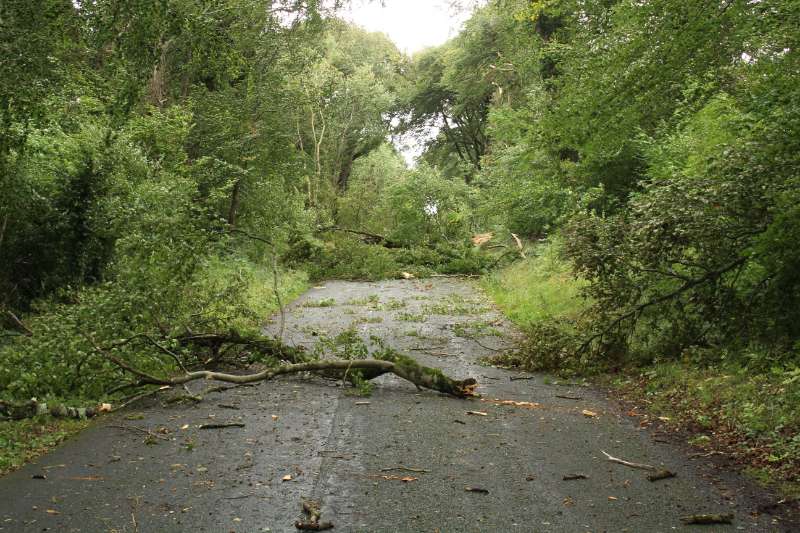 A Status Yellow wind warning has been issued for Roscommon as Storm Callum approaches.
The warning is valid from Thursday 11 October 2018 23:00 to Friday 12 October 2018 09:00
Met Eireann are advising of strong southeast, veering southwest, winds on Thursday night and Friday morning.
Winds will be strongest overnight and early on Friday, gusting between 90 and 110 km/h at coasts.
Met Eireann Forecast:
Thursday:
Cloudy and breezy on Thursday morning with rain becoming widespread and persistent. The rain will heavy in places with a risk of isolated thunderstorms. Drier brighter conditions with sunny spells and scattered showers will develop by early afternoon. Highs of 13 to 15 Celsius. The fresh and gusty southeast winds will veer southwesterly and moderate.
Outlook:
Headline: Very unsettled and disturbed weather through the rest of the week and early next week. Some potentially disruptive conditions at times with spells of heavy rain and the risk of flooding, some extremely windy weather also, along with high spring tides and high seas in coastal areas.
Thursday Night, Friday and Saturday: Some disruptive weather is expected Thursday night and early Friday, as a very deep low pressure system tracks northward about 150 to 200 miles to the west and this also coincides with spring tides. Very heavy rain and extremely windy conditions will sweep in off the Atlantic Thursday night, possibly stormy in some west and northern coastal areas. There will be heavy possibly thundery rain in many places overnight, with strong to gale force southeasterly winds developing, giving way to squally showers and strong to gale force south or southwesterly winds by Friday morning with damaging gusts, especially in Atlantic coastal areas, so take extreme care. Coastal flooding is also likely, due to the combination of high seas, high tides, strong winds and low pressure.
However conditions should abate fairly quickly Friday afternoon with drier weather developing for a time.
Another spell of very heavy, possibly thundery rain will push northwards later Friday, and rain will be widespread on Friday night and for a time on Saturday but turning drier and fresher later in the day and overnight
Sunday: Brighter fresher, cooler conditions are expected on Sunday, with sunny spells and scattered showers, but some heavy or possibly prolonged showers may occur in western areas later in the day and becoming blustery there.
Early days of next week: Very disturbed weather is expected to continue.
Monday looks like being bright and fairly dry for much of the day, but wet and windy conditions will become widespread later Monday and overnight and for Tuesday. Cooler, showery and windy conditions will follow Tuesday night and Wednesday with the danger of some very strong winds at times on Tuesday and Tuesday night in the northwest.