News
10 new homes officially opened in Boyle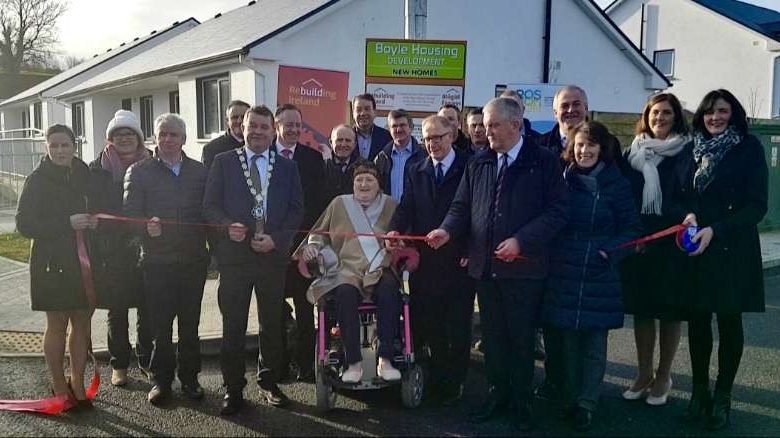 Senator Frank Feighan officially opened 10 new homes at Cnoc an Raille, Station Road in Boyle on Wednesday.
Speaking at the opening Senator Feighan said "I'm absolutely delighted to be here in my home town of Boyle to officially open these 10 beautiful homes at Cnoc an Ráille in Station Road. This is another great day for Boyle".
"I want to sincerely thank my colleague, the Minister for Housing, Eoghan Murphy, who approved funding of almost €1.88m to ensure these wonderful homes would be built".
"This Cnoc an Ráille housing project has been provided by way of a turnkey arrangement whereby Roscommon County Council and Mulryan Construction have worked together to deliver the houses in a 'walk in condition.'
"As you can clearly see, these homes have been built to a very high standard".
"I want to pay tribute to the Council, especially the housing section; to  Danny and all of his staff at Mulryan Construction and also to Colette Jordan & Associates, Architectural Engineering for their great work in delivering these houses".
"I also want to take this opportunity to thank another fellow Boyle native Derek Caldbeck, a former senior executive with Roscommon County Council for many years, who was very instrumental in getting this housing project up and running".
"These houses comprise a mixture of four 2 bed semi-detached bungalows and six 3 bed semi-detached houses and they will provide housing for 28 people including adults and children".
"I am so delighted to see the many happy faces today among families who have moved into their new homes".
"These families will also have many amenities on their doorstep such a state-of-the-art Primary Care Centre, a railway station, supermarket and a secondary school".
"This wonderful Cnoc an Ráille development clearly shows this Government is committed to meeting the housing needs of people locally".
"The level of progress being made is reflected in social housing waiting lists where the number of households on waiting lists in County Roscommon has decreased by 12.5% in one year alone, falling from 369 in 2018 to 323 in 2019. Of course, we have much more to do but we are determined to get there".
"Indeed, since the beginning of the Government's Rebuilding Ireland programme in 2016, Roscommon County Council has delivered a total of 859 homes across all delivery schemes".
"I look forward to sustained Government investment in housing delivery programmes in Boyle and the wider region".
"Finally, I want to wish all the Cnoc an Ráille tenants my very best wishes and hope they will have many years of happiness in their new homes".