Events
"A Life in Stone" launch tonight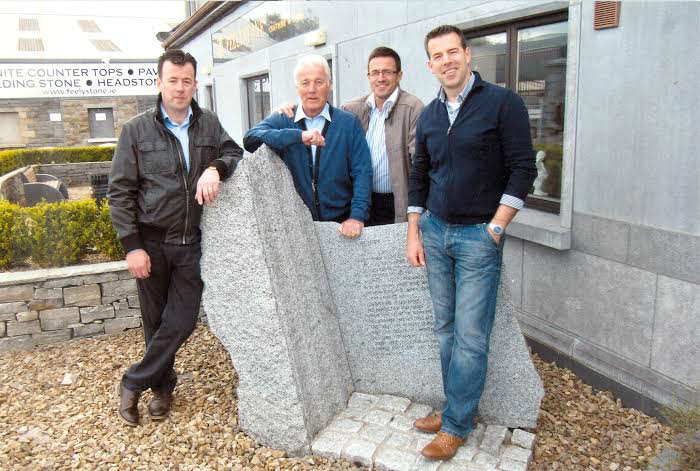 Barry Feely will launch his book 'A Life in Stone' on Friday 7th November 2014 between 7 and 8.30pm. 
His story, which started in the middle of the 20th Century, will be launched in the modern and impressive 21st Century Kitchen Showrooms of Feelystone, Boyle. The showrooms encompass the old Feely Family home – fittingly bringing Barry's story home to the house in which he was born.
Barry started as apprentice in the family business in 1955 with his father and uncles, the 8th generation of stonemasons. His book records the passing of a dying art, of characters and friendships over a lifetime in the trade. Barry's art of storytelling is evident in the book as he recalls a variety of characters who called to the stone yard.
'June 1955 – my first day at work. I was just fifteen years old. My mother had made an apron for me. I was shy as I followed my father out the 6 yards through the green double-door arch which separated our back yard from the work yard. They cheered, my uncles Christy and James, Harry Crowley and Paddy Higgins, as I joined my Dad as the 9th generation.'
Thus starts an "honest, heartfelt and thoughtful account of what Barry calls his path to a life in stone."  Special guest, author Brian Leyden who will launch the book, describing it as "a treasure trove of intimate knowledge of a passing art and friendships over a lifetime in the trade quarrying and working with good and bad blocks of stone…Read, learn and enjoy!"
In his foreword, sculptor Alan Counihan observes "Barry polishes stones and stories equally well. It is a joy to read in these pages his tales of life as a young apprentice learning the craft." The book will be of interest to anyone with an interest in local history and local characters as much as to those in the stone trade. Barry brings the reader with him on his life in stone to the present day, concluding that he is happy that his family, the 10th generation, continue the tradition but not be burdened by it.
All are welcome to the launch.