News
Brochure background outlined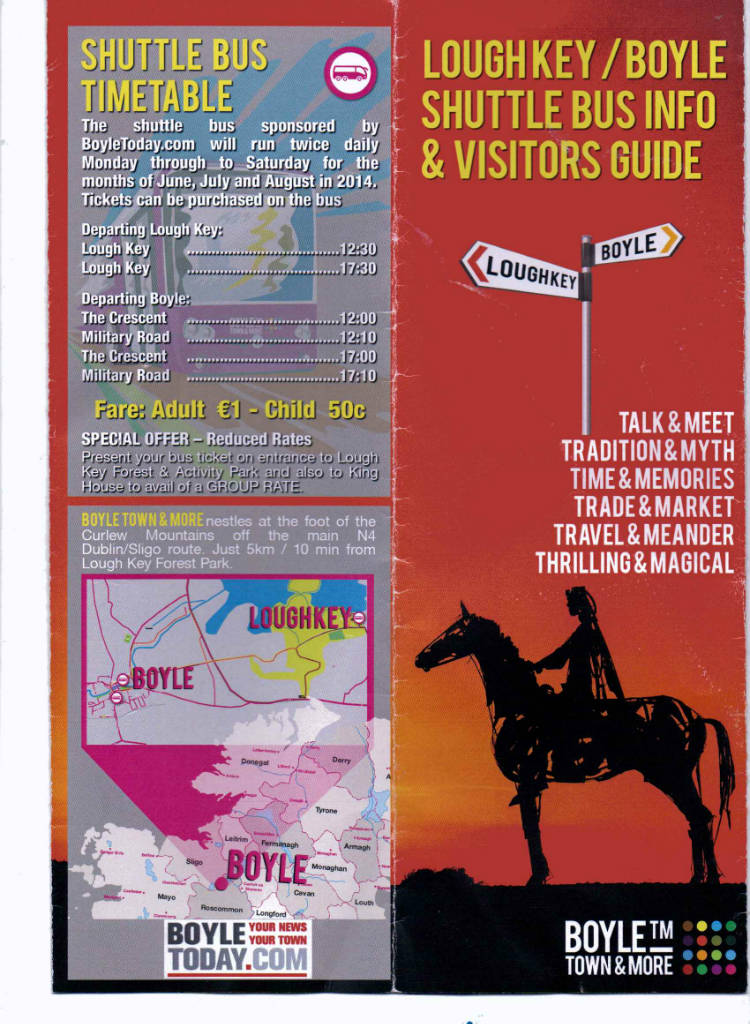 In recent days confusion seems to have arisen among a small number of people in Boyle over the weekend launch of the Lough Key to Boyle shuttle bus,  the erection of road side signs and in particular the publishing of a promotional brochure for the town.
Yesterday evening, well known Boyle publican Brendan Reid from Mattimoe's Bar and a member of the group "Boyle Town and More" who organised the bus, signs and brochure took to social media to clarify the position, as he said it was "sickening to see the time and effort people volunteered, (being) mocked by people who made little input into the whole process"
In his Facebook post Brendan clarified the situation as follows:
"I normally don't engage with petty politics here and try to keep things professional but I cannot stay silent. People have been hurt personally and insulted professionally by comments made regarding the efforts of the traders here in Boyle to promote our town as a place to visit and do business. A shuttle bus service, new signage on the outskirts of town and an advertising campaign was decided upon after a traders meeting in April (at least I think it was April).
A brochure was part of the advertising package put together by local traders and I might add, funded by local traders. It was launched in conjunction with the Boyle/Lough Key shuttle bus service, also funded by local traders and with a very generous contribution from Boyletoday.com. Huge work went into getting all done for the June bank holiday weekend.
Practically every trader was approached. Those who were closed got a letter outlining our plans. ONLY those who contributed were included in the brochure. Traders were asked to come to meetings to contribute their thoughts regarding advertising our town as a place to do business. All were welcome. Some came….some didn't.
Two hundred brochures were printed for the launch of the bus service with the intention to print the other 5,000 after a final review, which happened today. Anybody who bothered going to the meetings would have known this was the plan. Everything was done with the intention to tweak any imperfections over the coming days and weeks. Its a good start and something we can build on. A lot of time and effort has gone into promoting our town. It is SICKENING then, to see the time and effort people VOLUNTEERED, mocked by people who made little input into the whole process. Some people don't like the brochure or the signs and they're entitled to their opinion… I'll even defend their right to one. But an opinion should be just that. Not vitriol. To those of you who have read this far, I thank you for your time and leave by saying come and visit us here in Boyle, you'll be glad you did.