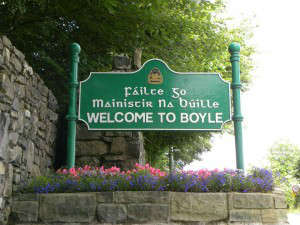 Business Awards on Thursday
The inaugural Boyle Business Awards, organised by Boyletoday.com and Money Plus, take place this Thursday evening 21st May at 8pm in King House.
The winners and finalists of Boyle's Best Bar/Pub, Employee of the Year, Employer of the Year, Best Start Up Business, Best Established Business and Customer Service Award will be announced.
If you entered the awards, it is important you have a representative in attendance as you could be an award finalist or winner.
The event is open to the public who are invited to come and celebrate all that is good in the commercial life of our town.
Upcoming King House concert
Ciaran O'Maonaigh and Caitlin Nic Gabhann are coming to King House on 20th May at 8pm. Ciaran plays the fiddle and Caitlin plays the concertina. These are two of the finest young musicians on the current traditional Irish music landscape. Caitlin is also an accomplished dancer, taking to her feet to accompany Ciaran's melodic reels. This is a performance not to be missed! Tickets available at King House on 071 966 3242 or at www.roscommonartscentre
Paths To Freedom & 1916
The two-day event will take the form of a day of lectures in King House on Friday May 22 and half day on Saturday 23rd May  followed by a musical evening on Saturday May 23 with broadcaster Myles Dungan the Master of Ceremonies on both days .  The lectures will feature well-known expert speakers from the worlds of TV, radio and academia, with a local perspective on Cumann na mBan and the struggle for women's emancipation. An exciting musical evening has also been included in the programme this year which will fill King House with songs and stories from World War 1 performed by The Brook Singers, with soloists Sadhbh Burt Fitzgerald, Jonathan Creasy, actor/tenor Brendan MacQuaile, pianist Ronan Murray and Simon Morgan.
Duck Race Fundraiser
A Duck Race will take place on the Boyle River on Saturday, May 30th commencing at the bridge on Bridge Street at 1pm. Ducks will cost €5 each  1st Prize, €500, 2nd Prize €200 and 3rd €100. Cards are being distributed around the town so please make sure you get your duck early! Your Support is most appreciated between 4pm & 6pm.Saturday, 4th July between 3pm & 5pm. All proceeds in aid of Boyle Courthouse Project.
Ardcarne Community Childcare Services Ltd
A Family Fun Walk & Fete will be taking place on Monday 1st June (Bank Holiday Weekend) Meeting at Cootehall School at 12.30pm with a walk around Cootehall Village (approx 2km, suitable for all the family! Back to the School for refreshments and Fete with stalls, games and fun for all the family. Date for your Diary! Ladies night on Friday 26th June at 7.30pm in Tara Marina Restaurant & Bar, Knockvicar. Start with a glass of champagne on arrival followed by 3 course buffet meal and music with Carol O'Dowd. Tickets €20 & will be available soon.
Padre Pio Pilgrimage
 The annual Padre Pio pilgrimage to Holy Cross Abbey, Co Tipperary will take place on Sunday 31st May. The pilgrimage will be led by the new Archbishop of Cashel & Emly, Dr. Kieran O'Reilly. A bus will leave The Crescent, Boyle at 8am sharp. For all enquiries please contact Moya on 071 966 2110
Registration for Toughest Muckers
Ireland's Toughest Muckers challenge in Lough Key Forest Park will take place on June 13th 2015.Online registration for the event is now open.The organisers hope to run two events per year. To register log on to www.toughmucker.ie
Workshops and Training on Green Opportunities
Community Groups, Enterprises and Individuals. The Accelerate Green Enterprise programme, based in Boyle, Co. Roscommon is offering a range of workshops and training for interested individuals, businesses and groups. All workshops are free and include themes such as – how to create viable business opportunities from natural resources, understanding the green customer of the future – and much more. The programme also offers an IdeaGen platform which will assist budding entrepreneurs with a green idea, seeking to test out the idea and receive advice on how to move it forward. Additional supports include: case study visits and general business mentoring / training. The Accelerate programme may be of interest to those currently unemployed / underemployed. For more information contact Olwen on 087-7997772 or Orla on 086-3807802.
Lough Key / Boyle Shuttle Bus 2015
Building on the success of the 2014 Pilot Shuttle Bus initiative, which provided over 400 passengers a valuable and inexpensive service we hope that the service will be provided again this season, with some changes to enhance the service based on feedback: Service will run three times daily, six days a week throughout July and August Departing Lough Key  at 11am, 3.00pm and 7.00pm Bus to be more visual with external music and departure information Internal Audio recording of history & culture of the area Ticket price to remain the same … Adult €1 / children up to 16yrs only 50c cent. We realise that there are many demands on all businesses in Boyle at this time. We greatly appreciate and acknowledge the generosity received last year for our pilot initiative and we are again appealing for financial support which is vital to provide this excellent service.  Last year's Shuttle Bus Initiative cost over €5,000 to run! The bus times have been changed to accommodate visitors' avail of getting Provisions/Go shopping/ Eat out and come back to Boyle for Entertainment and slots also will coincide with the action packed schedule for Boyle Arts Festival. Sponsorship contributions of €100 to be included in the benefits below are most welcome and can be dropped to Cecil Draper (Taylors Interiors) / Brian Kelly (Betterbuys) / Patricia Golden (Una Bhan Tourism).The benefits of being a Shuttle Bus Sponsor: Inclusion in new 2015 promotional brochure, Inclusion in new Voucher Booklet, Joint marketing, Promotion on advertising screen in Lough Key Forest Park, A Contributor to the Shuttle Bus service running 3 times a day / 6 days a week / for months of July and August, Lough Key to Boyle. Boyle Town and More are confident that the Shuttle Bus will attract many of the visitors to Lough Key to visit our town of Boyle. The main sponsor again this year is Boyletoday.com. Your support is greatly acknowledged as we had over 50 subscribers to this initiative last year.
BOYLE MUSICAL SOCIETY AGM 2015
In their annual reports, the Society's Secretary Marie Kennedy, Chairperson Liz Gannon and Treasurer Benny Morgan thanked everyone involved for making this another very successful year for BMS. During the year, the Society was delighted to present the musical "Grease" as well as a Summer Concert and perform as Choir in St. Joseph's Church at a Christmas mass. Each made special mention and offered the Society's condolences on the untimely death of Committee member Aidan Callaghan. BMS Producer Viv Moran revealed details of the Society's next Musical.  "We're off to see the Wizard!" That's right, Boyle Musical Society are delighted to announce that this year's musical will be The Wizard Of Oz. Everybody will be familiar with the classic 1939 MGM film, starring Judy Garland and the BMS production will be a special treat for all the family. The Wizard of Oz will open in St. Joseph's Hall, Boyle on Wed. November 18th and continue until Sunday November 22nd. Rehearsals will commence on Monday August 31st.