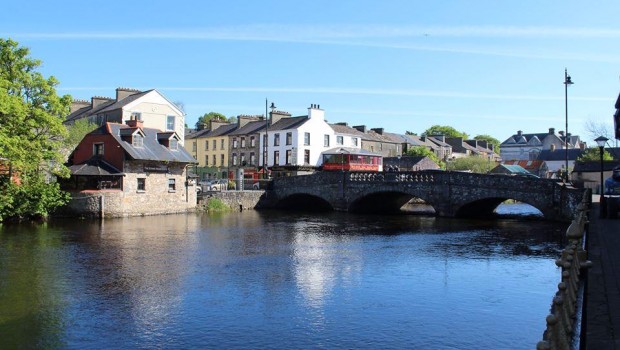 PAROCHIAL SCHOOL OPEN DAY
Boyle Parochial National School will hold an Open Afternoon from 1.30 p.m. to 4 p.m. on Wed March 11th and all are welcome to visit. Boyle Parochial National School is a two classroom school providing all inclusive primary educational opportunities for all children between the ages of 4 and 12.
FÍR NA BUILLE
Are you interested in telling your story? Úna Bhán Tourism is conducting a new project called Fír na Búille, a celebration of the culture and creativity of the men from the community of Boyle. This follows on from our previous successful project and published book 'Mna na Buille'. We would especially love to hear from men born prior the 1940s, up to 1960 making our age (from 60 years and older). The project will capture their stories and experiences through different times and situations, often funny, often sad, but all amazing. Stories that reflect growing up in the local community, going to school, the chores they had to do, how they socialised, met their partners and how their lives led them through marriage and rearing families and careers. Stories lost if not recorded and passed to future generations reflecting their strength and endurance during different times, bringing rural and urban experiences and bridging different classes together. If you are interested or know someone that will like to be involved in this project, which will result in a book publication 'Fír na Búille', please contact Anna in Úna Bhán Tourism on 071 966 3033.
FREE EVENTS PROGRAMME
Role Skillnet has launched its Spring Training and Free Events Programme at Boyle Enterprise Centre. Training courses include, Intermediate Excel March 20th, Advanced Excel April 2nd, Intermediate Word March 23rd, Conflict Management April 22nd, Team Leadership QQI level 6, May (5 days). Free events Time Management March 24th and Employment Law Essentials April 1st. For more information or to book places please email [email protected] call 071 9673440. Role Skillnet, Training Network. Role Skillnet is based at Boyle Enterprise Centre and provides training support and funding for businesses.
CURLEW WALKERS
The next walk will take place on Sunday 22nd March, meeting on the Crescent, Boyle at 10am. The walk will be on Cuilcaigh, it is a Grade B+ Climb (4 to 6-hour duration, Good level of fitness required). The walk leader is Tom Browne 087 237 9632.
LECTURE ON FR O'FLANAGAN
A meeting of the Co Roscommon Historical and Archaeological Society will be held on Tues 10th March at 8pm in the Percy French Hotel, Strokestown. Following at 8.30pm a lecture on the life of Fr O'Flanagan will be given by May Moran.  Fr Michael O'Flanagan(1876-1942) of Cloonfower, Castlerea, a Conradh na Gaeilge member, was an academic and fearless advocate  for his parishioners and his fellow countrymen. He promoted the Irish Cooperative Agricultural Society, Irish lace making and embroidery, and was instrumentaltal in the establishment of a convent and cheese-making industry in Loughglynn. A prominent member of Sinn Fein, from 1917 onwards, Fr Flanagan served as curate at Crossna, Roscommon and Cliffoney.. Between 1927 and 1932 he produced editions of the Ordnance Survey Letters, as collected by John O'Donovan for 29 counties. In 1932 he was appointed editor of a series of County Histories, on the Irish Language, including Roscommon in 1938. A political and social activist Fr O'Flanagan led prayers at the first meeting of Dail Eireann in 1919. Mae Moran is a keen researcher of Ireland's struggle for independence.She has contributed to events during the Decade of Centenary Commemorations. May  was a contributor to 'Roscommon, History and Society, Interdisciplinary Essays on the history of an Irish County'. She is author of ' Executed for Ireland, The Patrick Moran Story'. All welcome
FIVE WAYS TO WELL BEING
Boyle Library Thursday March 12th 6.30pm-8pm. Free workshop with Teresa Keane of Mental Health Ireland, exploring how to integrate the Five Ways to Wellbeing into your home or organisation. To book, please contact Boyle Library 0719662800 or email: [email protected]
ARCHAEOLOGY CONFERENCE
Archaeology Above & Below, Ireland's only annual community archaeology conference, is now in its seventh year and will take place in Rathcroghan Visitor Centre, Tulsk on Saturday 28th / Sunday 29th March. The purpose of this conference is to create a forum for discussion between communities and individuals who wish to interpret the story of the landscapes that we inhabit. This is achieved by a series of talks, and workshops detailing the aims, techniques and results of community-led research throughout Ireland and further afield. For the last six years, we have sought to inspire an interest in and love for the disciplines of history and archaeology, a curiosity in the unknown, and a willingness to uncover the gaps that appear in our knowledge of our past. Each year, we provide a different theme from which our speakers approach their talk, so that we are constantly re-evaluating and questioning what we know with fresh ideas and a new perspective. www.rathcroghanconference.com Phone: (071)9639268
CREATIVE PARENTING WORKSHOPS
'Better Ways to Connect', facilitated by Karen Stewart MIAPTP MIAHIP Play Therapist. St Joseph's Resource Centre, Abbeytown, Boyle, Saturday 28th March 10am-4pm. Cost €85 inclusive of refreshments and light lunch, for two parents of same family attending there will be a discounted fee of €20. You will: Develop a greater understanding of the importance of parent/child relationship with regard to child's overall development and functioning in the world. • Learn activities that can be done at home to help your child manage feelings and build healthier relationships. • Learn new ways to manage challenging behaviour. • Relax, reflect and refresh your role as a parent. • Discuss the challenges of parenting in the modern world (influence of technology, media and peer pressure). Booking essential. Deposit of €30 payable by 19th March needed to secure place. Contact Karen 087 9728044.
HERITAGE RESEARCH BURSARY 2020
Roscommon County Council is now inviting applications for the Heritage Research Bursary 2020.  The research topic or site must be located in County Roscommon.  The research project must be at MA, MSc or PhD level in a recognised third level college.  There is one bursary award only. The maximum value of the award is €1,000.00.  Projects must be completed by 31st October 2020.This year applications will only be accepted via My Online Services. Register for online services at www.roscommoncoco.ie The closing date for receipt of completed application and accompanying information is 5.00 pm on Monday, 30th March.  All enquiries to Áine Butler, Heritage Office on (090) 6637271 or e-mail: [email protected] This project is an action of the County Roscommon Heritage Plan 2017-2021.
WHIST DRIVE, BALLINAFAD
Whist Drive, Friday, 13 April 2020 at 8pm in Ballinafad hall.  Prizes and refreshments on the night.  €5 per game. Organised by Aughanagh Parish Council
ATTENTION  CLASS  OF  1978
We are planning on holding a Class Reunion for those of us who were students in Scoil Chriost an Rí, Boyle between 1973 to 1978.  This will take place in Boyle on 9th May 2020. The reunion is open to those of us who were part of the class at any stage over the years 1973 – 1978. Please confirm your availability to attend by   emailing
[email protected] RSVP 31 March 2020
LOUGH KEY CLASSIC
Date for your diary – Sunday 10th May 2020. Building on the great feedback from the 2019 Classic we are pleased to offer the same two routes, 70km and 120km. Weather permitting the King of the Mountains option will be at the end of the second loop. (Please be aware there will be a time cut off for KOTM, after which it will be unavailable). Both the 70km and 120km will be figure of eight loops with tea stop at half way for both. More of the same and a hot meal at the finish line. Start & Finish at the Sports Complex in Boyle. 120km starts at 9am / 70km at 9.30am. 70/120km – €20 for CI licence holders, €25 for non CI
BOYLE FAMILY RESOURCE CENTRE
Boyle Family Resource Centre CLG contact details. website: www.boylefrc.ie. We are also on twitter: www.twitter.com/FLCBoyle.  Email: [email protected] – Counselling Service: [email protected] Telephone: 0719663000. Charity No: 20153519.  If you would like to be added to our mailing list, please let us know. Booking essential for all groups, courses and workshops.  Our drop-in room is open Monday to Friday from 9am-1pm & 2pm-5pm.  We have Tea/Coffee making facilities, Library, Comfortable Chairs, Computer & Wi-Fi access, information leaflets, a listening ear when needed. 
FIRST AID
Basic First Aid with Absolute Safety. Friday March 20th from 9.30am-5pm in Boyle Family Resource Centre 0719663000.  Booking essential.  Cost: €80
BEREAVEMENT SUPPORT
Support for those grieving the loss of a loved one. Tuesday's at 8pm for 6 weeks in Boyle Family Resource Centre. Cost: €3/Donation. Booking essential 0719663000.
WIDOW AND WIDOWERS SUPPORT GROUP
Support for those grieving the death of their spouse. Thursday March 12th & every second Thursday of the month from 7:30pm-9pm in Boyle Family Resource Centre 0719663000. Cost: €3/Donation.
WHAT IS COUNSELLING AND PSYCHOTHERAPY
Counselling & Psychotherapy is for anybody.  Sometimes life can be difficult for us, it can be unmanageable and challenging. Counselling can be a great support or resource at times of crisis or difficulty in our lives.  It involves meeting with a trained Professional Therapist in a safe confidential setting allowing you to talk about and explore life's challenges in a non-judgemental space.  Appointments are available Monday to Friday, day and evening. Therapeutic Support for Families, Adolescents, Couples and Individuals. The cost is on a sliding scale and is negotiable. Please contact Marie on 0719663000 or Maura on 0719663841 in Boyle Family Resource Centre. All our programmes and services are confidential and professional.
ROSCOMMON SUICIDE BEREAVEMENT LIAISON SERVICE
Roscommon Suicide Bereavement Liaison Service is a free & confidential service that provides assistance & support to families & individuals grieving the death of a loved one by suicide.  Contact: Tiffany Jennings Walsh, Suicide Bereavement Liaison Officer on 0857407856 or Boyle Family Resource Centre (FRC) on 0719663000. This service is funded by the HSE National Office for Suicide Prevention.    
BABY AND TODDLER GROUP
Baby & toddler groups can be a great way of meeting other people with children the same age as yours in our community.  It is open to childminders, grandparents and other guardians, babies, waddlers and toddlers are welcome. Every Tuesday and Thursday morning from 10am–12.30pm in Boyle Family Resource Centre (FRC) 0719663000.  Cost: Donation.  Bazz Art: Thursday 12th March and second Thursday of each month 10am-11am sharp.  Cost included in Baby and Toddler Group.
WOMENS GROUP
Boyle Family Resource Centre have a women's group every Monday Morning from 10am to 12pm. Everyone is welcome and a great space to meet new and old friends.
BOYLE FOOD PARTNERSHIP 
Community FEAD and Food Cloud. If you and/or your family need food, we distribute food through these programmes at Boyle Family Resource Centre (FRC).  Please text the word FOOD + your first name to 0860496467 to receive details. 
FAMILY SUPPORT DROP IN CLINIC
A drop in confidential space for parents and families to call in and receive support and a listening ear about issues and concerns about you and/or your children. Wednesday mornings during primary school term 9.30am-12pm.  An interagency project together with Boyle FRC, Foroige & Tusla. Boyle Family Resource Centre 0719663000.  
LGBTI+
A weekly group for young people aged 13-18 years who identify as members of the LGBTI+ community.  Opportunity to try some fun activities, seek advice/support.  Tuesday March 3rd from 5.30pm-7pm in Boyle Family Resource Centre.  An interagency project together with Boyle FRC & Foroige.
SPANISH CLASS
Intermediate Class Thursday's from 11am-12pm.  Beginners Class Thursday's from 12pm-1pm in Boyle Family Resource Centre 0719663000.  Cost is €40 for 6 sessions or €10 each session.  Booking essential.
YOGA WITH LIZ DWYER
Wednesday mornings from 11am-12pm in Boyle Family Resource Centre. Cost: €10 per session.
PILATES WITH OLIVER LEVIN
 * Limited Availability* Booking Essential. Advanced Tuesday mornings at 9.30am. Cost: €10 per session. Beginners Tuesday mornings at 10.30am. Cost: €10 per session. Boyle Family Resource Centre on 0719663000.  
BOYLE BREASTFEEDING SUPPORT
A space where you and your baby will receive lots of support, a warm welcome & a cuppa! Older siblings are very welcome to come along as are expectant mothers.  Friday 27th March from 10am-11.30am in Boyle Family Resource Centre.  Cost: €2 or donation.