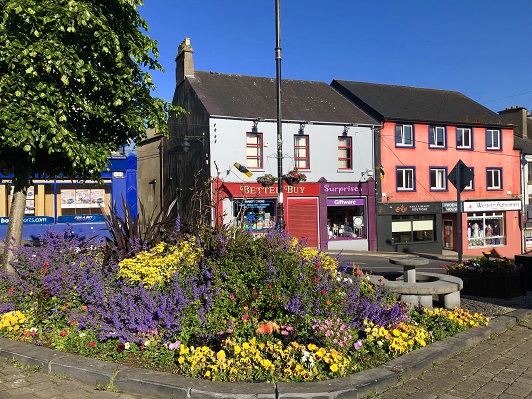 BOYLE FAMILY RESOURCE CENTRE 
Family Support is still available Monday – Friday 9:00am -1:00pm & 2:00pm – 5:00pm over the phone/video call. If you are seeking support or advice, please give us a call, we would be happy to support you. Just call the centre and someone will get back to you as quick as possible. If you need to phone for support at other times, please call us and we will get back to you. Contact Numbers: Boyle Family Resource Centre: 071 9663000, Foroige Boyle Youth & Family Support: 086 388 0738, Tusla Family Support: 087 190 7681. Boyle Family Resource Centre CLG contact details Telephone: 0719663000. website: www.boylefrc.ie. We are also on twitter: www.twitter.com/FLCBoyle.  Email: [email protected] – Counselling Service: [email protected]. Charity No: 20153519. If you would like to be added to our mailing list, please let us know. 
BABY AND TODDLER GROUP 
While our centre is still not open to the public we wanted to give our mums and dads the opportunity to still have our baby and toddler group, to catch up and have a chat for 2 minutes or 20 minutes. If you would be interested in joining the group, please contact Emer on 086-0143942 or [email protected]
ONLINE MINDFUL PARENTING COURSE
Starting on Tuesday 21st April. The program will be online via Video sessions & there will be six sessions in total. Parents can use the various techniques in this program to support their child's positive mental health and well-being. Call Karen on 0868384990 or Boyle FRC on 0719663000 to book your place. Sessions will start on Tuesday 21st of April 2020 @ 5:00pm – 5:40pm. This program is Free, a donation can be made to the centre at a later date if you wish.
BOYLE FOOD PARTNERSHIP
Community FEAD and Food Cloud. If you and/or your family need food, we distribute food through these programmes at Boyle Family Resource Centre (FRC).  Please text the word FOOD + your first name to 0860496467 to receive details.
BOOK PROJECT
'When the World Stopped' is a joint Community Project between Boyle Family Resource Center and Una Bhan Tourism Cooperative. At a time when the world stopped (temporarily), we would like the community of Boyle and surrounding areas to take a moment to reflect on what this time has meant to them, the good and the bad. This reflection might be written or drawn but is personal to you. We would invite anyone of any age to participate as we all view this 'moment in time' differently. We hope to put these reflections into book form at the end of this pandemic and have a 'snapshot' of the impact this historical moment had on our community for future generations to come. Pieces can be sent to Emer at [email protected] or Anna at [email protected] If you have any questions please let us know on 071 966 3000

SPRING INTO STORYTIME
Every year, during the month of April, Roscommon Libraries host a series of 'Spring into Storytime' events for local families and schoolchildren to attend. This year, while libraries and schools remain closed, these stories will be delivered online through on library Facebook and Twitter pages. These videos will remain online while library buildings are closed. This initiative will provide another valuable resource for families alongside the online services already provided by libraries such as eBooks, eAudiobooks, and access to online learning resources on Askaboutireland.ie and Enfo.ie. Irish publishers and the Irish Writers Union have kindly agreed to temporarily waive licence fees for the reading of selected books and the posting or streaming of videos online. Library buildings may be closed, but in partnership with Irish writers and publishers, families in Roscommon are encouraged to celebrate great Irish writing with the library team online instead of in your local branch. Library storytimes are a fun way for children to enjoy stories, especially those who may not have access to books in the home or do not have access to new books at this time. www.facebook.com/RoscommonLibraries
TRAINING WORKSHOPS
Boyle Chamber encourage local Businesses to visit https://www.localenterprise.ie/Roscommon/Training-Events/Online-Bookings/ where a variety of training workshops and mentoring sessions are available over the coming weeks to include:
Actions to protect your Business
Information Seminar on Trading Online Vouchers
Social Media Strategy for Business
Managing Change with Less Stress
Once again we acknowledge the hard work of our frontline businesses which are vital at the moment. We truly appreciate the effort made by everyone including the businesses who had to close, to keep Boyle bright and cheerful this Easter and thank you all for your efforts to lift our spirits, be it with shop window displays, flowers etc.

SLIMMING WORLD
Slimming World group in Boyle is continuing to meet ON-LINE AS OPPOSED TO IN PERSON throughout the Covid -19 crisis. The groups bring people together in the heart of their communities, to support and inspire one another every week. In these anxious times, the community spirit and the genuine care we provide has never been more important. if you have any further questions please do get in touch with Tracy 086 3891600.

DARKNESS INTO LIGHT
New date announced for 'Darkness into Light' has been rescheduled to Saturday October 3rd. You can now register at www.darknessintolight.ie. On October 3rd our light will spread across the world so let's walk together for hope, suicide awareness and suicide prevention. The annual Darkness into Light event was originally planned for May 9th but had to be postponed due to COVID-19.

LOUGH KEY CLASSIC
A new date has also been announced for the Lough Key Classic which was due to take place on May 9th. It is hoped to now hold the highly popular cycling sportive in Boyle on Sunday September 27th.

HOSPICE FUNDRAISER
Roscommon GAA panel fundraise for Hospice. Forty members of the Roscommon GAA senior panel, management and back room teams are planning to raise €30,000 for the Mayo Roscommon Hospice through a shave or dye fundraiser with 100% of the money donated goes to the Hospice. More details of the fundraiser to follow in the meantime check out Roscommon GAA Facebook, Twitter and Instagram accounts.

BOYLE CAMERA CLUB
Boyle Camera Club are planning to hold virtual meetings during the Covid-19 crisis. They will not be hosting the April meeting in Boyle as normal. However, in the meantime, they hope to continue to deliver meetings 'virtually'. For April they have prepared a short recorded meeting with some of the usual meeting items such as the announcements, motivation and Photo editing tips. This can be watched at any time. Starting with the May meeting, they plan to host an on-line meeting. This will be a live interactive meeting on Tuesday May 12th, with a normal agenda with a guest speaker on the night. Details of how you can access the on-line meeting will be circulated well in advance of the meeting through the website, facebook and the forum.