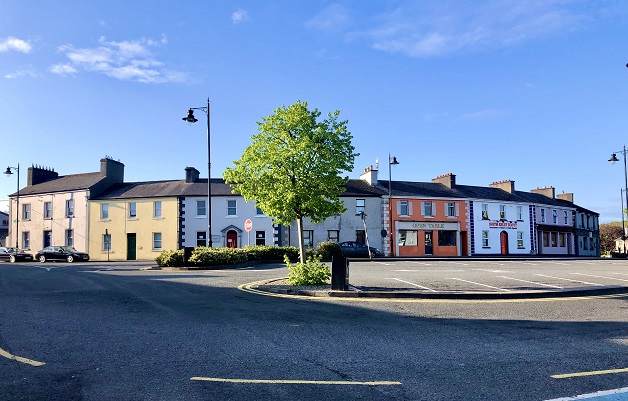 GETTING READY TO RE-OPEN
A follow on "Getting Ready to Re-Open" Webinar for business in Boyle will take place on Thursday 28th May from 10.00am-12.30pm. The Webinar is organised by Boyle Chamber of Commerce and Boyle Town Team and will give an overview of new requirements to support local businesses to re-open in the coming weeks.
The webinar will be hosted by Optima Training and content will include, Health & Safety, Infection Control, HR Issues, Business Continuity, Available Supports, Data Protection, Employee and Customer Communications and leading in a changed landscape. The aim of the webinar is to support local businesses to make Boyle a safe place for Employees, Customers and Visitors as all we come to terms with trading during the Covid-19 crisis.  Booking for both courses is essential and places can be reserved by e-mailing [email protected]. Training costs are fully covered by Boyle Town Team & Boyle Chamber of Commerce.

CALLING ALL RATEPAYERS
Apply for #Covid19 Business Restart Grant to assist you to re-open your business. If you are a commercially rate-able premises and your business has been affected by #Covid19, you could be eligible for this grant. The Business Restart Grant application is available online by clicking https://roscommon-self.achieveservice.com/ or go to www.roscommoncoco.ie for more information. Register for an online account on 'My Online Services' on the Roscommon County Council website and complete the Covid-19 Business Restart Grant Application Form.

ONLINE TASTER CLASSES
Are you interested in learning some new skills? GRETB Training Centre Community Education and Boyle Family Resource Centre are offering 4 free online taster classes starting on May 27th. Week 1 – Introduction to painting & art. Week 2 – Cookery Demo, Healthy Lunch Options. Week 3 – Photography & Video, using your phone. Week 4 – Introduction to Mindset – building self-esteem. Contact Emer on 086-0143942 or [email protected] for more information or to book your place as places are limited.

FOOD PACKAGES
At Boyle Family Resource Centre we provide Food Packages to families and individuals who need some support. The Food Packages are supported through FEAD, Food Cloud and Donations from members of the public and various businesses. If you are not already on our text alert for food packages and would like to receive a food package please contact the centre on 071-9663000 or [email protected]
BOYLE CARES
As part of a new collaborative Community project, An Post have kindly provided Boyle Family Resource Centre with some of their FREE to post in Ireland postcards which we are asking the community of Boyle to send one to a neighbour, old friend, work colleague who you may not have spoken to in awhile, who is cocooning or feeling alone during the current restrictions and let them know you care, our community cares. The postcards are available outside the centre along with some Activity ideas and books. If we are within your 5km please call and collect one.

BABY AND TODDLER VIRTUAL GROUP
Thank you to all the parents and little one's who have been attending our virtual meet up's on Tuesday Mornings. You can join it at anytime and the group is open to all parents and guardians of Babies and Toddlers. This week we shared some at home activities for Toddlers. Check out the photos below of on of younger group members playing with they made. Our next meet up is Tuesday May 26th at 11a.m. Contact Emer on 086-0143942 if you would like to join us.

GARDENING / POLYTUNNEL OPPORTUNITY
Covid-19 Restrictions have put a halt to our Plans for our polytunnel for 2020. However we don't want to see the polytunnel go idle. We would like to offer use of the poly-tunnel to a family/individual to grow their own Fruit, vegetables and flowers for the remainder of 2020. If you live within 5km of the centre and would like to take on this opportunity please email expressions of interest to Emer on [email protected]. The poly-tunnel is overgrown at the minute, so you will need to clear the raised beds before commencing any growing of Flowers/Vegetables/Fruit. Closing date for Expressions of interest – Friday May 29th at 4pm.

BOYLE FAMILY RESOURCE CENTRE
Family Support is still available Monday – Friday 9:00am -1:00pm & 2:00pm – 5:00pm over the phone/video call. If you are seeking support or advice, please give us a call, we would be happy to support you. Just call the centre and someone will get back to you as quick as possible. If you need to phone for support at other times, please call us and we will get back to you. Contact Numbers: Boyle Family Resource Centre: 071 9663000 /Foroige Boyle Youth & Family Support: 086 388 0738 /Tusla Family Support: 087 190 7681 / Boyle Family Resource Centre CLG contact details Telephone: 071 96 63000. website: www.boylefrc.ie. We are also on twitter: www.twitter.com/FLCBoyle.  Email: [email protected] – Counselling Service: [email protected]. Charity No: 20153519.  If you would like to be added to our mailing list, please let us know.

BOOK PROJECT
'When the World Stopped' is a joint Community Project between Boyle Family Resource Centre and Una Bhan Tourism Cooperative. At a time when the world stopped (temporarily), we would like the community of Boyle and surrounding areas to take a moment to reflect on what this time has meant to them, the good and the bad. This reflection might be written or drawn but is personal to you. We would invite anyone of any age to participate as we all view this 'moment in time' differently. We hope to put these reflections into book form at the end of this pandemic and have a 'snapshot' of the impact this historical moment had on our community for future generations to come. Pieces can be sent to Emer at [email protected] or Anna at [email protected] If you have any questions please let us know on 071 966 3000

CREATIVE ACTIVITY FOR CHILDREN
Cruinniú na nÓg takes place on Saturday 13th June. It is Ireland's national day of creative activity for children and young people – and entire families. So get ready to answer the call, to celebrate your creative talents, and to share them with the nation. It's a day for doing, making and creating.
Check out the fantastic events organised for you by Roscommon County Council Arts Office, Heritage Office and Library Service, Roscommon Arts Centre, Music Generation Roscommon and Roscommon County Youth Theatre at https://cruinniu.creativeireland.gov.ie/. In order to make the event happen this year, most activities are online and there's an element of getting out and about too with tutorials to encourage heritage explorations within your own 5km!