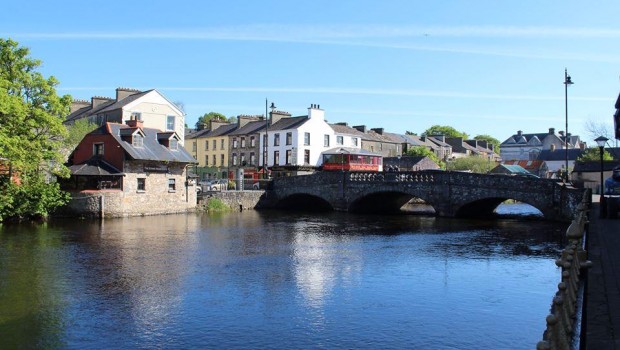 SHOP LOCAL
With many Boyle businesses back open again this week after restrictions put in place due to Covid-19 have been lifted in Phase 2. It is so important to shop local and support all Boyle businesses now more than ever. Doing this will not just help our local economy but also may help to stop the spread of Covid-19.
GETTING COMFORTABLE WITH REMOTE WORKING
An online AMA (Ask Me Anything) titled 'Getting Comfortable with Remote Working' is a FREE workshop and will take place on Thursday June 11th at 6pm. To register attendance go to www.localenterprise.ie/Roscommon/Training-Events/Online-Bookings. This AMA is designed as a safe place to ask anything about the nitty gritty of remote work, what you have been finding challenging and indeed your wins and victories. Turning this Short term solution into a long term business model, you will hear how Stephen Donnelly has adapted and flourished working remotely in the Education sector and how Enda Regan has Lead his Customer Success Team to focus, develop and increase job satisfaction and output.
BOYLE TENNIS CLUB
Tennis Club will re-open to the public within 20km radius of Club from Monday June 8th, under Phase Two guidelines, using court booking system. New members are welcome. For application forms please contact: [email protected]. Tennis lessons for limited numbers, adhering to guidelines, will be available to Club members. Please contact Tim (Tennis Ireland Coach) on 083 115 5374 for further information.
CRUINNIÚ NA nÓG
A national day of creativity for children and young people, Cruinniú na nÓg takes place on 13 June 2020. It is about giving children and young people the opportunity to express themselves through a specially curated programme of cultural and creative activities where they can share their ideas, learn new skills and have fun!
Cruinniú na nÓg celebrates and encourages participation in culture and creativity through performance, coding, theatre, art and music workshops, readings, screenings, special events and much more. Events are free, local and activity-based. It's a day for doing, making and creating! All the events are taking place online: https://cruinniu.creativeireland.gov.ie/events/
ROSSIE DAY
Global Rossie Day takes place on June 21st. Make sure family and friends are set up to watch it online on Roscommon Bound YouTube, Facebook, LinkedIn and Twitter. Check out their Facebook page for more details.
FOOD PACKAGES
At Boyle Family Resource Centre we provide Food Packages to families and individuals who need some support. The Food Packages are supported through FEAD, Food Cloud and Donations from members of the public and various businesses. If you are not already on our text alert for food packages and would like to receive a food package please contact the centre on 071-9663000 or [email protected]
BOYLE CARES
As part of a new collaborative Community project, An Post have kindly provided Boyle Family Resource Centre with some of their FREE to post in Ireland postcards which we are asking the community of Boyle to send one to a neighbour, old friend, work colleague who you may not have spoken to in awhile, who is cocooning or feeling alone during the current restrictions and let them know you care, our community cares. The postcards are available outside the centre along with some Activity ideas and books. If we are within your 5km please call and collect one.
BOYLE FAMILY RESOURCE CENTRE
Family Support is still available Monday – Friday 9:00am -1:00pm & 2:00pm – 5:00pm over the phone/video call. If you are seeking support or advice, please give us a call, we would be happy to support you. Just call the centre and someone will get back to you as quick as possible. If you need to phone for support at other times, please call us and we will get back to you.
Contact Numbers:
*Boyle Family Resource Centre: 071 9663000
*Foroige Boyle Youth & Family Support: 086 388 0738
*Tusla Family Support: 087 190 7681
Boyle Family Resource Centre CLG contact detailS Telephone: 0719663000. website: www.boylefrc.ie. We are also on twitter: www.twitter.com/FLCBoyle. Email: [email protected] – Counselling Service: [email protected]. Charity No: 20153519. If you would like to be added to our mailing list, please let us know. BOOK PROJECT
'When the World Stopped' is a joint Community Project between Boyle Family Resource Center and Una Bhan Tourism Cooperative. At a time when the world stopped (temporarily), we would like the community of Boyle and surrounding areas to take a moment to reflect on what this time has meant to them, the good and the bad. This reflection might be written or drawn but is personal to you. We would invite anyone of any age to participate as we all view this 'moment in time' differently. We hope to put these reflections into book form at the end of this pandemic and have a 'snapshot' of the impact this historical moment had on our community for future generations to come. Pieces can be sent to Emer at [email protected] or Anna at [email protected] If you have any questions please let us know on 071 966 3000