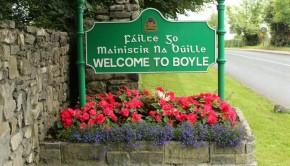 SECRET GARDENS
Created by two artists in an intimate rural setting, this garden combines productivity, ornamental planting and permaculture. Winding grass paths lead to ponds, developing woodland and polytunnel, one jungle-themed, one for fruit and veg. With an eclectic mix of planting and sculpture, this 16 year old garden is still developing. Open11am until 5pm on 29th May, 19th June, 10th and 30th July, 21st August and 11 September. On R361 Boyle – Frenchpark, Right after Saddlers Inn. After approx 2.5km keep right on big bend, take 2nd lane on Right. Entrance just after first cottage. Saffron Thomas and Ian Stanley 086 869 1141 Ardsoran, Lisserlough, Boyle
LOUGH KEY PARKRUN
Free weekly 5k, timed run will take place every Saturday at 9.30am. Come and join in the run in the park.
BOYLE CLEAN UP SCHEDULE
Friday 27th May; Abbeytown to Rockingham Gates meeting at St Josephs Boys      School at 7pm. Friday 10th June; Roscommon Rd/ Frenchpark Road meets at Gannons Corner at 7pm. Friday 17th June; Mockmoyne meeting at Cartys garage at7pm. Bags and gloves provided, clean ups planned for an hour all help greatly appreciated.
COMPUTER SESSIONS – FREE
Boyle Men's Shed is running computer sessions at the Family Life Centre on Wednesday afternoons from 2.30pm until 4.30pm. Sessions are for those who would like to learn the basic understanding of computers, level 3 and below. Skype, Internet, email, Word are some of the apps covered. This course is open to men and women of any age. Some laptops are provided but you can bring your own laptop/tablet. Please phone the Centre on 0719663000 to book a slot.
PILGRIMAGE
The Padre Pio Pilgrimage to Holy Cross, Co Tipperary will take place on Sunday 29th May. A bus will leave The Crescent, Boyle at 8.00am sharp. For further information, please call Moya on 071 966 2110.
BAF OPEN ART 2016
Attention all artists, local, new, those from further afield and those under 25 – it is time to be thinking of your entry to the Boyle Open Art Exhibition. The exhibition runs this year from Friday 22nd July until Saturday 30th July. We were delighted that last year's exhibition was well supported again, as always. We anticipate another excellent show for 2016. Entries will be accepted in any medium, to a maximum of 3 per person. Entry Forms and Condition of Entry can be received by calling into Úna Bhán Centre, Grounds of King House, email – [email protected] or call 071 96 63033.
CURLEW WALKERS
The next meeting of the Curlew Walkers club will take place on Sunday 12th June, meeting on the Crescent, Boyle at 10am. The walk will take place at Nephin and will be a Climb/ Grade A. Your leader for the day will be Philip James 086 335 3000. Please confirm times with leader or website prior to each walk www.walkingboyle.com.
BOYLE MUSICAL SOCIETY
At a very well attended AGM tonight, our Director/Choreographer, Vivienne Moran and our Musical Director, Anne Kielty announced that Boyle Musical Society's 2016 production will be the spectacular musical, Hairspray! With music by Marc Shaiman, lyrics by Scott Wittman and Shaiman and a book by Mark O'Donnell and Thomas Meehan, Hairspray is based on the 1988 John Waters film of the same name. The songs include 1960s-style dance music and "downtown" rhythm and blues and it promises to be one hell of a show! Rehearsals will begin on September 1st and the show will run from Wed. November 16th until Sunday November 20th. Everybody is welcome to join.
NEW MEMBERS
Boyle TM would be grateful if you would take a few moments to read attached and contact any of the current council if you've any queries. They are appealing to Businesses to join us – The more people, with ideas and varying interests in Boyle – the stronger our voice, a Proactive Chamber – all working towards a united goal – to improve Business and attractions in Boyle. As like all rural towns, effort and innovation is needed to bring life back to our town centres. While it is recognised that everyone is busy keeping above board in their own business, we must share the responsibility, to share the success. Place a value on your ideas and join us without delay. Help play a part in rejuvenating Boyle this year and join us for 2016/2017.
TEXT ALERT
After consultation with Roscommon County Council signage will be erected in the Grange Text Alert area in the coming weeks by local volunteers. Details of the launch will be announced when all works have been completed.
BOYLE GOLF CLUB
Sunday 15th May saw the PGA Tankard competition for men won by Shane Loftus (17) 41 pts. In second was Michael Reid (16) 39 pts, gross Gary Carty (6) 27 pts and third was Paddy Nangle (15) 38 pts. Thursday 12th May 12 hole open competition was won by Gary Carty 28 pts, second place went to Tommy King 27 pts and in third was Vincent Egan 26 pts. Friday 13th scramble was won by Pat Conroy, Tish Perry, Pat Brogan and Annette Bartlett. The Club Foursomes Matchplay has reached the final four pairs. Semi final matches are to be played by May 28th. Coaching for junior players continues on Saturday morning at 11am. Newcomers are always welcome.
BOYLE FARMERS MARKET
The Market is open from 10am to 2pm each and every Saturday in the grounds of King House, Boyle. If you would like to enjoy the best locally grown fresh and organic produce, then a trip to Boyle Farmers' Market on Saturday should be on your agenda. There is a wide range of seasonal produce, including organic fruit and vegetables, homemade jams and marmalade, organic free range eggs, fruit juices, gluten free/ sour dough/ spelt bread and all kinds of delicious home bakes are available every week. Alongside the food stalls are a number of crafters selling their handmade wares, personalized candles and knitwear. So why not come along and have a chat with the stall holders and avail of their ideas. For further information please a call Una Bhan on 071 9663 033.
CV & OFFICE SERVICES
Are you looking for a new job? Are you having difficulty putting together your CV? Would you like some help? Then why not call into the Úna Bhán office in the grounds of King House, Boyle, where we will be delighted to give you any help, advice or information we can. A good CV could make all the difference in getting your job application through to the interview stage. We have a template and sheet of helpful tips to guide you through the process. We will also type your CV if you cannot do this yourself. Or you may just want to call in for a chat about your CV. All information will be treated in the strictest of confidence. For more details, contact Úna Bhán Tourism on 071 9663033. We also offer office services such as Photo Copying, Scanning, Laminating, Typing, Faxing, Binding and Printing are carried out at the Una Bhan office in the grounds of King House, for further information please contact the office on 071 9663033.