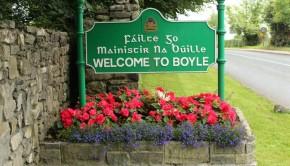 CHILDRENS CHRISTMAS ART
All Primary School children in Boyle and surrounding schools are invited to draw or paint a picture with a Christmas in Boyle theme. The only criteria are that it be A4 size with the Childs Name, School and Childs Age on the back of the drawing. Winners will be selected and schools notified on Friday 2nd December. Santa will present the winners with their prizes and the winners will join him on his new sleigh and assist him in turning on the Christmas lights for 2016 in Boyle. Entries must be dropped in or posted to: Brian Kelly, Better Buy/Surprises, The Crescent, Boyle on or before Wednesday 30th November. This year in addition to our spectacular lights and feature pieces we also have a new addition – a Giant Christmas Tree (which will be erected on the Crescent over the coming days) and which was very kindly donated to the Town by Ardcarne Garden Centre. The tree will be lit thanks to the community supporting our Mega Draw offering €2000 in Cash prizes. Don't miss the chance to be one of the lucky winners. Lines are available in all Businesses throughout the town.
ENTERPRISE TOWN AWARDS
The judging of Boyle's entry in the Bank of Ireland Enterprise Town awards will take place on Wednesday 30th November.Three independent judges will visit the town on the day and meet with the applicants – Boyle Town Team and Boyle Chamber of Commerce – along with members of the community.After a welcoming address they will be brought on an 80 minute tour of the town to see the various enterprises and locations referred to in the application.Marks in the competition will be awarded on innovation, leadership, sustainability, partnership, social inclusion, pro activity and a sense of energy. The county winners, who can use the title "Roscommon's Most Enterprising Town" will be announced at an event in the Abbey Hotel, Roscommon on 7th December. The national winner will also be announced on the night. Chairman of Boyle Town Team Brian Nerney paid credit to the Team members who have been working tirelessly on this project for the last few weeks. He said the winning of the award would be a brilliant marketing tool for the town and a positive endorsement of the work been undertaken by so many at present and in previous years. He also stressed the importance of having as many local businesses, clubs, organisations and societies represented in King House on judging day.To this extent the Town Team would appreciate if those who can attend would confirm in advance to any of the Town Team members below or by email to [email protected] Boyle Town Team: Brian Nerney, Justina Gavin, Frank Geelan, Martin Connolly, Patricia Golden, Alison Clarke, Dara Callaghan, Cecil Draper, Sinead Devine, John Cummins, Bodo Funke, Mervyn Boles, David Gunning, Trevor Conroy, Margaret Mulligan, Lydia Dwyer and Michael Ewing
SEMINAR IN KING HOUSE
A seminar titled Radical Actions will take place in King House on Friday December 2nd commencing at 11am. Curated by Boyle resident Linda Shevlin, Radical Actions is a three part international commemoration project. It takes the form of an exhibition of Irish artists Kennedy Browne (Gareth Kennedy/Sarah Browne), Duncan Campbell, Jesse Jones & Seamus Nolan at RMIT Galleries, Melbourne Australia; the exhibition Bernadette by Duncan Campbell at Roscommon Arts Centre and the final instalment will take the form of a seminar in the historic setting of King House, Boyle. This seminar will look at the legacy of revolution & activism in Ireland and the artists' role in shaping future states with speakers including Professor Luke Gibbons, artists Sarah Browne, Jesse Jones, Gareth Kennedy & Seamus Nolan, film maker Treasa O'Brien and photojournalist/videographer Paula Geraghty.

CURLEW WALKERS
The next meeting of the Curlew Walkers club will be taking place on Sunday 11th December meeting on the Crescent, Boyle at 10.30 am. This will be a Flat/Grade C at Lough Talt – Mass Hill. Your leader for the day will be Philip James 086 3353 000. Please confirm times with leader or website prior to each walk www.walkingboyle.com.
ROSCOMMON AIRS
A Celebration of Roscommons Musical Heritage will take place on Saturday December 3rd in St. Joseph's Hall, Boyle. The rich cultural heritage of County Roscommon will be celebrated with a night of Traditional Music, Song and Dance performed by some of the finest musicians, singers and dancers from around the county. The Master of Ceremonies for the evening will be the legendary Martin Donohoe presenter of Shannonside and Northern Sounds popular radio show 'The Wind That Blows'. The Irish Traditional Music Archive will be present to record this special night.
ARTS AND CRAFTS SALE
Sale will take place on Saturday 3rd December in Crossna Community Centre, Boyle from 12 until 3pm and Free Entry. Pitch set-up strictly 9am until 11am only. For bookings and enquiries please call 0867 954 549. Previous stalls have included food, arts, cards, decorations, crafts, jewellery, collectables & other unique gift ideas as well as quality bric-a-brac.
DEAR SANTA
Have you got a little someone who would like to receive a personal letter from the man in red himself this December? Una Bhan Craft Shop has established a direct line to Santa Claus and has arranged for him to reply to children's letters. Your child can write their letter to Santa and post it in the 'Special Santa Box' in the Una Bhan Craft Shop, €5 per child (to cover admin charges – no stamp required!), then leave the rest to us. Make sure your child includes their full name, address, age and special requests for Christmas and include a mention of any brothers, sisters or special friends so the reply can be really personal. We will make sure that Santa gets to read each letter and write a personal letter back, which will be posted directly to the child. Santa's Letter Service will up until Friday 17th December.

BOYLE GOLF CLUB RESULTS
On Sunday'19th November the turkey voucher 9 hole competition went ahead as scheduled with the cold conditions not deterring those players who took to the fairways of Boyle Golf Club. First prize went to Michael Reid (16) 23pts, in second was Michael Simon (15) 21pts, while Lorcan Egan (9) took third on a countback with 20pts. Last week's Winter Open competition fell foul of the weather. The annual handicap review took place in the clubhouse on Sunday evening. Updates to relevant handicaps will be posted to the club noticeboard in the upcoming days along with the golfers being contacted directly.

COURTYARD MARKET
The Market is open from 10am to 2pm each and every Saturday in the grounds of King House, Boyle. If you would like to enjoy the best locally grown fresh and organic produce, then a trip to Boyle Courtyard Market on Saturday should be on your agenda. There is a wide range of seasonal produce, including organic fruit and vegetables, homemade jams and marmalade, organic free range eggs, fruit juices, gluten free/ sour dough/ spelt bread and all kinds of delicious home bakes are available every week. Alongside the food stalls are a number of crafters selling their handmade wares, personalized candles and knitwear. So why not come along and have a chat with the stall holders and avail of their ideas. For further information please call Una Bhan on 071 9663 033.
BOYLE ICA
Interested locals in the ICA (Irish Countrywomen's Association) are trying to reform a guild in Boyle. If anyone is interested please leave their name me or text Yvonne on 087 903 7326. The ICA is the largest women's association in Ireland, with more than 10,000 members and over 500 Guilds across the country. "We cook, travel, craft and socialise!
SOCIETY ST VINCENT DE PAUL
If you need help with bills, with education expenses or simply need to speak to someone outside the family or friends about any difficulties you are facing or wish to make a donation -contact St. Vincent de Paul Society, Boyle telephone or text 087 9292627 Email: [email protected] All calls, texts and help provided are CONFIDENTIAL
CV & OFFICE SERVICES
Are you looking for a new job? Are you having difficulty putting together your CV? Would you like some help? Then why not call into the Úna Bhán office in the grounds of King House, Boyle, where we will be delighted to give you any help, advice or information we can. A good CV could make all the difference in getting your job application through to the interview stage. We have a template and sheet of helpful tips to guide you through the process. We will also type your CV if you cannot do this yourself. Or you may just want to call in for a chat about your CV. All information will be treated in the strictest of confidence. For more details, contact Úna Bhán Tourism on 071 9663033. We also offer office services such as Photo Copying, Scanning, Laminating, Typing, Faxing, Binding and Printing are carried out at the Una Bhan office in the grounds of King House, for further information please contact the office on 071 966 3033.