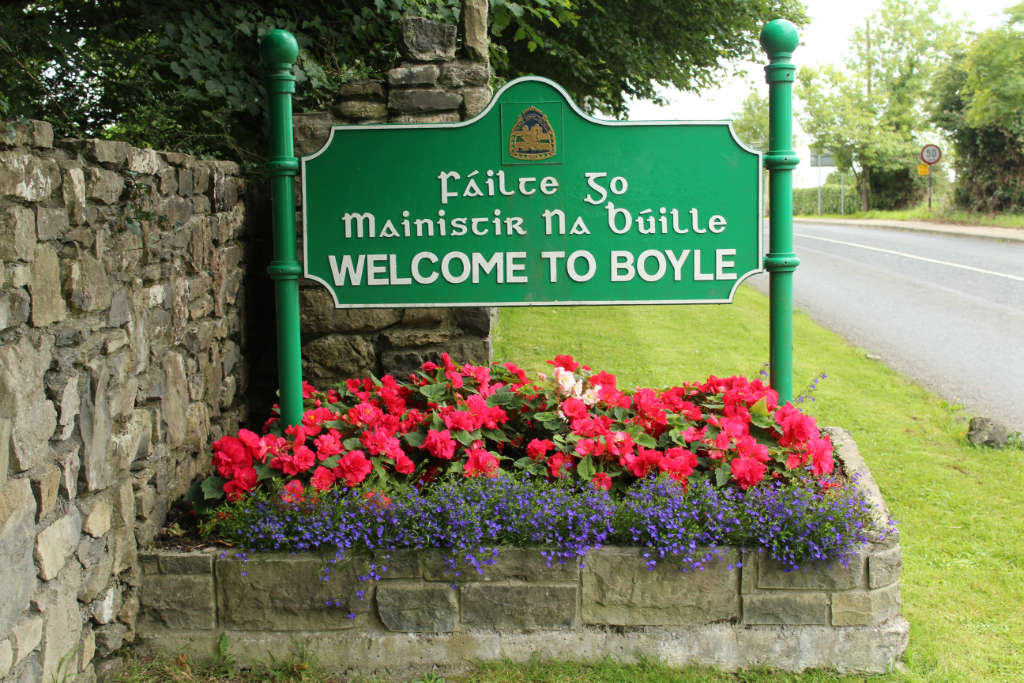 MUSIC CLASSES
The classes will recommence in the Tennis Pavillion, Boyle on Tuesday 29th September at 7.30pm. Tuition will be available for instruments including: Whistle, Flute, Fiddle, Banjo, Button Accordion, Piano Accordion, Keyboard Bodhrán, and Guitar. For information and class structures please contact Bernard Flaherty on 086 805 4233
GET ACTIVE TODAY
Boyle GAA is delighted to announce details of its latest initiative Get Active Today with Boyle GAA. This is a seven week programme, open to all, designed to help participants become more active through a variety of activities. The programme will be officially launched in King House by Professor Niall Moyna of DCU on Friday 2nd October at 7:30pm. The initiative, which is kindly sponsored by Kelly's Londis, The Crescent, is designed for all levels of fitness and features walks, keep fit sessions, circuit training and an introduction to both yoga and pilates. In addition, all participants can attend three talks from a range of experts on exercise, nutrition and metal well being. The seven week programme will culminate in a 10K walk to Lough Forest Park on Sunday 22nd November. You can register on the night of the launch in King House.
BASIC FIRST AID COURSE
Friday 2nd October, 2015 Time: 9.30am to 5pm Cost is €60 per person. To provide each participant with the necessary skills to give immediate treatment to an adult who has been injured or taken ill suddenly, prior to the arrival of the medical services (Ambulance or Doctor) To provide treatment where no further medical (Doctor) treatment is required. To preserve Life, Prevent Further Injury & Promote Recovery Trainer: James McLoughlin, Absolute Safety On successful completion of courses, each participant will receive a Certificate issued by Absolute Safety Family Life Centre, Boyle Telephone: 0719663000 e-mail: [email protected] – website: www.familylifecentre.ie www.facebook.com/flcboyle – www.twitter.com/FLCBoyle – Charity Number: 6942
BOYLE & DISTRICT ANGLING CLUB
The club have a busy schedule for the month of October starting with the
Paddy Kelly Memorial Perpetual Cup which will take place on Saturday 3rd October at10am until 4.30pm on Lough Gara. This will be a Boat Competition with entries taking place at Templeronan Pier with the presentation of the cup being held on the shore at the end of fishing. The Ladies Cup will be run in conjunction with this event. The Michael Conroy Perpetual Cup will be held on Sunday 17th October at 10am until 4.30 on Lough Key. This will also be a Boat Event with more details to follow. For more information contact Jane on 0868302361.
RUN WALK N ROLL
The 20th annual Boyle fundraiser in aid of Cancer Research will take place in Boyle on Sunday 11th October at 2pm.Originally known as The Terry Fox run in 1986 and rebranded in 2011 to Run Walk n Roll .This is a 5.5 km run/walk for all the family young and old with refreshments served in St. Josephs Hall afterwards. For those who want a to push it on there is the perpetual trophy and it would be great to see some former winners there again this year. There will be a 20th anniversary wristband and Irish Cancer Society T-Shirt for all. Entry is €10 for adults and registration will take place in St Josephs Hall from 12.30. Concessions are available for children and families. Children on bicycles must be accompanied by an adult. If anyone has any novel ideas to add colour to the day please do so i.e. pushing a bed, dressing up etc. For sponsorship cards or more details contact Damian 086 3942388.Like us on Facebook Run Walk n Roll for Research.
WALK THE WORLD
Walk with us in aid of the Irish Cancer Society's Action Breast Society on Saturday 17th October at 2pm commencing at Cooney Motors show room, Greatmeadow. Registration forms can be had at the till in store. This is in aid of a great cause, so please walk or donate.
BOYLE BADMINTON
Badminton resumes on Monday nights. Registration for the year is €50 and this needs to be paid by October 12th. If you are registered with another club then you can register in Boyle Badminton Club for €25 After October 12th Registration will cost €70. For further information ask the Club Officers, you can find them on their Facebook Page.
CELTIC DRAW
Tickets are now on sale for the Boyle Celtic Fuel Draw which will take place in Dodd's Crescent Bar on Saturday 31st October. Tickets are available from players, committee members and retail outlets in the area. Great prizes to be won.
VOLUNTEERS NEEDED
Neighbourhood Youth Project (NYP) is currently recruiting volunteers for the project. They would love to hear from you. What's in it for you? An opportunity to exercise and develop valuable skills in leadership, facilitation and mentoring. An excellent way to share a skill or hobby of interest in a fun and relaxed environment. Training and opportunities to progress in Foroige and also to be a part of an exciting, vibrant youth organisation. So send us a message on Facebook and will get back to you.
BOYLE FARMERS MARKET
The Market is open from 10am to 2pm each and every Saturday in the grounds of King House, Boyle. If you would like to enjoy the best locally grown fresh and organic produce, then a trip to Boyle Farmers' Market on Saturday should be on your agenda. There is a wide range of seasonal produce, including organic fruit and vegetables, homemade jams and marmalade, organic free range eggs, fruit juices, gluten free/ sour dough/ spelt bread and all kinds of delicious home bakes are available every week. Alongside the food stalls are a number of crafters selling their handmade wares, personalized candles and knitwear. So why not come along and have a chat with the stall holders and avail of their ideas. For further information please a call Una Bhan on 071 9663 033.
BOYLE GOLF CLUB
Thursday17th October saw the nine hole won by Brendan Gaffney 22pts, 2nd Lorcan Egan 20pts, and 3rd Seamus Gallagher 19pts. This was the final Thursday competition of the season. Thanks to all who took part, to all who sponsored prizes, to Mary for her hospitality and to all who looked after the bar. Special thanks to Michael Rush for organising and we look forward to the Thursday nights starting again next April.
The club outing to Portumna takes place on Saturday October 3rd, details on noticeboard. Cost is €40 per person including meal and prizes.
BINGO IN BOYLE
Every Tuesday evening in St. Josephs Hall Boyle at 8.30pm until 10.30pm. €1000 Jackpot to be won every week.
CV & OFFICE SERVICES
Are you looking for a new job? Are you having difficulty putting together your CV? Would you like some help? Then why not call into the Úna Bhán office in the grounds of King House, Boyle, where we will be delighted to give you any help, advice or information we can. A good CV could make all the difference in getting your job application through to the interview stage. We have a template and sheet of helpful tips to guide you through the process. We will also type your CV if you cannot do this yourself. Or you may just want to call in for a chat about your CV. All information will be treated in the strictest of confidence. For more details, contact Úna Bhán Tourism on 071 9663033. We also offer office services such as Photo Copying, Scanning, Laminating, Typing, Faxing, Binding and Printing are carried out at the Una Bhan office in the grounds of King House, for further information please contact the office on 071 9663033.