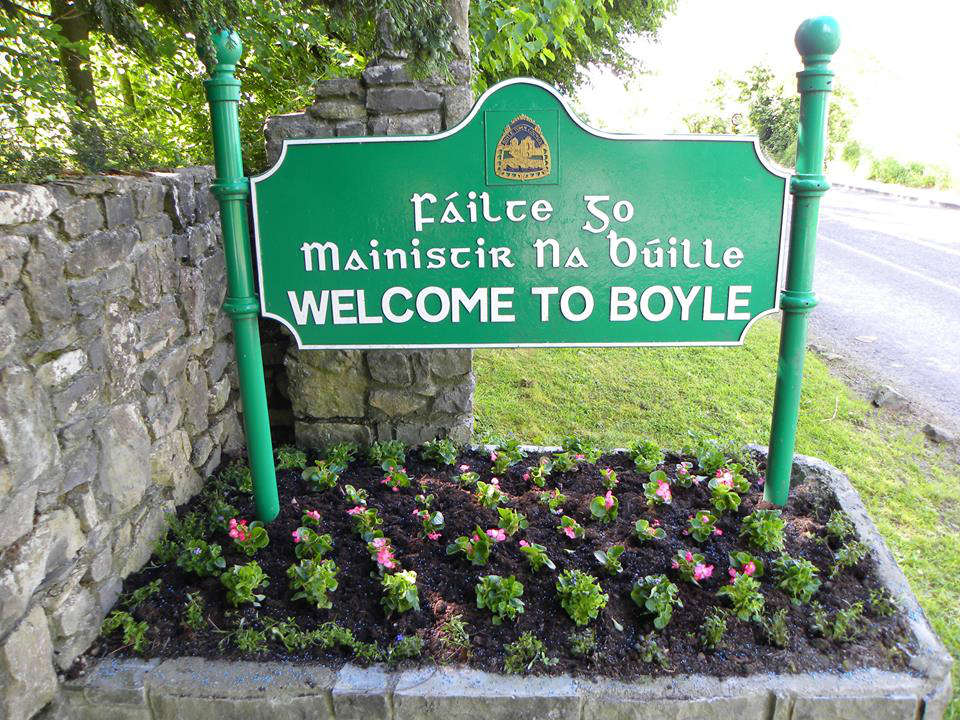 BOYLE ARTS FESTVAL
The nationally renowned Boyle Arts Festival will launch on Thursday 23th July and open fully on Friday July 24th continuing until Saturday August 1st. The programme is already bursting at the seams with an eclectic mix of visual arts, music, drama, film, free family events, craft workshops, storytelling, readings and much more and will be in circulation around the town very soon.Booking is advisable for all events and this can be done at the Festival office, next door to Marian's, Bridge St. Boyle. Drop in to pick up a programme or to find out about the other exciting events. The office will be open every day (excluding Sundays) from Friday July 17th  until August 1st. Online booking is available for selected events at www.eventbrite.com  For more information, see our full programme or go to www.boylearts.com  Tel. 071 9663085. Email [email protected] or follow us on Facebook, www.twitter.com/boyle_arts and Google+
SHUTTLE BUS        
The Lough Key/Boyle Shuttle Bus is up and  running 6 days a week three times a day, Monday through to Saturday for the months of July and August. The fare is only €1 per adult and under 16's for 50 cent. Departing from the Crescent at 10.30am 2.30pm and 6.30pm, from Military Road at 10.40am 2.40 and 6.40pm and from Lough Key Visitor Centre at 11am 3pm and 7pm. Boyle Town and More are confident the shuttle bus will attract many of the 100,000 visitors to Lough Key to visit our town again this year.
KING HOUSE EVENT
Presenting, Indigestion by Seamus O'Rourke on Friday 10th July at 8pm. Following on his successful performance of The Sand Park in King House, Seamus O'Rourke is back with his new one man show. A man from West Cavan relays the story of his life in a story of hilarious situations, hostile confrontations, accidental love and most of all Hope. This is Seamus O'Rourke doing what he does best…simple storytelling. For further information contact Roscommon Arts Centre on 090 6625 824.
DISCO TIME
Boyle Horse & Summer Show will hold their 80s style disco in Dalys Storehouse on Saturday July 11th a great night is guaranteed!  The Summer Show will take place on Sunday August 23rd on grounds opposite Boyle Celtic.
CURLEW WARRIOR RUN
This annual 10k Walk, Run or Hike will take place on Sunday 12th July at 11am with all proceeds to MS Roscommon. Starting at Boyle Credit Union and finishing at Boyle River. Registration will commence at Credit Union, Car Park. Prizes for 1st female, 1st male, 1st team and best period or fancy dress.  Refreshments and lots of spot prizes. For Further Information, register on runireland.ie or contact Tony Byrne 086 232 4020, [email protected] 071 966 4702
SECRET GARDENS
These hidden gardens, large/small and in some wonderful settings which offer inspiration, ideas and tranquillity – a perfect day out.  One such garden belongs to Saffron Thomas and Ian Stanley. The garden which has been created by two artists in an intimate rural setting combine's productivity, ornamental planting and permaculture. The garden opens to view from 11am until 5pm on Sunday 12th / 26th July 2nd August and 6th September. The garden can be found on the Boyle /Frenchpark Road, turn right at the Saddlers Inn, after approx 2.5km keep right on the bend, take 2nd lane on right and entrance just after first cottage.
SUMMER CAMP
There will be a multi activity summer camp taking place in Ballinameen from Monday 13th July to Friday 17th July, with discounts for families. There are many activities planned including: Gaelic, Soccer, Tag Rugby, Rounders, Athletics, Orienteering, Art and Crafts etc. A great week's entertainment is guaranteed! For further information please call or text Ruth on 086 1055659 to confirm your child's place.
TALES OF ALES
An evening of storytelling, history and beer tasting from sisters Susan Boyle (creator of "A Wine Goose Chase") and Judith Boyle (MSc Chemistry and Beer Sommelier). Taking place on Friday 24th July at 10pm in Daly's Bar with doors opening at 9.30pm. In this enjoyable and enlightening event, specially created for Boyle Arts Festival, Susan and Judith will lead you through a taste filled journey discovering the stories behind some of the world's most loved beers and delving into some of Ireland's most intriguing craft brews.
GALLIPOLI 1915
Oliver Fallon is a native of Boyle, Co Roscommon and one of the founder members of the New Connaught Rangers Association, founded in 2002. He has contributed to numerous TV and radio documentaries and publications. He has carried out extensive research on the history of the Connaught Rangers and their campaigns and will talk on the ill-fated Gallipoli campaign which cost the lives of so many, including many Irishmen, 100 years ago. Friday 24th July at 6pm in King House doors open at 5.30
THE MATCHMAKER
Starring television favourite Mary McEvoy and actor and comedian Jon Kenny, The Matchmaker is based on the novella "Letters of a County Matchmaker" by John B. Keane, one of Ireland's most celebrated writers.The play follows the efforts of Dicky Mick Dicky O Connor to make matches for the lonely and lovelorn from all parts of the country.At the centre of this celebrated production is John B Keane's marvellous and mischievous wit coupled by his unparalleled way with words. John B. Keane takes us back to a simpler time, when even phones were few and far between and the only web was one left behind by spiders. The show is directed by Michael Scott and not suitable for audiences under 16 years. Taking place in St Josephs Hall on Saturday 25th July, this is one not to be missed.
HONDA 50 RUN
The Honda 50 run for all size bikes will be taking place on Sunday July 26th, meeting at Tawnytaskin Community Centre, Boyle Co. Roscommon. Entries are been taken from 10:30 am with refreshments being served all morning. Bikes are scheduled to leave at 12:30 for the round trip, returning 3:30- 4:00, a meal will be served afterwards with a raffle. So why not come along and enjoy the bikes, have a chat and a cuppa with the locals. For more information contact Mary on: 085-1618420 or Ann: 086-8130005
ANGLING DIARY DATE
The Paddy Sharkey Memorial Perpetual Lough Gara Cup Open Pike Angling Competition (boat fishing) will take place on Sunday 26th July. Fishing from 11am until 6pm. Entries will be taken at Templeronan Pier. Presentation in the Moylurg Inn at 8:30pm. Refreshments served at the Lakeshore throughout the day. This is a Strict Catch and Release Policy. For further information Contact Jane at 086 8301261.
SUMMER SOCCER CAMP
The FAI Summer Soccer Camp is coming to Boyle this August. 5 days of top quality coaching will take place in Celtic Park, Boyle from August 10th to the 14th 2015. Camps are open to boys and girls aged between 6 and 14. They run from 10.30am until 3pm Monday to Friday. Cost is €65 with participants receiving a kit jersey, shorts, socks, backpack, football and certificate. Book online at summersoccerschools.ie or call 1890 653 653.
BOYLE GOLF CLUB
On Sunday 28th June saw the 18 Hole stableford won by Michael Bannon 39pts, 2nd John McGuinn 38pts, Gross Patrick Egan, 3rd Cillian Doyle 38pts. Thursday 25th June night's Mens Competition was won by Shane O'Dowd 31pts, 2nd Vincent Egan 26pts, and 3rd Ross Andrew 25pts. Friday 26th June saw the Scramble won by Patrick Conroy, Criona O'Donnell & Tom Kearney, 2nd Cillian Doyle, Susan O'Mahoney & Marie Gallagher. Congratulations to Jonathan Egan & Seamus Gallagher who won the foursomes final last Wednesday 24th June. Commiserations went to beaten finalists Charlie O'Donnell &Ted Hestor. Open week commenced on Monday July 6th will be a Ladies and Gents nine hole. Tuesday is Ladies Day, format 18 hole stableford.  Open week will run up until Sunday 12th July. A full programme is available on the noticeboard or at www.boylegolfclub.com .  Please encourage friends and colleagues from the club or other clubs to take part. Food will be available each day. The winner of the June draw was Peggy Feely €70, runner up were Jimmy/Pauline Doyle and Ted Hestor €40 each. Junior Golf continues on Saturday mornings at 11.00am for Boys and Girls.
BOYLE FARMERS MARKET
The Market is open from 10am to 2pm each and every Saturday in the grounds of King House, Boyle. If you would like to enjoy the best locally grown fresh and organic produce, then a trip to Boyle Farmers' Market on Saturday should be on your agenda. There is a wide range of seasonal produce, including organic fruit and vegetables, homemade jams and marmalade, organic free range eggs, fruit juices, gluten free/ sour dough/ spelt bread and all kinds of delicious home bakes are available every week. Alongside the food stalls are a number of crafters selling their handmade wares, personalized candles and knitwear. So why not come along and have a chat with the stall holders and avail of their ideas. For further information please a call Una Bhan on 071 9663 033.
BINGO IN BOYLE
Every Tuesday evening in St. Josephs Hall Boyle at 8.30pm until 10.30pm. €1000 Jackpot to be won every week.
CV & OFFICE SERVICES
Are you looking for a new job? Are you having difficulty putting together your CV? Would you like some help? Then why not call into the Úna Bhán office in the grounds of King House, Boyle, where we will be delighted to give you any help, advice or information we can. A good CV could make all the difference in getting your job application through to the interview stage. We have a template and sheet of helpful tips to guide you through the process. We will also type your CV if you cannot do this yourself. Or you may just want to call in for a chat about your CV. All information will be treated in the strictest of confidence. For more details, contact Úna Bhán Tourism on 071 9663033. We also offer office services such as Photo Copying, Scanning, Laminating, Typing, Faxing, Binding and Printing are carried out at the Una Bhan office in the grounds of King House, for further information please contact the office on 071 9663033.