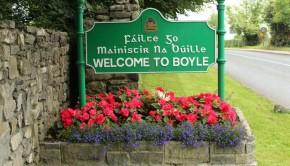 BOYLE GAA CLUB MONSTER AUCTION
Preparations are ongoing for our Monster Auction on Saturday 13th August, Some of the items to be auctioned include: furniture (3-piece suite, coffee tables, table and chairs), vouchers for Beauticians, Barbers, Hairdressers, Mens clothing, Hotel break, Car servicing, English higher level leaving cert grinds, signed Joe Canning Hurley, signed Roscommon Jersey, bags of turf, timber, pass for the races, bottles of spirits, 20 pints of beer, pass for Zip-it, yearly passes to Lough Key, Jewellery and voucher for Vets practice and a completed Will by Solicitor. If any business or individual would like to donate new/nearly new furniture, services or any item we could auction please ring or text Shane 086 880 3626 or Mary 086 821 1683.
MARTIN MITCHELL CUP
Next Angling Competition will be the Martin Mitchell Charity Cup (Incorporating Ladies Cup) taking place at Lough Key on Sunday 14th August from 11am until 6pm and will be a Boat Competition.
SWIMMING LESSONS
Swimming lessons will be provided in Roscommon Leisure Centre this year for Boyle children from August 15th to 23rd. They will be conducted by the Irish Water Safety Association. Children aged between 7 and 13 years are eligible. Cost is €50 to include transport. Please contact Maureen McQuid on 086 3889907 or 071 9663057 email [email protected]
KING HOUSE EVENT
Roscommon County Council Youth Theatre will be presenting "If I Was In The GPO We Would Have Won" written and directed by Catherine Sheridan. A poignant fictitious story set against the backdrop of the 1916 Rising that deals with ordinary people that were extraordinary at that time. This event will be taking place in King House, Boyle on Friday 19th August and Saturday 20th August at 8pm. For bookings call 071 966 3242.
LOUGH KEY BOAT REGATTA
Pete Walsh Lough Key Boat Regatta in aid of SHOUT will take place on Saturday 20th August. SHOUT has worked since 2003 in the provision of "Better Cancer Care" to support both individual patients and their families and the Sligo Regional Hospital Cancer Service. All are welcome to join, meeting in Lough Key harbour at 5.30. Everyone is welcome and we would love all to join in remembrance to the Captain Pete in his favourite place on the beautiful Lake of Lough Key and to raise funds to help others locally
BOYLE SUMMER SHOW CALL OUT
Calling all entrepreneurs, businesses or service providers …If you would like to display your goods or services at the show on August 21st and haven't contacted us already, contact Margaret on 086 – 3530190 to book your spot.
BOYLE SUMMER SHOW
The tradition of the Summer Show in Boyle has been revived in recent years with great success. There are lots of new events to experience – Pony Jumping, All Ireland Championship Qualifier Dog show, Donkey Derby and much more! Delighted to announce that the Boyle Horse and Summer Show have moved to its new location at the Boyle GAA Training Grounds (not Abbey Park), located in The Warren, the town side of Drumderrig Nursing Home. We hope that this site will become the home of The Show for many years to come. The location is ideally situated close to the town, on level ground and sheltered from the elements. We are delighted to host a Mounted Games Association of Ireland competition, their first venture into the North West – these competitive games are thrilling to watch and add to the enjoyment of the day. Mr. Roger Prager of the Lough Arrow Estate has kindly re-gifted the Lough Arrow Cup to the Show, the winner of the 1.3m SJI affiliated competition will be presented with a replica of the cup, but the original will be displayed on the day. With all the usual attractions and over 40 stalls we hope to see the Boyle Show grow into the popular community event it should be.
Congratulations to Liam McKeon, Abbey Community College, winner of the poster campaign, Anna McGrath , Grange School, winner of the front cover of the Summer Show Program, and Brona Mulrennan, Scoil na nAingeal Naofa, Boyle whose drawing will be displayed on the back cover of the program. For further information contact Una Bhan on 071 966 3033.
SECRET GARDENS
Created by two artists in an intimate rural setting, this garden combines productivity, ornamental planting and permaculture. Winding grass paths lead to ponds, developing woodland and polytunnel, one jungle-themed, one for fruit and veg. With an eclectic mix of planting and sculpture, this 16 year old garden is still developing. Open11am until 5pm on 21st August and 11 September. On R361 Boyle – Frenchpark, Right after Saddlers Inn. After approx 2.5km keep right on big bend, take 2nd lane on Right. Entrance just after first cottage. Saffron Thomas and Ian Stanley 086 869 1141 Ardsoran, Lisserlough, Boyle.
BOYLE GOLF NEWS
The Captain's Day for 2016 took place on Sunday 31st July with a large number of members competing for Ross Andrew's Prize. The best score after the first 18 holes was brought in by student member Cillian Doyle with an excellent 60 nett. Captain's Prize to Ladies: 1st Liz Dwyer, 2nd Kathleen Candon Gross Tish Perry, 3rd Sandra McCrann. Other Results Par 3 Competition which took place on Thursday 28th July 1st Sean Heslin 41pts 2nd Cillian Doyle 41pts 3rd Pat Conroy 38pts Ladies: Patty Dowd 36pts Scramble 29th July 1st Charlie O'Donnell, Gerry Carty & Paul Connolly Golfer of the Year
With double points being allocated for the Captain's Prize, Brendan Gaffney leapfrogged his way into 2nd place on 67 points. Gary Carty continues to lead on 74 points. Sunday will provide another opportunity for players to gain valuable GOY points.
BOYLE FITNESS CLUB
Boyle boxing club will open every Tuesday at 7.30, mixed classes until September new members welcome.
BOYLE SINGERS CIRCLE
Traditional unaccompanied singing, in English and Irish takes place in Dodd's Crescent Bar (back room), The Crescent, Boyle the third Saturday of every month, all year around, 9.30pm onwards. All singers and listeners welcome.
COURTYARD MARKET
The Market is open from 10am to 2pm each and every Saturday in the grounds of King House, Boyle. If you would like to enjoy the best locally grown fresh and organic produce, then a trip to Boyle Farmers' Market on Saturday should be on your agenda. There is a wide range of seasonal produce, including organic fruit and vegetables, homemade jams and marmalade, organic free range eggs, fruit juices, gluten free/ sour dough/ spelt bread and all kinds of delicious home bakes are available every week. Alongside the food stalls are a number of crafters selling their handmade wares, personalized candles and knitwear. So why not come along and have a chat with the stall holders and avail of their ideas. For further information please a call Una Bhan on 071 9663 033.
CV & OFFICE SERVICES
Are you looking for a new job? Are you having difficulty putting together your CV? Would you like some help? Then why not call into the Úna Bhán office in the grounds of King House, Boyle, where we will be delighted to give you any help, advice or information we can. A good CV could make all the difference in getting your job application through to the interview stage. We have a template and sheet of helpful tips to guide you through the process. We will also type your CV if you cannot do this yourself. Or you may just want to call in for a chat about your CV. All information will be treated in the strictest of confidence. For more details, contact Úna Bhán Tourism on 071 9663033. We also offer office services such as Photo Copying, Scanning, Laminating, Typing, Faxing, Binding and Printing are carried out at the Una Bhan office in the grounds of King House, for further information please contact the office on 071 9663033.