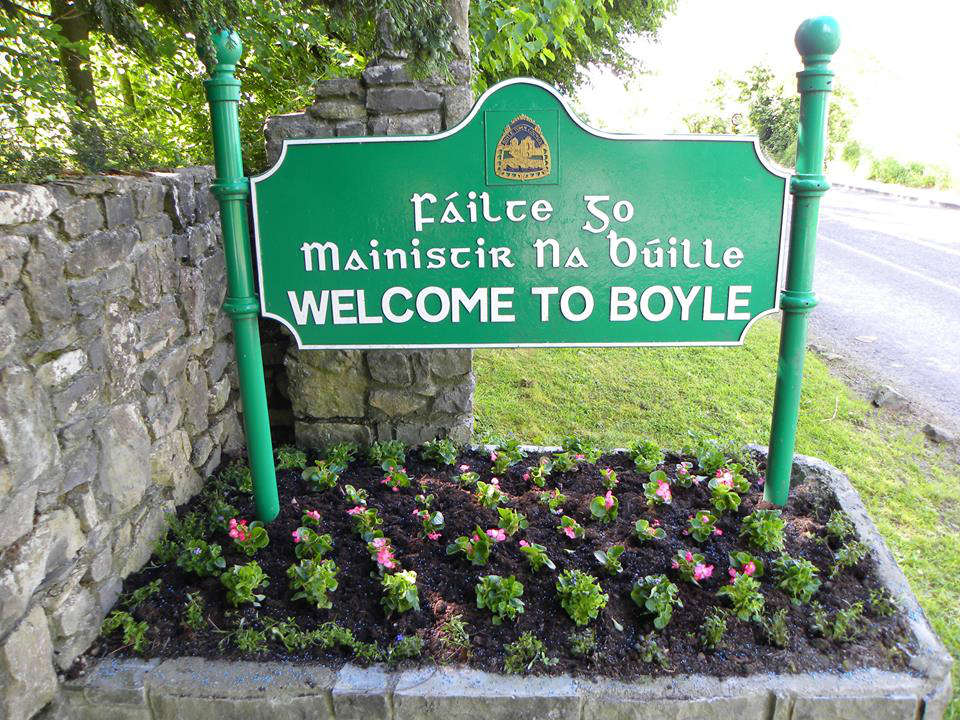 WATER SAFETY PROGRAMME
Irish Water Safety programme 2015 is up and running until Friday 14th August and the following week, Monday 17th Tuesday 18th August. Participants should be between 7 and 13 years old. Fee €50 including bus to and from Roscommon Swimming Pool. Bus will leave from behind St. Joseph's Hall. For further information please call Maureen on 086 388 9907.
TRIBUTE TO A GENTLEMAN
A tribute will be paid to Peter Walsh, boat man of Lough Key on Saturday 15th August on Trinity Island at 5.30pm. Any boat owners who would like to attend please meet at the Lough Key Marina for 5pm.
COLOUR RUN IN FOREST PARK
Roscommon Colour Run is a fantastic 'crawl, walk, or run', colour event suitable for all ages and abilities. It will take place in Lough Key Forest Park, Boyle on Sunday 21st August. Not so much about speed or endurance and more about having the time of your life, The Roscommon ColourRun is a family fun event in which participants of all ages from 1 to 100 years are covered from head to toe in different colours as they make their way through the beautiful grounds of Lough Key Forest Park. The fun continues at the finish line with a gigantic "Color celebration," using more coloured powder to create happiness and lasting memories, not to mention millions of vivid colour combinations.
With only two rules, the idea is easy to follow: 1. Wear white at the starting line 2. Finish plastered in colour
CELEBRATE NATIONAL HERITAGE WEEK
National Heritage Week will take place between the 22nd and 30th of August this year to shine a light on Ireland's Industrial and Design Heritage. Heritage Week is a celebration of our local heritage and the joy and pride the Roscommon people have for their heritage. I'd like to say thanks to all the people and groups who have taken the time to plan events for Heritage Week and wish them every success with their events. Over twenty five community groups, organisations and individuals have organised over sixty events around Co. Roscommon to celebrate the rich and diverse heritage that is there for us all to enjoy in the county. Events are taking place from the north to the very south of the county, so no matter where you live there should be a Heritage Week event on near you! There are lots to do for all ages and all the family during National Heritage Week and best of all most of it is free, so enjoy the week! Details of events can be found on www.heritageweek.ie and http://www.roscommoncoco.ie/en/Services/Heritage/Heritage-Week/.
BOYLE HORSE SUMMER SHOW
It's hard to believe that the Boyle Horse and Summer Show has been running
for three years. Going from strength to strength we are sure that 2015 will be as enjoyable as the last 2 years. There are lots of new craft sections to enter this year, metal work,
stone craft and wood turning, junk couture and loom band making. We would like
to thank all those who help with the fundraising, who volunteer on the day and
who bake, make, sow and sew, making this a wonderful community event.
We would like to extend our sincere thanks to the Quinn and Brennan families,
along with the residents of Deerpark for allowing the show to be hosted at this venue.
To all of you who have helped, who want to help and who as yet don't realize but will help – thank you! Horse jumping starts at 9:30am on Sunday 23rd August.
AIRPORT BUS
We have been notified by Marie Paul of the group Making Boyle a Safer Place for the Older People that after lobbying Bus Eireann Boyle is being added as a set down only stop in the 23.00hrs service ex Dublin to Sligo. An implementation date of Sunday 30th August 2015 has been set for the introduction of the above change.
BOYLE FITNESS CLUB
Boyle boxing and fitness club will be opening on Monday the 31st of August
LOUGH KEY TRI 
The annual Lough Key Sprint Triathlon will take place this year on Sunday September 6th. One of the final races of the this year's Vodafone National Series the sprint distance event has a 750m swim over to the scenic Castle Island and back, a 23km bike leg around the lake followed by a 5km run through the new and improved park paths. Lough Key has consistently proved to be one of the more popular Triathlon events on the calendar and has always managed to attract a quality field with names such as Gavin Noble, Kevin Thornton, Jennifer O'Connell and Laura Tighe topping the results in recent years.
This year's event is sponsored once again by Waterways Ireland and in addition to our substantial prize pot and well renowned goodie bags we have impressive trophies for the fastest male and female bike splits. New to Lough Key this year will be two new perpetual trophies for the fastest swim splits in memory of club member John Cloughley who passed away earlier this year. Having seen the almost finished trophies we can guarantee that these will be well sought after trophies for years to come! So whether you are a top class triathlete bidding to get your name on one of our high quality bespoke marble trophies for posterity or a beginner looking for a great venue and friendly welcome come to Lough Key on Sunday 6th for a great day's racing. Entry is strictly limited to 500 on the day so make sure to get your entry in early. It's also an ideal warm up for the Sprint Triathlon National Championships taking place 3 weeks later in Clogherhead.Full details can be found on the club website www.loughkeytri.com or the Club's Facebook page.
SUMMER READING BUZZ
Following the great success of the first two years of the summer reading challenge, the Boyle Library have joined up with a number of other local authorities to offer children the opportunity of taking part in the 2015 Summer Reading Buzz. The challenge will take place through the month of August. Children will register for the challenge and receive a loyalty card, and a small gift. With every book the child reads they will have their card stamped and once they have read six books they will receive a small prize, and on completing the challenge by reading ten books they will receive further prizes. When the child has completed the challenge and filled in their card (ten stamps = ten library books read) they will also receive a certificate at the end of the summer. Registration cards are available in the Boyle Library.
The MICHAEL COLEMAN STORY
This year is the 70th Anniversary of the death in New York of Michael Coleman, that renowned fiddle player from Knockgrania who emigrated to America one hundred and one years ago.  To fittingly mark these anniversaries, the weekly summer sessions in the Coleman Music Centre tells the story of Michael Coleman. (1891-1945) Michael Coleman himself, very well portrayed by Eamon McCoy resonates his life story. Show runs each Wednesday during August at 9pm. Booking at 0719182599 or www.colemanirishmusic.com
CANNONBALL RUN
Car enthusiasts are in for treat in Boyle on Friday September 11th when the seventh Cannonball Run travels past the town on the N4. The three day Cannonball Run is the largest organised road trip in Europe and the most exciting motoring and social event of the year. The trip typically features 170 cars including the world's top makes: McLaren, Lamborghini, Ferrari, Aston Martin, Porsche, Masseratti, Rolls Royce and Bentley. Cannonball Ireland has raised over 700,000 euro for Irish Children Charities. This year, Make A Wish Ireland will be Cannonball Ireland charity. It is a spectacle to behold as the cars and their colourful drivers make their way around Ireland. Friday 11th will see the cars travel from Dublin to Sligo. Further details on www.cannonball.ie
BOYLE GOLF CLUB
Well done to Brendan Gaffney who won the Captains Prize last Sunday 2nd August with a score of 100 over 27 holes. In an exciting finish the win was secured when Willie Tiernan's final putt lipped the hole and a relieved Brendan won his first Captains Prize.
The full list of prize-winners were as follows…..1st Brendan Gaffney, 2nd Willie Tiernan, Gross Gary Carty , 3rd Lorcan Egan, 18 Net Seamus Gallagher, Categories 0-13 Patrick Egan, 14-18 Paddy Nangle 19-28 Derek Henry, 1st Nine Shane O'Dowd, 2nd Nine Tommy King, 3rd Nine Lionel Lynn Tom Kearney, Past Captain Sean Heslin, Senior Vincent Egan, Student 1st Enda Smith, Visitor Colm McQueeney Ladies Prizes 1st Carmel McGarry, 2nd Liz Dwyer, Gross Tish Perry, 3rd Michelle Quinn. On Thursdays 30th June saw the Par Three competition won by Pat Conroy 45pts, 2nd Michael Gilmartin 44pts, Gross Owen Garvin, and 3rd Lewis Shaw 42pts. Fridays Captains Scramble was won by Sandra McCrann, Michael Rush & Patrick Egan, 2nd Marie Gallagher, Liam Whyte & Tom Kearney, 3rd Liz Dwyer, Terry Canning, Eamon Perry, Criona O'Donnell. Dates for your diary are the Foreclub Alliance Sat/Sun August 15th/16th, "Last Man Standing" Saturday August 22nd and Lady Presidents Day on Sunday August 30th.
BOYLE FARMERS MARKET
The Market is open from 10am to 2pm each and every Saturday in the grounds of King House, Boyle. If you would like to enjoy the best locally grown fresh and organic produce, then a trip to Boyle Farmers' Market on Saturday should be on your agenda. There is a wide range of seasonal produce, including organic fruit and vegetables, homemade jams and marmalade, organic free range eggs, fruit juices, gluten free/ sour dough/ spelt bread and all kinds of delicious home bakes are available every week. Alongside the food stalls are a number of crafters selling their handmade wares, personalized candles and knitwear. So why not come along and have a chat with the stall holders and avail of their ideas. For further information please a call Una Bhan on 071 9663 033.
BINGO IN BOYLE
Every Tuesday evening in St. Josephs Hall Boyle at 8.30pm until 10.30pm. €1000 Jackpot to be won every week.
CV & OFFICE SERVICES
Are you looking for a new job? Are you having difficulty putting together your CV? Would you like some help? Then why not call into the Úna Bhán office in the grounds of King House, Boyle, where we will be delighted to give you any help, advice or information we can. A good CV could make all the difference in getting your job application through to the interview stage. We have a template and sheet of helpful tips to guide you through the process. We will also type your CV if you cannot do this yourself. Or you may just want to call in for a chat about your CV. All information will be treated in the strictest of confidence. For more details, contact Úna Bhán Tourism on 071 9663033. We also offer office ser
vices such as Photo Copying, Scanning, Laminating, Typing, Faxing, Binding and Printing are carried out at the Una Bhan office in the grounds of King House, for further information please contact the office on 071 9663033.