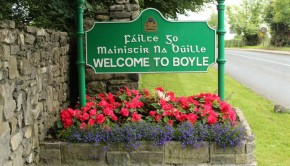 FREE COMPUTER TRAINING
Úna Bhán Tourism are delighted to be offering free computer training courses again. This unique opportunity to develop digital skills and learn basic functions is for beginners or those eager to improve in a fun and easy way. The course includes how to set up an email account, send and receive emails / how to search the internet in a safe and secure way / Complete vehicle taxation online instead of paper form & how to set up and use online banking. More importantly for the farming community the training will teach how to register your farm on Agfood.ie, which allows you to Record the Birth of a Calf; Complete and Print Farm-to-Farm Movements & Print your Herd Profile for your Farm Accountant. Courses are limited to 10 people at a time and will be held in Boyle Library. The training programme is funded through the Department of Communications, Climate Action and Environment (DCCAE). Please contact Nigel on (071) 966 3033 for more details or to book your place.
BOYLE COURTYARD MARKET
The all-weather Courtyard Market takes place every Saturday in the grounds of King House, Boyle from 10am until 2pm. If you would like to enjoy the best locally grown fresh and organic produce, then a trip to the Courtyard Market should be on your agenda. There is a wide range of seasonal produce, including organic fruit and vegetables, homemade jams and marmalade, organic free range eggs, fruit juices, gluten free/ sour dough/ spelt bread and all kinds of delicious home bakes are available every week. Alongside the food stalls are a number of crafters selling their handmade wares, personalized candles and knitwear. So why not come along and have a chat with the stall holders and avail of their ideas. For further information, please call Una Bhan on 071 966 3033
CV & OFFICE SERVICES
Are you looking for a new job? Are you having difficulty putting together your CV? Would you like some help? Then why not call into the Úna Bhán office in the grounds of King House, Boyle, where we will be delighted to give you any help, advice or information we can. A good CV could make all the difference in getting your job application through to the interview stage. We have a template and sheet of helpful tips to guide you through the process. We will also type your CV if you cannot do this yourself. Or you may just want to call in for a chat about your CV. All information will be treated in the strictest of confidence. For more details, contact Úna Bhán Tourism on 071 966 3033. We also offer office services such as Photocopying, Scanning, Laminating, Typing, Faxing, Binding and Printing.
VOLUNTEERS WANTED
Volunteers required to work afternoons in Western Alzheimer's Charity Shop, Boyle. For further information, contact Fiona on 087 687 3283.
BOYLE MEN'S SHED
The Crescent, Boyle, Co. Roscommon Tony Byrne 086 232 4020 [email protected] Boyle Men's Shed has reopened for the following days, Monday Wednesday and Friday from 11 am to 4pm. Call in and see what we do – have a coffee and a snack. If you have grass that needs cutting, gates that need to be put up again or small tasks needing attention we are more than happy to help.
KNOCKVICAR ORGANIC GARDEN
There is a free guided tour of the gardens on Saturdays and bank holidays at 3pm. The last Saturday of each month there is a bring and bake using the wood fired oven from 11am-2pm.
WEEKLY BIBLE STUDIES
Wednesdays at 7.30 pm on the top floor of the Spool Factory, Boyle.
ALCOHOLICS ANONYMOUS MEETINGS
Every Thursday at midday in St. Joseph's Hall. Alcoholics Anonymous is an international fellowship of men and women who have had a drinking problem. Their stated purpose is to enable "members to stay sober and help other alcoholics achieve sobriety." It is nonprofessional, self-supporting, and apolitical.
CALLING ALL CRAFTERS
Boyle Craft Shop is seeking talented and unique Irish and Local crafters. Are you a small scale producer seeking new opportunities to sell and promote your products? Boyle Craft Shop is the proud home of local and exclusive crafts in the Boyle Region. We are always looking to promote new and established local talent. If you wish to display and sell your crafts though our shop, please contact Anna by emailing [email protected] or call us on 071 966 3033.
BOYLE GAA
Donie is stepping aside this year and so the Club is seeking a new manager for the team. If interested, please contact our Chairperson at 086 122 9421 to discuss. Boyle GAA Club is delighted to announce that this year's Social Initiative Trip will be to the National Ploughing Championships. This year it is taking place in Carlow and the Club will travel down on Wednesday, September 18 in the Club Rossie Bus! Previous social trips to Belfast and Dublin were enjoyable and well received – the ploughing has been chosen this year due to popular demand. We anticipate that places will fill up quickly and encourage those interested in travelling to contact either Martin Dolan on 086 2413529 or Barry Lowe on 086 854 5492 for further details and to book places. Please note that this is an open trip for anyone who wishes to attend the ploughing championships.
HOST FAMILIES
A number of host families for Spanish language students are sought in Boyle this September and October. Midland Language Centre is seeking families to host the teenagers (aged 12-15) from September 3rd to October 30th. The students will be attending classes in Abbey Community College during this time. It is preferable if the host families have children of a similar age. Host families will be paid €1480. If you are interested in hosting one of these students, please call MLC ASAP on 043 33 46832.
BOYLE BASKETBALL CLUB
Our snr men's team are now back on a Friday night. They train at 8pm and are always looking for new members so if you want to get involved come along and see what it's all about.
SIARSCÉAL FESTIVAL
11-12 October, Roscommon Town. Literary festival inspired by the culture and heritage of County Roscommon, in the heart of Ireland. Roscommon County Library HQ in Roscommon Town. Contact Us: [email protected]. Website: www.SiarSceal.com
BALLINAFAD PARISH HALL
If you or your organisation need a venue for activities, why not consider Ballinafad Parish Hall? It ideal for hosting night classes, céilís, card games, children/youth activities, retreats, meetings, afternoon get-togethers or just a space to practice dance routines! Ample parking and reasonable hire rates. For details contact 087 821 0566 or 087 203 6083.
BOYLE FAMILY RESOURCE CENTRE
CLG contact details. website: www.boylefrc.ie. We are also on twitter: www.twitter.com/FLCBoyle. Email: [email protected] – Counselling Service: [email protected] Telephone: 071 966 3000. Charity No: 20153519. If you would like to be added to our mailing list, please let us know. Booking essential for all groups, courses and workshops. Our drop-in room is open Monday to Friday from 9am-1pm & 2pm-5pm. We have Tea/Coffee making facilities, Library, Comfortable Chairs, Computer & Wi-Fi access, information leaflets, a listening ear when needed.
BOYLE FOOD PARTNERSHIP
Community FEAD and Food Cloud. If you and/or your family need food, we distribute food through these programmes at Boyle Family Resource Centre (FRC). Please text the word FOOD + your first name to 086 049 6467 to receive details. Distribution times are: Monday 2.30pm-4pm or Wednesday 2.30pm-3.30pm or Friday 3pm-4.30pm.
NORTH ROSCOMMON FOUNDATIONS PROGRAMME
For young people who are not in education or employment. A new three days per week course over September, October, November and December. Information session on Tuesday 27th August at 2pm in Boyle Family Resource Centre and Wednesday 28th August at 2pm in Enterprise Centre, Arigna. For more information contact [email protected] or phone 087 351 5034
RAINBOWS/SPECTRUM
A group for children/teenagers who have lost a parent or significant other through death, separation or divorce. Information evening for Parents/Guardians Wednesday 11th September at 7pm for Parents. Programme begins on October 2nd at 7pm for 9 weeks. For more information, please contact Boyle Family Resource Centre 071 966 3000. Booking essential.
WIDOW & WIDOWERS SUPPORT GROUP
Support for those grieving the death of their spouse. Starts on Thursday 12th September from 7.30pm-9pm and monthly thereafter in Boyle Family Resource Centre. Cost: €3/Donation. No booking necessary.
MUSIC & ITALIAN WITH MARIE HANMORE CAWLEY
Share learning with people of all ages and abilities. Learn new skills from the mix of Music and Italian. So, come along and learn with us every Wednesday morning starting September 11th from 10.30am-12.30pm in Boyle Family Resource Centre. Cost: €3/donation.
ENGLISH LANGUAGE CLASS
English language classes are for those whose English is not their first language. Starts Tuesday 10th September 12pm-1pm in Boyle Family Resource Centre 071 966 3000.
COMMON SENSE PARENTING
This programme helps parents to learn skills to encourage their children's positive behaviour, discourage negative behaviour and teach their children alternatives to problem behaviour. Cost is €20. Starts Tuesday September 24th for 6 weeks 10am-12.30pm for 0-6 year olds OR Wednesdays from September 18th 10am-12.30pm for 6 weeks for 6-16 year olds. Booking essential. Boyle Family Resource Centre 071 966 3000. Venue Boyle Youth & Family Support.
FAMILY SUPPORT DROP IN CLINIC
A drop in confidential space for parents and families to call in and receive support and a listening ear about issues and concerns about you and/or your children. Wednesday mornings during primary school term 9.30am-12pm starting September 4th. An interagency project together with Boyle FRC, Foroige & Tusla. Boyle Family Resource Centre 071 966 3000.
CLOTHING BANK FOR YOUR SUMMER/AUTUMN CLEAR OUT
There is a clothing bank outside Boyle Family Resource Centre which accepts old clothes and bed linen, handbags, and shoes that are sent for recycling. Your support and donations are very much appreciated as this helps raise funds towards the Centres programmes and community work. NO DUVETS AND PILLOWS AS THEY WILL NOT BE ACCEPTED BY THE RECYCLING COMPANY. Thank you.
WHAT IS COUNSELLING & PSYCHOTHERAPY
Counselling & Psychotherapy is for anybody. Sometimes life can be difficult for us, it can be unmanageable and challenging. Counselling can be a great support or resource at times of crisis or difficulty in our lives. It involves meeting with a trained Professional Therapist in a safe confidential setting allowing you to talk about and explore life's challenges in a non-judgemental space. Appointments are available Monday to Friday, day and evening. Therapeutic Support for Families, Adolescents, Couples and Individuals. The cost is on a sliding scale and is negotiable. Please contact Marie on 071 966 3000 or Maura on 071 966 3841 in Boyle Family Resource Centre. All our programmes and services are confidential and professional.
ROSCOMMON SUICIDE BEREAVEMENT LIAISON SERVICE
Roscommon Suicide Bereavement Liaison Service is a free & confidential service that provides assistance & support to families & individuals grieving the death of a loved one by suicide. Contact: Tiffany Jennings Walsh, Suicide Bereavement Liaison Officer on 085 740 7856 or Boyle Family Resource Centre (FRC) on 071 966 3000. This service is funded by the HSE National Office for Suicide Prevention.
BABY AND TODDLER GROUP
Baby & toddler groups can be a great way of meeting other people with children the same age as yours in our community. It is open to childminders, grandparents and other guardians, babies, waddlers and toddlers are welcome. Every Tuesday and Thursday morning from 10am–12.30pm in Boyle Family Resource Centre (FRC) 071 966 3000. Cost: Donation. Bazz Art, Second Thursday of each month starting on 12th September 10am-11am sharp. Cost included in Baby & Toddler Group.
ADMINISTRATION SERVICES
Boyle Family Resource Centre (FRC) offer a wide range of Office and Administration Services at affordable rates. Services include typing, laminating, binding, scanning, faxing, photocopying A4 & A3. We offer internet access / Wi-Fi in our drop-in room and use of a PC. If you require a large amount of photocopying/office services, please call in advance to book on 071 966 3000.
SAFETALK
SafeTALK 'suicide alertness for everyone' is a half day training programme that prepares participants to identify persons with thoughts of suicide and connect them to suicide first aid resources. These specific skills are called suicide alertness and are taught with the expectation that the person learning them will use them to help reduce suicide risk in their communities. Participants learn how to provide practical help to persons with thoughts of suicide in only a few hours. Wednesday 9th October from 2pm-5pm in Boyle Family Resource Centre. Cost: FREE. Booking essential. To book a place on our Suicide Prevention Training Programmes (ASIST, Safe TALK, STORM ®or Understanding Self-harm) in Galway, Mayo and Roscommon please click this link. https://bookwhen.com/srotraininggmr#focus=ev-s447-20190902093000
SAFEPASS COURSE
A Safepass course will take place at Boyle Enterprise Centre on Tuesday August 27th from 8.00/5.00. For more information or to book a place please email [email protected] or call 071 967 3100. Safe Pass is a safety awareness training programme for construction workers.
WATERWAYS IRELAND
Lough Key Sprint Triathlon takes place on the 1st of September. It involves a 750m swim, 22km cycle and 5km run. Register at www.triathlonireland.com or email [email protected].