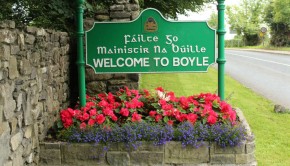 DAS ACADAMY OPENING IN BOYLE
Performance Academy for Kids /Teens will be opening up in January 2018. Registration Day for parents to register Kids / Teens will be on Tuesday 16th of January at St Joseph's National School form 3.30pm until 5pm. Classes will commence the following week from January 23rd 2018. For more information on class times contact the DAS Academy Team on 0863266146 or Email: [email protected]
Facebook: www.facebook.com/dasacademyireland
INFORMATION TALK
How to Boost your Health and Wellbeing by Aine McDermott C.F.C.P. Nutrition, Food and Health Coach will be discussing the benefits of good Nutrition and how it directly affects your wellbeing. The discussion will be taking place on Saturday 20th January at 11am until 12pm  at the Ardcarne Garden Centre, Boyle. For further information contact Ardcarne on 071 966 7091 or Aine on 087 1346 038.
BROGANS TOTAL HEALTH OPERATION TRANSFORMATION
Commencing each and every Thursday from the Shop Street Car Park at 8pm for a 5km walk. All welcome to come along and join Melissa for a fun healthy walk.
CURLEW WALKERS CLUB
The next meeting of the Curlew Walkers will be taking  place on Sunday 21st January, meeting on the Crescent at 10.30. Your leader on the day will be Pam Barnes 087 2027 513. this will be a Cllimb/Flat B/C at Largnamore Loop.  Please confirm times with leader or website prior to each walk www.walkingboyle.com.
SPRING COURSES AVAILABLE IN BOYLE
Galway and Roscommon Education and Training Board have announced details of their Spring 2018 training courses in Boyle. Level 6 Work Experience for 12 nights in Roscommon Learning Links commencing Wednesday 24th January 7pm until10pm. First Aid Response for 3 Saturdays in Roscommon Learning Links on 7th, 14th and 21st April 9.30am until 4.30pm. First Aid Response Renewal in Roscommon Learning Links on Saturday 27th January/ 3rd February 9.30am to 4.30pm. Safe Pass in Roscommon Learning Links on 2nd February from 8am to 5.30pm For further information please contact Ann or Sabrina on 090 6634189 or e mail [email protected]
MINDING YOUR HEALTH' AT BOYLE LIBRARY
Roscommon County Council Library Service are planning to provide a number of free health programmes in February titled "Minding Your Health". In Boyle there are three events planned: Tuesday February 13th Yoga and Mindfulness: the psychical and mental benefits – mindful movement, mindful eating and mindful living (6.30pm to 7.30pm) Tuesday February 20th Better Health Tips: A guide to eating well to nourish both body and mind (6.30pm to 7.30pm) Tuesday February 27th De-Stress in mind and body for 2018 (6.30pm to 7.30pm) The events are run in conjunction with 'Healthy Ireland' – a Government led national strategy to improve health and wellbeing.
DATE FOR YOUR ANGLING DIARY
Boyle & District Angling Club. Easter Pike Angling Festival will take place on Saturday 31st March, and Sunday 1st April 2018.
COURTYARD MARKET
The Market takes place every Saturday in the Grounds of King House, Boyle from 10am until 2pm… If you would like to enjoy the best locally grown fresh and organic produce, then a trip to the Courtyard Market should be on your agenda. There is a wide range of seasonal produce, Vegetarian hot meals to eat here or take home as well as organic fruit and vegetables, homemade jams and marmalade, organic free-range eggs, sour dough/ spelt bread and all kinds of delicious home bakes are available every week. Alongside the food stalls are a number of crafters selling their handmade wares. So why not come along and have a chat with the stall holders and avail of their ideas. For further information please call Una Bhan on 071 9663 033
CV & OFFICE SERVICES
Are you looking for a new job? Are you having difficulty putting together your CV? Would you like some help? Then why not call into the Úna Bhán office in the grounds of King House, Boyle, where we will be delighted to give you any help, advice or information we can. A good CV could make all the difference in getting your job application through to the interview stage. We have a template and sheet of helpful tips to guide you through the process. We will also type your CV if you cannot do this yourself. Or you may just want to call in for a chat about your CV. All information will be treated in the strictest of confidence. For more details, contact Úna Bhán Tourism on 071 9663033. We also offer office services such as Photo Copying, Scanning, Laminating, Typing, Faxing, Binding and Printing are carried out at the Una Bhan office in the grounds of  King House, for further information please contact the office on 071 966 3033.