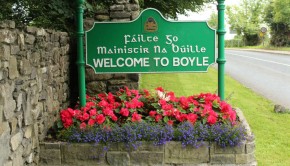 ANNUAL GENERAL MEETING.
The AGM of Boyle & District Angling Club will take place in The Patricks Well Boyle on Wednesday 7th February 2018 at 8.30pm.  All members are requested to attend.
ARDCARNE GARDEN CENTRE
A Pruning Demonstration will take place on Saturday 10th February from 11am until 1pm. Learn how to prune all your Fruit Trees, Shrubs and Roses. This is a Free event.
CURLEW WALKERS CLUB
The next meeting of the Curlew Walkers will be taking  place on Sunday 18th February, meeting on the Crescent at 11am. Your leader's for the day on the day will be Anne Brown 086 8100309. This will be a Flat Grade C at St John's/Rindoon. Please confirm times with leader or website prior to each walk www.walkingboyle.com. 
MINDING YOUR HEALTH AT BOYLE LIBRARY
Roscommon County Council Library Service are planning to provide a number of free health programmes in February titled "Minding Your Health". In Boyle there are three events planned: Tuesday February 13th Yoga and Mindfulness: the psychical and mental benefits – mindful movement, mindful eating and mindful living (6.30pm to 7.30pm) Tuesday February 20th Better Health Tips: A guide to eating well to nourish both body and mind (6.30pm to 7.30pm) Tuesday February 27th De-Stress in mind and body for 2018 (6.30pm to 7.30pm) The events are run in conjunction with 'Healthy Ireland' – a Government led national strategy to improve health and wellbeing.
SECRET GARDEN TALK COMES TO BOYLE
Tickets are now on sale for "An evening with Secret Garden columnist Paul Kirwan". The evening will be held in the Spool Factory Event Centre on Tuesday February 20th from 8pm until 9.30pm. All proceeds on the night to Roscommon Mental Health. The night will include a presentation on all the gardens Paul has featured in his Secret Garden column in the Roscommon Herald. There will also be a question and answer session. Admission is €10 and tickets are available from 087 4404240 or [email protected]
BOYLE GOLF CLUB
Fixtures have been released for 2018, upcoming highlights include the Spring League taking place over 3 weekends in February and the Captains Drive in on the 25th of February.
CASH FOR CLOBBER FUNDRAISING EVENT
Soil na nAingeal Noafa, Convent Primary School, Carrick Road, Boyle are organising a clothing collection to raise much needed funds for the school. This fundraising event will be open to the public on February the 21st, 2018. If you are in the need of a clear out please place any of the following items into a large black bag: clothing, curtains, towels, handbags, belts, soft toys. Please drop off all items in closed bags to the school hall between 8:30 until 9:00 am or 3:30 until5:30pm on February the 21st. You can contact the school to arrange collection or if you need assistance with bags on 071 966 2737. Unfortunately we cannot accept wet clothing, mats, carpets, duvets/pillows, books, laptops or mobile phones.
ENROLMENT
Scoil na nAingeal Naofa Carrick Road, Boyle are now Enrolling up until 3rd March for the academic year 2018/2019. Application forms and details are available at the School. Phone 071 966 2737.
DATE FOR YOUR ANGLING DIARY
Boyle & District Angling Club. Easter Pike Angling Festival will take place on Saturday 31st March, and Sunday 1st April 2018.
NEW FRC BROCHURE
The Spring/Summer brochure for Boyle Family Resource Centre is now available. The brochure details the many courses, programmes, groups and services available at the Centre to meet the needs of the community. Please contact the Centre on 071 966 3000 for further information, bookings or any queries. Separately, the Centre is currently recruiting volunteers for their Rainbows Programme. Rainbows is a support programme for children with bereavement and parental separation. Dates: April 14th, 21st, 22nd and 28th from 10am-4pm. If you are interested in becoming a facilitator, please contact us on 071 966 3000.
CYCLE AGAINST SUICIDE TO VISIT BOYLE
The annual 'Cycle Against Suicide' will pass through Boyle this May. The event previously stopped off in Lough Key Forest Park in 2016 when over 500 cyclists and back up crew enjoyed the beauty of the area. This year the cyclists will come through Boyle on Saturday May 5th as they make their way on leg two from Tubbercurry to the stage finish in Carrick on Shannon. Each year Cycle Against Suicide brings together cyclists with different abilities, different stories, different "whys,"  to help break the cycle of suicide on the island of Ireland. The now annual event, has seen over 15,000 cyclists take to the roads, shoulder to shoulder since 2013. The main cycle takes place this year from Saturday 28 April 2018 – Monday 7 May 2018 (bank holiday). The route passes through 17 counties & 67 towns and stops at 40 locations throughout the 750 Km route.
DATE FOR YOUR DIARY
Darkness Into Light is an Annual 5k Walk/Run in aid of Pieta House. On Saturday the 12th of May a community will come together at St Jospehs Hall and walk in support of positive mental health. This is a truly unique experience made by YOU. Family, friends and friends you haven't met yet gathering in support of those who may be struggling or those we have lost. Together we stand together as a community and shine a beacon of light and hope. This will be Boyle's second year to host the world wide event.
DATE FOR 2018 LOUGH KEY TRIATHLON
The date has been announced for this year's Lough Key Triathlon. It will take place on Sunday September 2nd 2018 in Boyle's Lough Key Forest Park. The event consists of a 750m swim, 23k bike ride and 5k run. Along with the usual array of prizes, this year there is a new trophy for the 'Best Overall Club at the Race'. Further information is available from loughk[email protected] or through their website www.loughkeytri.com
COURTYARD MARKET
The Market takes place every Saturday in the Grounds of King House, Boyle from 10am until 2pm… If you would like to enjoy the best locally grown fresh and organic produce, then a trip to the Courtyard Market should be on your agenda. There is a wide range of seasonal produce, Vegetarian hot meals to eat here or take home as well as organic fruit and vegetables, homemade jams and marmalade, organic free-range eggs, sour dough/ spelt bread and all kinds of delicious home bakes are available every week. Alongside the food stalls are a number of crafters selling their handmade wares. So why not come along and have a chat with the stall holders and avail of their ideas. For further information, please call Una Bhan on 071 9663 033
CV & OFFICE SERVICES
Are you looking for a new job? Are you having difficulty putting together your CV? Would you like some help? Then why not call into the Úna Bhán office in the grounds of King House, Boyle, where we will be delighted to give you any help, advice or information we can. A good CV could make all the difference in getting your job application through to the interview stage. We have a template and sheet of helpful tips to guide you through the process. We will also type your CV if you cannot do this yourself. Or you may just want to call in for a chat about your CV. All information will be treated in the strictest of confidence. For more details, contact Úna Bhán Tourism on 071 9663033. We also offer office services such as Photo Copying, Scanning, Laminating, Typing, Faxing, Binding and Printing are carried out at the Una Bhan office in the grounds of King House, for further information please contact the office on 071 966 3033.