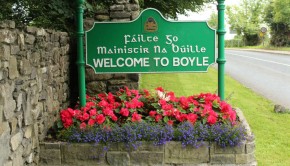 WORLD MEETING OF FAMILIES IN BOYLE
Boyle will host a session of guided discussion and reflection on family life in preparation for the World Meeting of Families in Dublin in August. The three Boyle sessions will be held in St. Joseph's Recourse Centre, on Thursday 1st March from 8pm to 9.30pm. These sessions will be held in an informal and friendly atmosphere followed by a cup of tea/coffee. Everyone is invited to attend.
LENTEN RETREAT- GALILEE BOYLE
The Galilee Community will be hosting a day of retreat on Saturday March 3rd from 10.30am to 4.30pm. The theme of the retreat is "Living lent mindfully" and will be given by Br. Richard Hendricks OFM Cap. To book or for more information email: [email protected] or phone 0858837226.
WORKSHOP FOR PARISH CHOIRS
Everyone who is involved in Parish Choirs is invited to a workshop with Ephrem Feeley, composter of "A Joy to All the World" (official hymn of WMOF2018) ON Saturday 3rd March 10.30am to 3pm in Star of the Kilbride Community Centre, Four Mile House. To book or for more information call Justin on 0876171526 or email [email protected]
CURLEW WALKERS CLUB
The next meeting of the Curlew Walkers will be taking  place on Sunday 4th March, meeting on the Crescent at 10am. Your leader for the day on the day will be Frances McDonagh  087 6787257. This will be a Climb G rade B, Glenade to Cloontypruglish. Please confirm times with leader or website prior to each walk www.walkingboyle.com.
CASTLECOOTE HOUSE MYTHS & HISTORY
Castlecoote House is hosting a second series of Myth & History Series of talks. The next one will take place on Thursday 8th March this will be about Reading Parables in the Jewish setting: How understanding Judaism deepens our understanding of Jesus by Francis Cousins. Lectures begin at 10.45am for further information email [email protected]
LOCAL ENTERPRISE WEEK
 LEO Roscommons local Enteerprise week 2018 takes place across County Roscommon from March 4th to March 9th, on Thursday March 8th The Enterprise Centre in boyle is hosting one to one Business Advisory Clinic starting at 9.30am. For more information or bookings go to www.localenterprise.ie/roscommon
CELEBRATING INTERNATIONAL WOMEN'S DAY
Roscommon women's network invites you to "RWN Chat Show "Chat show host is Christina McHugh, Editor of the Roscommon Herald. The day will include a panel discussion, fun, music and song and light lunch, special guest Sharon Mannion best known for playing "Concepta" in RTE 2's hit Comedy " Bridget & Eamon". Taking place in Gleeson Townhouse & Restaurant The Square Roscommon, 11am to 1pm free admission on Thursday 8th March. For further information or to RSVP please ring 0949621690 or email [email protected]
DATE FOR YOUR ANGLING DIARY
Boyle & District Angling Club. Easter Pike Angling Festival will take place on Saturday 31st March, and Sunday 1st April 2018.
BOYLE ENTERPRISE CENTRE
The following courses will take place in the Enterprise Centre in Boyle this March, Human Resource Policies & Procedure's, Facebook for Business, Finance for non-financial Mangers, Manual Handling Instructors QQI Level 6, Supervisory Management QQI Level 6, Training Needs Analysis for your Business, Microsoft Word/Excel/Outlook. For more information please email [email protected] call 0719673440.
DAS ACADEMY- KOOL KIDS CLASSES
The Dance, Act, Sing Academy Classes take place on Tuesday's in St Joseph's Boys National School, suitable for 3years up to 17years classes begin at 3.30pm and run until 7.30pm . For further information contact: 0863266146 or email [email protected].
BOYLE HOLIDAY GROUP
The holiday group will travel to North Donegal on Monday 4th June until Friday 8th June, staying at the Mount Errigal Hotel, Letterkenny. Enquiries to Mary Regan 0861298355 or 0719663544.
ST PATRICK'S DAY PARADE
Following a well-attended and very successful meeting a committee was formed to organise this year's St Patrick's Day Parade. The good attendance was a reflection on the importance of the Parade to the town. With the energy and enthusiasm of the newly elected Committee, the future of the St Patrick's Day Parade in Boyle is no longer in doubt. Boyle Chamber of Commerce and Boyle Town Team would like to wish every success to the new committee and look forward to a great day in Boyle. The parade will take place on St Patrick's Day at 3.30 p.m. The newly elected committee are as follows: Joe Ryan (Chairperson), Maura Clarke, Eddie Creighton, Derek Dooley, Martin Downes, Lorcan Egan, Maire Egan Paul, Aileen Madden, Enda Madden, Dorothy Shannon and Keith Suffin.
NEW FRC BROCHURE
The Spring/Summer brochure for Boyle Family Resource Centre is now available. The brochure details the many courses, programmes, groups and services available at the Centre to meet the needs of the community. Please contact the Centre on 071 966 3000 for further information, bookings or any queries. Separately, the Centre is currently recruiting volunteers for their Rainbows Programme. Rainbows is a support programme for children with bereavement and parental separation. Dates: April 14th, 21st, 22nd and 28th from 10am-4pm. If you are interested in becoming a facilitator, please contact us on 071 966 3000.
DATE FOR YOUR DIARY
Darkness into Light is an Annual 5k Walk/Run in aid of Pieta House. On Saturday the 12th of May a community will come together at St Joseph's Hall and walk in support of positive mental health. This is a truly unique experience made by YOU. Family, friends and friends you haven't met yet gathering in support of those who may be struggling or those we have lost. Together we stand together as a community and shine a beacon of light and hope. This will be Boyle's second year to host the world wide event.
COURTYARD MARKET
The Market takes place every Saturday in the Grounds of King House, Boyle from 10am until 2pm… If you would like to enjoy the best locally grown fresh and organic produce, then a trip to the Courtyard Market should be on your agenda. There is a wide range of seasonal produce, Vegetarian hot meals to eat here or take home as well as organic fruit and vegetables, homemade jams and marmalade, organic free-range eggs, sour dough/ spelt bread and all kinds of delicious home bakes are available every week. Alongside the food stalls are a number of crafters selling their handmade wares. So why not come along and have a chat with the stall holders and avail of their ideas. For further information, please call Una Bhan on 071 9663 033
CV & OFFICE SERVICES
Are you looking for a new job? Are you having difficulty putting together your CV? Would you like some help? Then why not call into the Úna Bhán office in the grounds of King House, Boyle, where we will be delighted to give you any help, advice or information we can. A good CV could make all the difference in getting your job application through to the interview stage. We have a template and sheet of helpful tips to guide you through the process. We will also type your CV if you cannot do this yourself. Or you may just want to call in for a chat about your CV. All information will be treated in the strictest of confidence. For more details, contact Úna Bhán Tourism on 071 9663033. We also offer office services such as Photo Copying, Scanning, Laminating, Typing, Faxing, Binding and Printing are carried out at the Una Bhan office in the grounds of King House, for further information please contact the office on 071 966 3033.