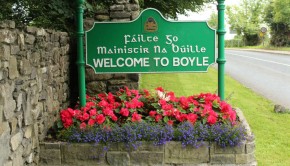 JOSEPHS RESOURCE CENTRE
Diabetes Ireland will hold a free group education course for anyone with type 2 Diabetes in Boyle, it will take place in St Joseph's Resource centre, Abbeytown on Wednesday 14th March. For further information or to book contact Regina 071 914 6001.
BOYLE 2040 TOWN ENHANCEMENT
A progress report on the Boyle Town Enhancement Plan will be presented to members of the Boyle Municipal District at their monthly meeting in March. The plan, titled "Boyle 2040" which will see a rejuvenation of Boyle Town centre, has been the subject of research and planning by Boyle Town Team in conjunction with Roscommon County Council Town Centre Planning Unit for the last 18 months. It presents a framework for public realm enhancement to the north and west side of the town to include Main Street, Bridge St and St. Patrick Street. The plan also includes a vision for the former Royal Hotel site and linkages to the proposed Lough Key to Boyle Greenway. Following the municipal district meeting, the plan will go on public display. The plan is still being drafted at present and when fully finalised, it will go on public display for all to see. 
CURLEW WALKERS CLUB
The next meeting of the Curlew Walkers will be taking  place on Sunday 18th March, meeting on the Crescent at 11am. Your leader for the day on the day will be Tom Browne 087 2379632. This will be a Climb G rade B/C, Carrowkeel Loop. Please confirm times with leader or website prior to each walk www.walkingboyle.com.
LENTEN RETREAT- GALILEE BOYLE
The Galilee Community day of retreat has been posted because of the weather warnings, The retreat day has been changed to Sunday 18th March from Saturday March 3rd, starting from 10.30am it will conclude with mass at 4pm. The theme of the retreat is "Living lent mindfully" and will be given by Br. Richard Hendricks OFM Cap. To book or for more information email: [email protected] or phone 0858837226.
MONTY & MICHELLE MEMORIAL GIG
A Fundraising concert remembering Michelle and Monty Montgomery will take place in St. Joseph's Hall on Saturday April 7th from 8.30pm,Artists performing will include: Francie (Malone) and Helen Grehan, Frankie Simon, Michael Harrington, Brendan Howley, Bernard Flaherty, John Costello, Derek Caldbeck,Brendan Maloney, Brendan McGee, Matt Burke, Seamie Simon, Dodd's Traditional Session Group, Billy McAuley (Mullingar), David Byrne,Francie Lenehan, Johnny McGlynn, Donal O'Connor, Sean Nicholson,George Mullaney, Pat Hever, Seamie Carr and more BYOB (Bring Your Own Bottle).Admission optional with proceeds in aid of North-West and Mayo /
Roscommon Hospice.
CASTLECOOTE HOUSE MYTHS & HISTORY                                              
 Castlecoote House is hosting a second series of Myth & History Series of talks. The next one will take place on Thursday 12th April this called a Jew in the Margins: Paul of Tarsus the "Founder "of Christianity. Talk will be given by Dr Luke Macnamara. Lectures begin at 10.45am for further information email [email protected]  
DATE FOR YOUR ANGLING DIARY
Boyle & District Angling Club. Easter Pike Angling Festival will take place on Saturday 31st March, and Sunday 1st April 2018.
KING HOUSE TO HOST VÓTÁIL 100
"Vótáil 100 – Votes for Women" Will be held in King House this April. Boyle has been chosen to host the event due to its connection with Margaret Cousins, she was an  educationist, suffragist and theosophist who established the All India Women's Conference. Margaret was born on 7th November 1878 and lived on the Crescent in Boyle, There will be  a wide panel of speakers including Senator Ivana Bacik, Mary McAuliffe (UCD), Claire McGing (Maynooth University) and Sandra Collins (Director National Library of Ireland). Maire Egan Paul and Keith Monro will talk about 'Margaret Cousins and the Irish Women's Franchise League'. This is a full day conference will be held on Wednesday April 25th, starting at 9am to 5pm. For further information or to book contact Mary Mullins 090 66 37321 or 090 37243 email [email protected]                                                                                                                                                                                  
BOYLE ENTERPRISE CENTRE                                                                                      
The following courses will take place in the Enterprise Centre in Boyle this March, Human Resource Policies & Procedure's, Facebook for Business, Finance for non-financial Mangers, Manual Handling Instructors QQI Level 6, Supervisory Management QQI Level 6, Training Needs Analysis for your Business, Microsoft Word/Excel/Outlook. For more information please email [email protected] call 0719673440.                                                    
BOYLE HOLIDAY GROUP                                                                                                
The holiday group will travel to North Donegal on Monday 4th June until Friday 8th June, staying at the Mount Errigal Hotel, Letterkenny. Enquiries to Mary Regan 0861298355 or 0719663544.                                                                                                                         
NEW FRC BROCHURE                                                                                                       
The Spring/Summer brochure for Boyle Family Resource Centre is now available. The brochure details the many courses, programmes, groups and services available at the Centre to meet the needs of the community. Please contact the Centre on 071 966 3000 for further information, bookings or any queries. Separately, the Centre is currently recruiting volunteers for their Rainbows Programme. Rainbows is a support programme for children with bereavement and parental separation. Dates: April 14th, 21st, 22nd and 28th from 10am-4pm. If you are interested in becoming a facilitator, please contact us on 071 966 3000.           
DATE FOR YOUR DIARY                                                                                          
Darkness into Light is an Annual 5k Walk/Run in aid of Pieta House. On Saturday the 12th of May a community will come together at St Joseph's Hall and walk in support of positive mental health. This is a truly unique experience made by YOU. Family, friends and friends you haven't met yet gathering in support of those who may be struggling or those we have lost. Together we stand together as a community and shine a beacon of light and hope. This will be Boyle's second year to host the world wide event.
COURTYARD MARKET
The Market takes place every Saturday in the Grounds of King House, Boyle from 10am until 2pm… If you would like to enjoy the best locally grown fresh and organic produce, then a trip to the Courtyard Market should be on your agenda. There is a wide range of seasonal produce, Vegetarian hot meals to eat here or take home as well as organic fruit and vegetables, homemade jams and marmalade, organic free-range eggs, sour dough/ spelt bread and all kinds of delicious home bakes are available every week. Alongside the food stalls are a number of crafters selling their handmade wares. So why not come along and have a chat with the stall holders and avail of their ideas. For further information, please call Una Bhan on 071 9663 033
CV & OFFICE SERVICES
Are you looking for a new job? Are you having difficulty putting together your CV? Would you like some help? Then why not call into the Úna Bhán office in the grounds of King House, Boyle, where we will be delighted to give you any help, advice or information we can. A good CV could make all the difference in getting your job application through to the interview stage. We have a template and sheet of helpful tips to guide you through the process. We will also type your CV if you cannot do this yourself. Or you may just want to call in for a chat about your CV. All information will be treated in the strictest of confidence. For more details, contact Úna Bhán Tourism on 071 9663033. We also offer office services such as Photo Copying, Scanning, Laminating, Typing, Faxing, Binding and Printing are carried out at the Una Bhan office in the grounds of King House, for further information please contact the office on 071 966 3033.