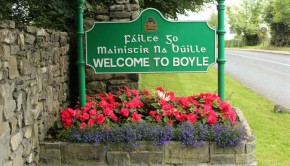 KEADUE SOCIAL SERVICES BUS ROUTE
Please note our bus runs every Monday and Wednesday taking clients in and out to avail of Day Centre facilities here in Keadue. All welcome to attend classes/day trips or just to have dinner and a chat! Route covered; Boyle, Ardcarne, Knockvicar, Cootehall, Correenigroe, Ballyfarnon, Keadue, Arigna, Drumshanho, Leitrim Village, Drumboylan. Further details contact Julie 071 964 7777 or 086 174 9816
KING HOUSE TO HOST VÓTÁIL 100
"Vótáil 100 – Votes for Women" Will be held in King House this April. Boyle has been chosen to host the event due to its connection with Margaret Cousins, she was an  educationist, suffragist and theosophist who established the All India Women's Conference. Margaret was born on 7th November 1878 and lived on the Crescent in Boyle, There will be  a wide panel of speakers including Senator Ivana Bacik, Mary McAuliffe (UCD), Claire McGing (Maynooth University) and Sandra Collins (Director National Library of Ireland). Maire Egan Paul and Keith Monro will talk about 'Margaret Cousins and the Irish Women's Franchise League'. This is a full day conference will be held on Wednesday April 25th, starting at 9am to 5pm. For further information or to book contact Mary Mullins 090 66 37321 or 090 37243 email [email protected]                  
BOYLE COMMUNITY GAMES
The games will be held at Abbey Community College Playing Fields on Friday 27th April at 6pm with registration from 5:30pm. Tiny Tots Race  Under 8, 60 metres 80 metres, Under 10, 100 metres 200 metres 100 metre hurdles Under 12, 100 metres 600 metres Ball Throw Long Puck (Boys) Under 14,100 metres 100 metres hurdles  800 metres Long Puck (Girls) Under 16, 1,500 metres. Mothers Race and Fathers Race. Every competitor MUST be under the age category in which they compete on July 31st this year e.g under 8 on July 31st, 2018 to be eligible for under 8 competition. Entry fee is €2 per child. Refresehments will be available at the sports complex.
CREATIVE FRAME/SLR FILM PROJECT
Creative Frame in partnership with SLR Film are hosting a panel discussion and workshop for writers and filmmakers based in the three counties in King House Boyle on Friday 27th April. The panel will consist of writers who have successfully worked in film and filmmakers who have collaborated with writers in the development of film projects. Ferdia MacAnna will chair the discussion with writers Brian Leyden and Eoin McNamee and film makers Marian Quinn and Linda Bhreathnach. Times 14.00 until 15.30 Panel discussion 15.30 until 17:00 Break out discussions with panel member. The workshop is free but attendees must be members of Creative Frame. Contact: Maureen Carty, Creative Frame Project Manager, T:  +353 (0)71 96 21694E: [email protected]
SMARTER FOCUS TRAINING IN BOYLE
Do you want better focus, more concentration, less distractions, smarter thinking and more success? Then you should participate in Brain Gym Ireland's new SMARTER FOCUS course on April 28th and 29th in Boyle. This is a two day focus training course for business, sports, studying, public speaking and more. Here you will have the opportunity of a lifetime to turn you life, education and career from a fist full of unfulfilled dreams, hopes and aspirations into a life of successfully achieving your potential and exceeding in ways you never thought possible . With powerful goal setting and concentration techniques the world will become a much easier place in which to learn, stay focused and succeed in everything you do. To book two or more and get super saver discount text or Message Padraig King at 0861723510
BOYLE GOLF CLUB
The 29th April, sees the most notable competition of the year to date, the "Voucher". The first prize for this competition is a free single membership for the year, but only paid up members are eligible to win, so if you haven't paid up by that date you may be doing yourself out of a chance to win one of the best prizes of the golfing year. Please contact the office on 071 966 3033.  
FASHION SHOW IN ST JOSEPH'S HALL BOYLE
On Thursday April 26th at 8pm a fashion show will be in St Joseph's Hall with Clothes from Magees Fashion Shop, Main Street and Aidan Ray Menswear St Patrick Street. All proceeds to Abbey Community College.
CURLEW WALKERS CLUB
The next meeting of the Curlew Walkers will be taking  place on Sunday 29th April, meeting on the Crescent at 11am. Your leader for the day on the day will be Henk Meijnhart 087 273 3373 and Mary Long 087 952 8754. This will be a Flat grade C and is a Lissadell coast walk. Please confirm times with leader or website prior to each walk www.walkingboyle.com
BOYLE DARKNESS INTO LIGHT
400 people at the first Darkness Into Light in 2009 to 180,000 people last year, DIL has become a movement in more ways than one across Ireland and all over the world. We would love you to join us this on Saturday 12th of May starting at 4.15am at St. Josephs Hall, Boyle
MANUAL HANDLING COURSE IN BOYLE                                                                                                                                                       
A five-day Manual Handling Instructors Course QQI Level 6 will take place at Boyle Enterprise Centre this May. The course will provide participant with the knowledge and skill to provide manual handling training and to manage workplace risks. Course content includes Legislative requirements, Anatomy and back care, Ergonomic principles and risk assessment, Manual handling principles and techniques, Planning and design of manual handling training programmes, delivery of manual handling training. Course dates May 2nd, 9th, 16th, 23rd, 30th. Times 9.30/4.30. For more information or to book places please email [email protected] or call 071 9673440.
BOYLE HOLIDAY GROUP
The holiday group will travel to North Donegal on Monday 4th June until Friday 8th June, staying at the Mount Errigal Hotel, Letterkenny. Enquiries to Mary Regan 0861298355 or 0719663544.
DATE FOR YOUR DIARY
Darkness into Light is an Annual 5k Walk/Run in aid of Pieta House. On Saturday the 12th of May a community will come together at St Joseph's Hall and walk in support of positive mental health. This is a truly unique experience made by YOU. Family, friends and friends you haven't met yet gathering in support of those who may be struggling or those we have lost. Together we stand together as a community and shine a beacon of light and hope. This will be Boyle's second year to host the world wide event.
COURTYARD MARKET
The Market takes place every Saturday in the Grounds of King House, Boyle from 10am until 2pm. If you would like to enjoy the best locally grown fresh and organic produce, then a trip to the Courtyard Market should be on your agenda. There is a wide range of seasonal produce, Vegetarian take home as well as organic fruit and vegetables, their handmade wares. So why not come along and have a chat with the stall holders and avail of their ideas. For further information, please call Una Bhan on 071 9663 033
CV & OFFICE SERVICES
Are you looking for a new job? Are you having difficulty putting together your CV? Would you like some help? Then why not call into the Úna Bhán office in the grounds of King House, Boyle, where we will be delighted to give you any help, advice or information we can. A good CV could make all the difference in getting your job application through to the interview stage. We have a template and sheet of helpful tips to guide you through the process. We will also type your CV if you cannot do this yourself. Or you may just want to call in for a chat about your CV. All information will be treated in the strictest of confidence. For more details, contact Úna Bhán Tourism on 071 9663033. We also offer office services such as Photo Copying, Scanning, Laminating, Typing, Faxing, Binding and Printing are carried out at the Una Bhan office in the grounds of King House, for further information