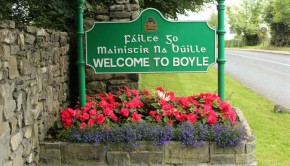 HOW TO GROW ORGANIC VEGETABLES
Croghan Organic Garden will be holding a 20-week event commencing Wednesday 2nd May from 2pm until 4pm. All aspects of growing are covered, seed sowing, soil preparation, aftercare of crops and harvesting. This event is Free to unemployed persons or persons in receipt of any other Social Welfare benefits. Enquiries to: 071 9668963 or email: [email protected]
ARDCANE GARDEN CENTRE BOYLE
A Summer Container Demonstration will take place on Saturday 5th May, were you will discover how to plant your containers, and which plants to give the best show On Saturday 12th there will also be a demonstration on Gardening for Pollinators with Wildlife expert Michael Bell, learn how to attract valuable pollinating insects to your garden. These are Free events, all welcome.
TUITION IN BOYLE
Maths and Biology tuition in May in Boyle. 3 hour seminars starting Saturday 5th and Sunday 6th May. Subjects covered are Maths, Statistics, Biology, Genetics. Class is limited to 6 students. Further information from Ann on 0868770252.
FAMILY FUN DAY AT CAVETOWN LAKE
Cavetown Residents Development Association will hold a Family Fun Day on Sunday May 6th at Cavetown Lake. There will be something for all the family on the day. Kids novelty event, face painting, BBQ, craft display's, fairy forest walk, best dressed up costume and numerous other events. The day gets underway at 2pm and all are welcome to attend.
BOYLE CAMERA CLUB
On Friday, May 11th Boyle Camera Club members will photograph people in the town of Boyle for a special project – 'Boyle: A Moment in Time 2018'. Like every society in Ireland, Boyle is changing. Our community is made up of people from a range of backgrounds, cultures and places. One thing they do have in common is a decision to live or work in Boyle, and they are all actively shaping how our community works and the way our town will develop beyond 2018.
CURLEW WALKERS CLUB
The next meeting of the Curlew Walkers will be a Weekend in Wicklow on Saturday and Sunday 12th and 13th May meeting in Wicklow. Your leaders for the day will be Darragh Kelly and team 086 1731 517. This will be a  Climb grade A/B/C. Please confirm times with leader or website prior to each walk www.walkingboyle.com
BOYLE DARKNESS INTO LIGHT
400 people at the first Darkness into Light in 2009 to 180,000 people last year, DIL has become a movement in more ways than one across Ireland and all over the world. We would love you to join us this on Saturday 12th of May starting at 4.15am at St. Josephs Hall, Boyle
MANUAL HANDLING COURSE IN BOYLE                                                                                                                                                       
A five-day Manual Handling Instructors Course QQI Level 6 will take place at Boyle Enterprise Centre this May. The course will provide participant with the knowledge and skill to provide manual handling training and to manage workplace risks. Course content includes Legislative requirements, Anatomy and back care, Ergonomic principles and risk assessment, Manual handling principles and techniques, Planning and design of manual handling training programmes, delivery of manual handling training. Course dates May 2nd, 9th, 16th, 23rd, 30th. Times 9.30/4.30. For more information or to book places please email [email protected] or call 071 9673440.
BOYLE HOLIDAY GROUP
The holiday group will travel to North Donegal on Monday 4th June until Friday 8th June, staying at the Mount Errigal Hotel, Letterkenny. Enquiries to Mary Regan 0861298355 or 0719663544.
DARKNESS INTO LIGHT
Darkness into Light is an Annual 5k Walk/Run in aid of Pieta House. On Saturday the 12th of May a community will come together at St Joseph's Hall and walk in support of positive mental health. This is a truly unique experience made by YOU. Family, friends and friends you haven't met yet gathering in support of those who may be struggling or those we have lost. Together we stand together as a community and shine a beacon of light and hope. This will be Boyle's second year to host the world wide event.
BOYLE MUSICAL SOCIETY UPDATE
At a well-attended AGM in An Craoibhín last week, The Addams Family was revealed as the title of this year's Boyle Musical Society show. It will run for four nights from November 21st to 24th in St. Joseph's Hall. Following reports from the outgoing Chairperson and Secretary and the Treasurer's report, the new committee was selected. Chairperson: Rhona McGrath Secretary: Laurina Brennan Treasurer: Deirdre Purcell PRO: Brendan McGee, Siobhan Gallagher, Patricia Golden, Nigel Cleary, Anne Kielty, Liz Gannon, Diarmuid Beirne, Liz Gannon, Mandy Toolan and Vivienne Moran. Two new members, Colette Noone and Majella Gaffney were welcomed to the committee following the departure of Irene Madden and Sean O'Dowd, both of whom have stepped down this year. Rehearsals for The Addams Family will begin on Monday, September 3rd. In the meantime, keep an eye out here for updates, or go to our newly designed website www.boylemusicalsociety.com
PLEASE SUPPORT BOYLE GAA DRAW
Boyle GAA's monster spring draw which is currently underway has hugely attractive prizes.You can win a €2.500 holiday voucher and go to any destination you choose, while second prize features a weekend in Dublin and two All Ireland football final tickets. Tickets are just €5 and a book of five is available for €20. If your not in Boyle we can arrange to send you tickets, just email [email protected] for details. Your help and support for our fundraising initiatives is vital to the success of the club and enables us to develop our Abbey Park facilities on an ongoing basis.
COURTYARD MARKET
The Market takes place every Saturday in the Grounds of King House, Boyle from 10am until 2pm. If you would like to enjoy the best locally grown fresh and organic produce, then a trip to the Courtyard Market should be on your agenda. There is a wide range of seasonal produce, Vegetarian take home as well as organic fruit and vegetables, their handmade wares. So why not come along and have a chat with the stall holders and avail of their ideas. For further information, please call Una Bhan on 071 9663 033
CV & OFFICE SERVICES
Are you looking for a new job? Are you having difficulty putting together your CV? Would you like some help? Then why not call into the Úna Bhán office in the grounds of King House, Boyle, where we will be delighted to give you any help, advice or information we can. A good CV could make all the difference in getting your job application through to the interview stage. We have a template and sheet of helpful tips to guide you through the process. We will also type your CV if you cannot do this yourself. Or you may just want to call in for a chat about your CV. All information will be treated in the strictest of confidence. For more details, contact Úna Bhán Tourism on 071 9663033. We also offer office services such as Photo Copying, Scanning, Laminating, Typing, Faxing, Binding and Printing are carried out at the Una Bhan office in the grounds of King House, for further information