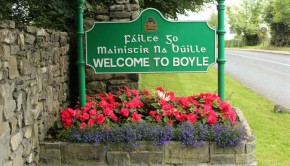 SAFETALK TRAINING IN BOYLE
Following the success of last year's safeTALK training, another one is planned for Thursday May 17th This free event will take place in Boyle Family Resource Centre from 7pm to 10pm Booking is essential on 071 9663000 Learn four basic steps to recognise persons with thoughts of suicide and connect them with suicide helping resources. Suitable for everyone who wants to help prevent suicide: front line workers, clergy, volunteers, parents, teachers, citizens.
FINE ART WEAVING
An exhibition celebrating Fine Art Weaving from Ireland and Scotland is open to all in King House until May 24th. Fabulous pieces by Terry Dunne, Joan Baxter, John Brennan, Amanda Gizzi, Angela Forte, Mary Cuthbert, Frances Crowe, and Elizabeth Radcliffe.
CURLEW WALKERS CLUB
The next meeting of the Curlew Walkers will be on Sunday 27th May at 9am. This willd be a Climb  Grade B/C Meeting on the Crescent, Boyle at 9am  Leader for the day will be Philip James 086 335 3000 and Henk Meijnhart 087 273373. Please confirm times with leader or website prior to each walk www.walkingboyle.com
CAVETOWN PIKE ANGLING COMPETITION
Cavetown and Clogher Angling club will hold a Pike Angling competition on Cavetwon Lake. This boat only event will take place on Sunday May 27th. Entry from 9.30am with fishing from 11-4. Prize giving at Cavetown Amenity Area on the lake shore. Strict catch and release policy and boats must have a holding tank and electric outboards only. More information from William Little 087 2985879/ John Casserly 086 8817133 or Gary Beirne
PADRE PIO 2018 PILGRIMAGE TO HOLY CROSS
The Padre Pio Pilgrimage to Holy Cross, Co Tipperary will take place on Sunday 27th May. A bus will leave The Crescent, Boyle, at 8.00am sharp. For further information, please call Moya on 071 966 2110
OPEN ARTS FESTIVAL
Boyle Art Exibition are accepting Art submissions on Friday July 6th and 7th July from 4pm until 6pm at the Parochial School, Military Road, Boyle. Guidelines and form. For further information email [email protected]  or Una Bhan Tourism, Grounds of King House, Boyle 071 9663 033.
MANUAL HANDLING COURSE IN BOYLE                                                                                                                                                       
A five-day Manual Handling Instructors Course QQI Level 6 will take place at Boyle Enterprise Centre this May. The course will provide participant with the knowledge and skill to provide manual handling training and to manage workplace risks. Course content includes Legislative requirements, Anatomy and back care, Ergonomic principles and risk assessment, Manual handling principles and techniques, Planning and design of manual handling training programmes, delivery of manual handling training. Course dates May 9th, 16th, 23rd, 30th. Times 9.30/4.30. For more information or to book places please email [email protected] or call 071 9673440.
PLEASE SUPPORT BOYLE GAA DRAW
Boyle GAA's monster spring draw which is currently underway has hugely attractive prizes. You can win a €2.500 holiday voucher and go to any destination you choose, while second prize features a weekend in Dublin and two All Ireland football final tickets. Tickets are just €5 and a book of five is available for €20. If you're not in Boyle we can arrange to send you tickets, just email [email protected] for details. Your help and support for our fundraising initiatives is vital to the success of the club and enables us to develop our Abbey Park facilities on an ongoing basis.
COURTYARD MARKET
The Market takes place every Saturday in the Grounds of King House, Boyle from 10am until 2pm. If you would like to enjoy the best locally grown fresh and organic produce, then a trip to the Courtyard Market should be on your agenda. There is a wide range of seasonal produce, Vegetarian take home as well as organic fruit and vegetables, their handmade wares. So why not come along and have a chat with the stall holders and avail of their ideas. For further information, please call Una Bhan on 071 9663 033
CV & OFFICE SERVICES
Are you looking for a new job? Are you having difficulty putting together your CV? Would you like some help? Then why not call into the Úna Bhán office in the grounds of King House, Boyle, where we will be delighted to give you any help, advice or information we can. A good CV could make all the difference in getting your job application through to the interview stage. We have a template and sheet of helpful tips to guide you through the process. We will also type your CV if you cannot do this yourself. Or you may just want to call in for a chat about your CV. All information will be treated in the strictest of confidence. For more details, contact Úna Bhán Tourism on 071 9663033. We also offer office services such as Photo Copying, Scanning, Laminating, Typing, Faxing, Binding and Printing are carried out at the Una Bhan office in the grounds of King House, for further information