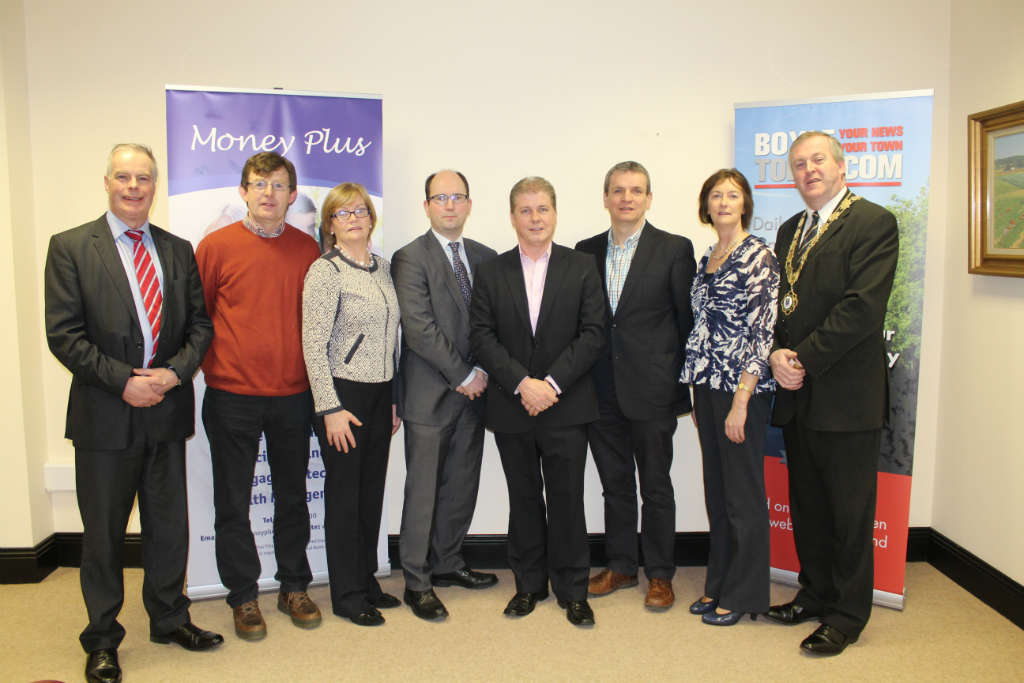 Over 35 business people and members of the public from Boyle and surrounding area attended the recent Boyle Business Awards launch in the local Enterprise Centre.
Also in attendance were John Cummins, Cathaoirleach Roscommon County Council, Louise Ward Roscommon County Enterprise  Board and Brendan Lowe BNI Marina.
Louise and Brendan along with Benny O' Connell from Enterprise Castlerea, who could not attend, are the three judges of the awards.
Belinda McCauley from Financial Services company Moneyplus welcome the attendance and said it was great to see such a large turnout for the launch.
She said she is aware of the challenges facing businesses in Boyle, but it is important that companies continue to challenge how they do business and consistently invest time and money in their operation.
"There are 18 awards to be won in six categories so I would ask you all to pick up an entry form from Moneyplus or download from Boyletoday.com and enter the awards, said Belinda.
She also said " Boyletoday.com and Moneyplus will have no involvement in the judging process – that will be left to the Brendan, Benny and Louise". We do not even want to see the applications. We are merely facilitating and organising the iniative. We appeal to all businesses in Boyle to embrace the awards and get involved"
In conclusion Belinda thanked John Cummins, Cecil Draper and Dara Callaghan for all their help. She also thanked the judges and Michael Gilmartin for his hospitality this morning.
Brian Nerney from local news and information website Boyletoday.com reiterated all Belinda has to say and also thanked her for all the work she has put into organising the awards.
Brian said "There is no question but that Boyle businesses have suffered. But many have survived the recession and are still trading while others are starting up nice and quietly in the town."
"It is important that businesses use their quiet time to promote their operations, especially by utilising social media. It is also very important to remain positive and that is what these awards will do. They will honor the businesses in the exist in Boyle in a positive way."
Brian also asked those who intend to mention the awards on twitter to use #boyleisbest.
He said it was very encouraging to see such a large turnout at the launch and he thanked all who attended and all who sent regrets due to prior commitments.
The public are encouraged to nominate businesses for the awards and business can also self nominate.
Entry forms, which have to be returned by Wednesday 25th March, can be downloaded form this website (see navigation bar on homepage) and can be picked up from Moneyplus offices on Bridge St.
The awards ceremony will take place in April in King House.
"